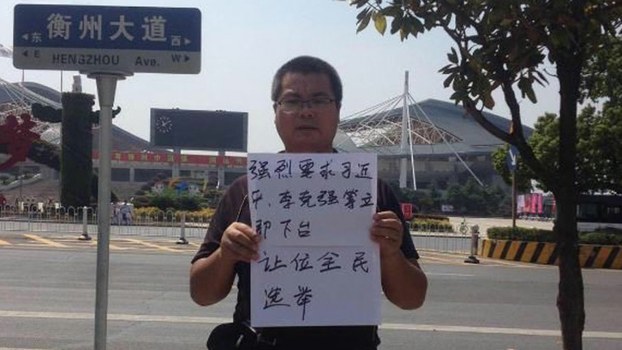 A rights activist who called publicly for the resignation of Chinese president Xi Jinping has died in a police-run detention center in the central province of Hunan, rights groups said.
Wang Meiyu's widow received notification of her husband's death in the Hengyang Detention Center on Monday.
Wang, 38, was detained two months ago after holding up a placard in public calling on President Xi to step down, and for democratic elections in China.
"Wang Meiyu died in the detention center," his mother, who declined to give her name, told RFA. "Wang Meiyu was only 38 years old. His father passed away 20 years ago, and now my only child is dead too."
Wang's widow Cao Shuxia said Wang was initially detained on July 8, and had been in normal health when his detention began.
Then, he was reported as having died suddenly in a military hospital. Cao said Wang's body was "unrecognizable" when she went to identify it.
"He was a healthy, normal man when he went in there," she said. "Then, at 4.00 a.m. on Sept. 23, I got a call from the village [ruling Chinese Communist] Party secretary, who told me that Wang Meiyu was dead."
"I asked how he died, and he said he didn't know, and that he had been informed by his superiors," she said. "He didn't even know the time of death. Later, I found out when I called up to enquire that he had died in the emergency room of Hengyang 169 Hospital."
"When I saw his body, it was like another person; he was totally unrecognizable," Cao said. "They wouldn't let me take my cell phone in with me, and there were a lot of police officers there with us, and they stopped me from getting too close."

Solitary confinement
Cao said Wang had received two visits from a lawyer after being detained. During these meetings, the lawyer heard that he was initially held in a large cell along with dozens of other inmates.
But by the time the lawyer visited again at the end of August, Wang had been transferred to solitary confinement, she said.
She said Wang's death was a huge blow to his family, especially to his two children, the older of whom is just 11. The couple had already lost their jobs as a result of Wang's activism, she said.
"My husband didn't commit any crime: he did nothing wrong," Cao said.
An acquaintance of Wang's surnamed Chen said Wang had been campaigning for democratic elections in China, which was why he had called on President Xi and Premier Li Keqiang to resign.
"Last year, he held up a placard outside the gates of the Hengyang Normal University in Hunan, and he did it again last July, outside the Hunan provincial police department, where he was detained," Chen said.
"He was already under very tight surveillance and had no source of income, and relations with his family were already strained," he said.
The authorities had already been in touch to warn off anyone thinking of showing support to the family, or speaking out on Wang's behalf, he said. "I will likely have to go and meet with state security police tomorrow."
'Step down and enable general elections'
In November 2018, Wang wrote on the social media platform WeChat that he had been visited by five officers of the state security police from Hengyang's Zhoushi county.
"They accused me of making random comments online, calling on Xi Jinping and Li Keqiang to step down and enable general elections," Wang wrote at the time.
"They said this was attacking our national leaders and told me to … write a letter of repentance and a guarantee [of future good behavior]."
"Morons: it never occurred to them that three days and three nights of torture with dripping water and electric batons until I was spitting blood and my soul had nearly left my body wouldn't bring about my surrender," he wrote.
"What have I done wrong? I didn't give these state security morons the time of day: eventually, they went away with their tails between their legs."
An employee who answered the phone at the Hengyang People's Liberation Army 169 Hospital declined to comment, saying she wasn't on duty when Wang died, and that nobody was discussing the incident at work.
Repeated requests to the Hengyang police department for comment went unanswered at the time of writing.
Reported by Wong Siu-san and Sing Man for RFA's Cantonese Service, and by Gao Feng and Gu Jirou for the Mandarin Service. Translated and edited by Luisetta Mudie.
Source: Copyright © 1998-2016, RFA. Used with the permission of Radio Free Asia, 2025 M St. NW, Suite 300, Washington DC 20036. https://www.rfa.org.