State-run Protestant Church clergy in China forced to preach about patriotism, socialist values, and government regulations, as prescribed by the Communist Party.
by Wang Yong
On October 6, the congregation of a state-approved Three-Self church in Shangrao, a city in the southeastern province of Jiangxi, came to their Sunday prayer gathering only to find an unexpected guest – the head of the county's United Front Work Department (UFWD). While believers were gathering, the official was sitting at the back of the church, playing with his mobile phone.
"Loving the country means praying for blessings for it regularly. Christians should obey the country's laws and regulations," the church preacher was telling the congregation from the pulpit that day. Under the watchful eye of the UFWD head, he then proceeded to teach the believers how to love their country using examples from the Bible.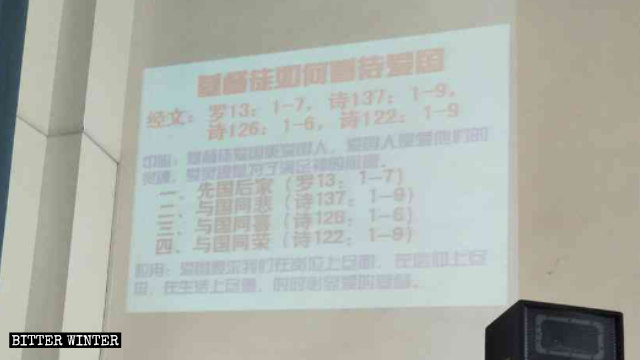 "Ever since government officials started staking out our church, the preacher has no choice but to give sermons on patriotism to cope with their demands," a church member told Bitter Winter. "We actually hate listening to sermons based on the core socialist values. However, we have to do so in order to save the church while waiting for a chance to meet without officials present."
The gathering ended with the congregation singing a patriotic song "Bless Our Country, O Lord God," which is included in the "Hymn Book: New Edition," a collection of patriotic songs and politicized, "sinicized" Christian hymns published by the Two Chinese Christian Councils. The "Canaan Hymns," a popular collection of Chinese Christian hymns, has been designated as an "illegal publication" and is not allowed to be used in churches anymore.
Such visits by government officials in places of worship have become an unwelcome reality for members of the Three-Self Church throughout China. While a large number of state-run Protestant churches are being shut down and demolished, those that are allowed to exist are subjected to severe measures of religion "sinicization" policy. Members of the clergy are forced to propagate Communist Party ideology during sermons, putting aside spiritual issues and dwelling on patriotism, party and government guidelines, the core socialist values, and other similar topics.
Wang Yang, the chairman of the National Committee of the Chinese People's Political Consultative Conference (CPPCC), reiterated during a symposium on ethnic and religious affairs on November 26 that all religious movements in China should re-interpret their doctrines and canons based on the core socialist values, study and understand President Xi Jinping's important speeches, and establish a "religious ideological system" with Chinese characteristics, adapted to the socialist society.
During the symposium, its 16 attendees, CPPCC members, religious experts, and scholars among them, agreed that re-interpretation of all religious doctrines and canons is a "historical choice of 'sinicization' and 'epochization' for religions in China."
Another preacher at a Three-Self church in Shangrao, who is also a high-ranking official within the city's Two Chinese Christian Councils, advocated during her sermons Xi Jinping's call for CCP members "not to forget the original intention and keep the mission in mind, unite with the Communist Party." She was comparing the top chief's commands to verses from the Bible, like the one from Hebrews 3:14, "For we are made partakers of Christ if we hold the beginning of our confidence steadfast unto the end."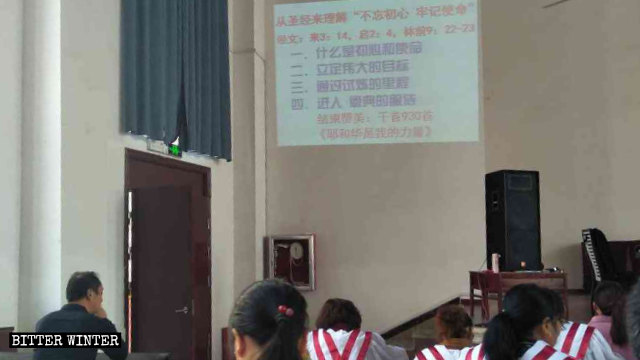 A preacher from eastern China who is unwilling to accept the CCP's "red preaching" commented to Bitter Winer that propagating the core socialist values and similar ideological tenets to people of faith amounts to poisoning the Cristian doctrine and feeding believers with "toxic milk powder."
Source: Bitter Winter