Authorities in the eastern Chinese province of Jiangsu beat and detained People's Liberation Army (PLA) veterans as they continued to arrive in Zhenjiang city to join protests over the beating of a fellow veteran earlier this month, leaving hundreds injured, veterans told RFA.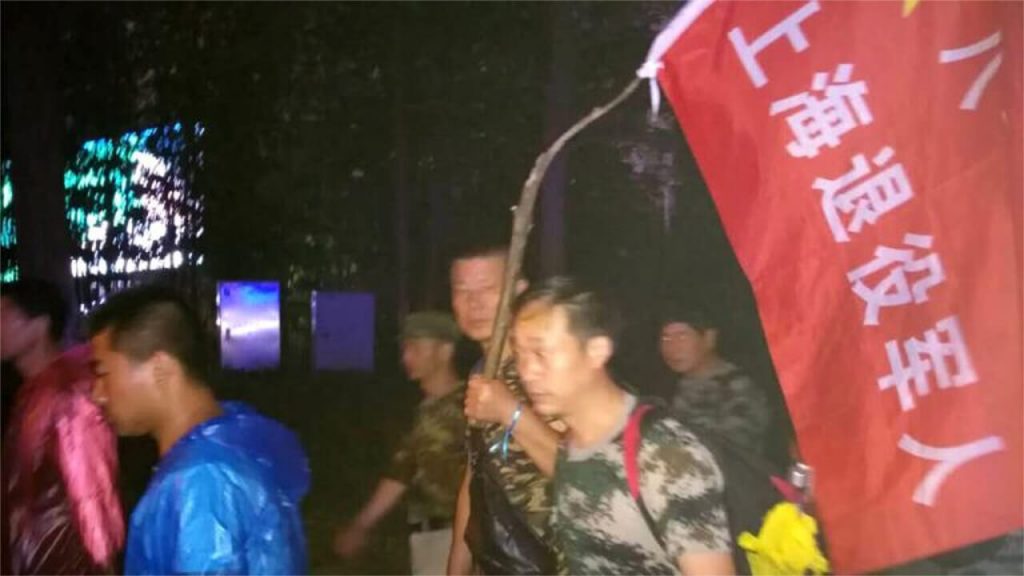 The municipal and provincial authorities have drafted in huge numbers of police and recruited volunteers to serve as security guards since more than thousands of veterans gathered in protest on the city's Nanmen Square outside the municipal government offices last week.
Sources told RFA that protests are continuing, although some veterans are being intercepted and held by the authorities in public buildings before they can reach the square.
"I have arrived at the Zhenjiang municipal government offices," one protesting veteran told RFA on Sunday. "There is a huge security cordon around the place, very tight security and a lot of police; they have also mobilized young people on every street in the city … they are wearing red armbands with the words 'security guide' on them."
"The veterans can't get into the area; they are detaining them as soon as they arrive, then taking them in separate groups to various schools around [the city]," he said.
Video footage of the city posted to social media showed police in riot gear lining the streets, with large numbers of police vehicles parked and very few pedestrians.
Later, riot police moved in on the protesters in the middle of the night, beating and detaining them en masse, a source close to the protests told RFA.
"At about 3.00 a.m. on Sunday, the Zhenjiang government and police department sent in more than 9,000 riot police and regular police to beat up around 2,000-3,000 veterans who were fast asleep," the veteran said.
"Some of us were there, and they said they were beaten up pretty badly, and that more than 200 people were injured, including women and relatives [of veterans]," he said. "This prompted our comrades from across China, including demobilized veterans, to head to Zhenjiang."
A Zhenjiang resident surnamed Wu said the authorities appeared to be trying to give the appearance of chaotic protests, rather than the orderly events of the last few days.
"They are deliberately sowing the seeds of unrest," Wu said. "A bunch of unidentified men and a few armed police went in among them and started beating people up."
All highways 'sealed off'
A third veteran, who traveled to the city from the southwestern province of Sichuan, said police had also sealed off the main highway exit leading to Zhenjiang.
The source close to the protests confirmed his report.
"They are being stopped on the outskirts of the city, and not allowed in from the highway; there's no way through. All of the highways have been sealed off," he said. "I heard that there are more than 3,000 people inside [the security cordon] but I don't know how many there are outside. I heard reports that there are more than 10,000."
"Our comrades were stopped at the railway station and escorted back home by the state security police; they weren't allowed to board the train," he said. "I haven't been able to call our comrades who are at the scene today; the calls won't go through and our [social media accounts] have all been deleted."
A number of protesters contacted by RFA on Monday declined to comment, saying it was "inconvenient," a word often used to indicate surveillance or the presence of the authorities.
One veteran who had acted as a citizen journalist throughout the protests, posting to social media from the scene, was incommunicado on Monday.
And a veteran from the eastern province of Shandong said via social media that he is currently under detention at the Dantu Experimental School in Zhenjiang, after being detained trying to join the protests on Saturday.
He said the authorities were forcing veterans to sign guarantee letters promising not to take part in any more "illegal assemblies."
An official who answered the phone at the Zhenjiang municipal government on Monday declined to comment, referring inquiries to the propaganda department. However, repeated calls to the municipal government's propaganda department rang unanswered or went unconnected during office hours.
The rights website China Rights Observer called on the ruling Chinese Communist Party on Monday to end its crackdown on PLA veterans, and to make sure those injured were taken care of as soon as possible.
It also called on the authorities to promise not to retaliate against veterans who took part in the protests.
Local communications blackout
Constitutional scholar Yao Lifa said another group is currently being detained en masse at the Zhenjiang High School, however, while a group from the northern province of Shanxi had been prevented from visiting injured fellow veterans at the No. 1 People's Hospital in Zhenjiang.
One sent a text message saying that they had been "illegally detained" at the school for nearly 30 hours, amid a local communications blackout.
"WeChat has been blocked, as well as internet access at the detention sites and mobile phone signals are blocked or intermittent," the text said. "They also won't allow the people we asked to buy us takeout food to bring it in."
"Every time we go to the toilet, they send a couple of [security guards] to watch us, one on each side," it said. "They are treating us like suspects in a detention center, but what crime have we committed?"
Last week, groups of PLA veterans converged on the city clad in military-style clothing, shouting slogans and waving national flags, in the first major public show of strength since a mass protest in Beijing in October 2016.
Police and "stability maintenance" personnel have been dispatched from elsewhere in China to try to contain the protests.
In October 2016, thousands of demobilized PLA personnel converged on Beijing from across China, staging a vocal protest outside the headquarters of the Communist Party's Central Military Commission (CMC), which is chaired by President Xi Jinping.
Singing "In Unity is Our Strength" and other Chinese military choruses, the veterans, some of whom had fought in the Korean War (1950-1953), wore their old uniforms and stood peacefully, calling for pensions, healthcare and other demobilization benefits they said were promised but not delivered.
Any bid to organize has since triggered nationwide security alerts via the "stability maintenance" system, which targets peaceful protesters, petitioners, and critics of the government.
The veterans are calling on the authorities to abide by promises made to them before they signed up to fight in China's short border war with Vietnam in 1979.
Clause 3 of the Military Pensions Priority Regulations requires governments to ensure that the standard of living and social situation of demobilized PLA soldiers doesn't fall below the national average.
Other veterans are citing official document No. 75 issued by China's cabinet, the State Council, in 1978 promising to find jobs for demobilized military personnel.
Source: Copyright © 1998-2016, RFA. Used with the permission of Radio Free Asia, 2025 M St. NW, Suite 300, Washington DC 20036. https://www.rfa.org.