Suspicions have been raised over the death of prominent Chinese human rights lawyer Li Boguang, who died suddenly at the weekend, in the eastern province of Jiangsu, at the age of 49.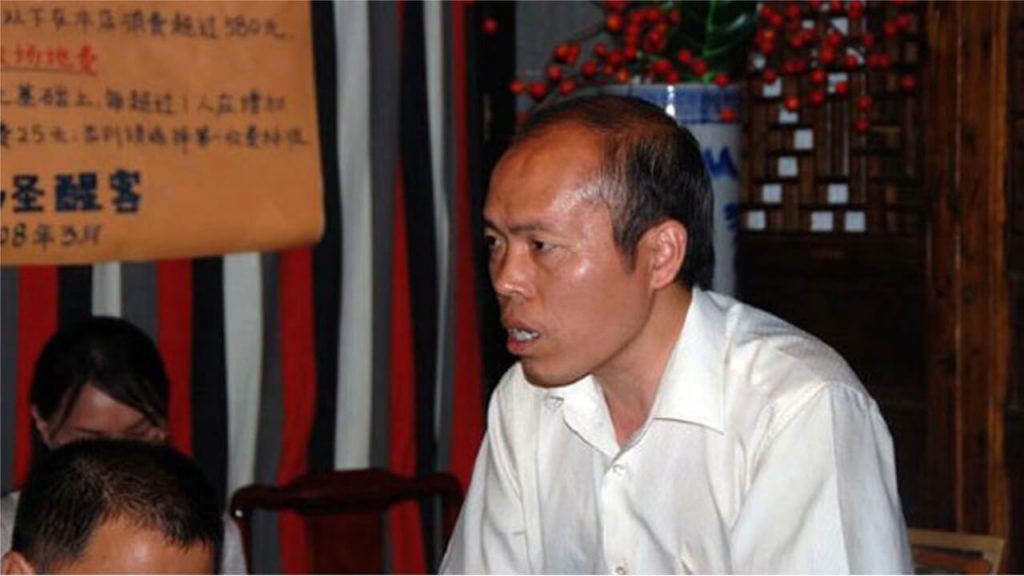 Li died in the Nanjing PLA 81 Hospital in the early hours of Sunday morning, two days after receiving a diagnosis of liver cancer, his relatives told RFA.
Li's cousin Liu Peifu, a fellow laywer who worked at the same law firm in Beijing, confirmed his death on Monday, but said that he had previously been in apparently good health.
"It was very sudden because it was late-stage liver cancer; he suddenly lost consciousness," Liu said.
"He had been to the hospital for check-ups before and he didn't know he had this disease," Liu said. "He was only taken to hospital because he felt very unwell, and at that point it was picked up on hospital tests."
"It was very sudden because it was late-stage liver cancer; he suddenly lost consciousness," Liu said. "His wife and other relatives were at his side. He was a Christian, so his funeral will be according to the Protestant ceremony."
Fellow rights lawyer Lin Qilei said the details of Li's death had yet to be confirmed, however.
"What we don't know right now is whether he was truly sick, or whether he was done to death under the guise of liver cancer," Lin said. "It takes a while to die from liver cancer; it doesn't usually happen so fast, and so suddenly."
Repeatedly threatened by authorities
Bob Fu, founder of the U.S.-based Christian rights group ChinaAid, called on the government to give a transparent account of Li's sudden death.
"We are deeply saddened by the loss of one of China's most courageous, pro-constitution lawyers," Fu said in a statement on ChinaAid's website, comparing Li's death to that of Nobel peace laureate and political prisoner Liu Xiaobo last July.
"The Chinese regime should be held totally accountable," Fu said. "The whole world should demand that the Chinese government give a full, independent, and transparent account of what caused Dr Li's sudden death."
Fu said Li had been treated violently by authorities last year and threatened a number of times.
"He has been a bold and compassionate human rights lawyer, always ready in defense of the persecuted and vulnerable," Fu said.
Fu's suspicions were echoed by the group Christian Solidarity Worldwide, which said no cause of death was given on Li's death certificate.
"In previous months, Li had been repeatedly harassed and threatened by the Chinese authorities in connection with his defense of human rights," the group said in a statement calling his death "highly suspicious."
Chen Jiewen, who heads the Chinese Human Rights Lawyers Concern Group, said he is in the process of trying to understand what caused his colleague's death.
"He was a very rational person who didn't get excited easily, and a very conscientious lawyer," Chen said. "We never heard anything about him being sick."
"But it's hard to say right now because sometimes liver cancer can appear without any symptoms of disease at all," he said. "We really need to learn more about what happened after he went into hospital."
Political pressure and physical abuse
Li's close friend and fellow rights attorney Xie Yanyi said his health could have been damaged by the amount of political pressure he was under, not to mention the physical abuse he endured last year.
"There's bound to be some impact, right? His sudden death has left everyone shocked and surprised," Xie said. "As for whether [there was foul play], we will have to wait until we know more, or there is an investigation."
But according to Chen Bingzhong, former director of China Institute of Health Education under the Chinese health ministry, such a sudden death isn't unheard of if the liver cancer is already at a very late stage.
"The early detection of liver cancer is generally more difficult, and the patient won't have any symptoms, so they won't know about it," Chen said.
"It's already hard to treat early stage liver cancer if it is discovered, so it's up to the patient to get check-ups," he said.
Li, who was born in the central province of Hunan, but who had practiced as a lawyer in Beijing since college graduation, making a name for himself advising farming communities in land disputes, and defending Christians in trouble with the ruling Chinese Communist Party.
In October 2016, he defended Li Hongmin who was accused of "running an illegal business" after printing more than 11,000 copies of 125 different Protestant tracts for distribution in the southern province of Guangdong.
In 2008, Li was a joint winner of the U.S. National Endowment for Democracy's Democracy Award, which was presented to him and fellow rights attorney Li Heping at a ceremony on Capitol Hill.
More recently, Li acted for detained lawyer Li Yuhan after she was detained in the northeastern city of Shenyang, reporting that she was being mistreated in a police-run detention center and denied medications by the authorities.
He is survived by his wife, Xu Hanmei, and their eight-year-old son.
Source: Copyright © 1998-2016, RFA. Used with the permission of Radio Free Asia, 2025 M St. NW, Suite 300, Washington DC 20036. https://www.rfa.org.