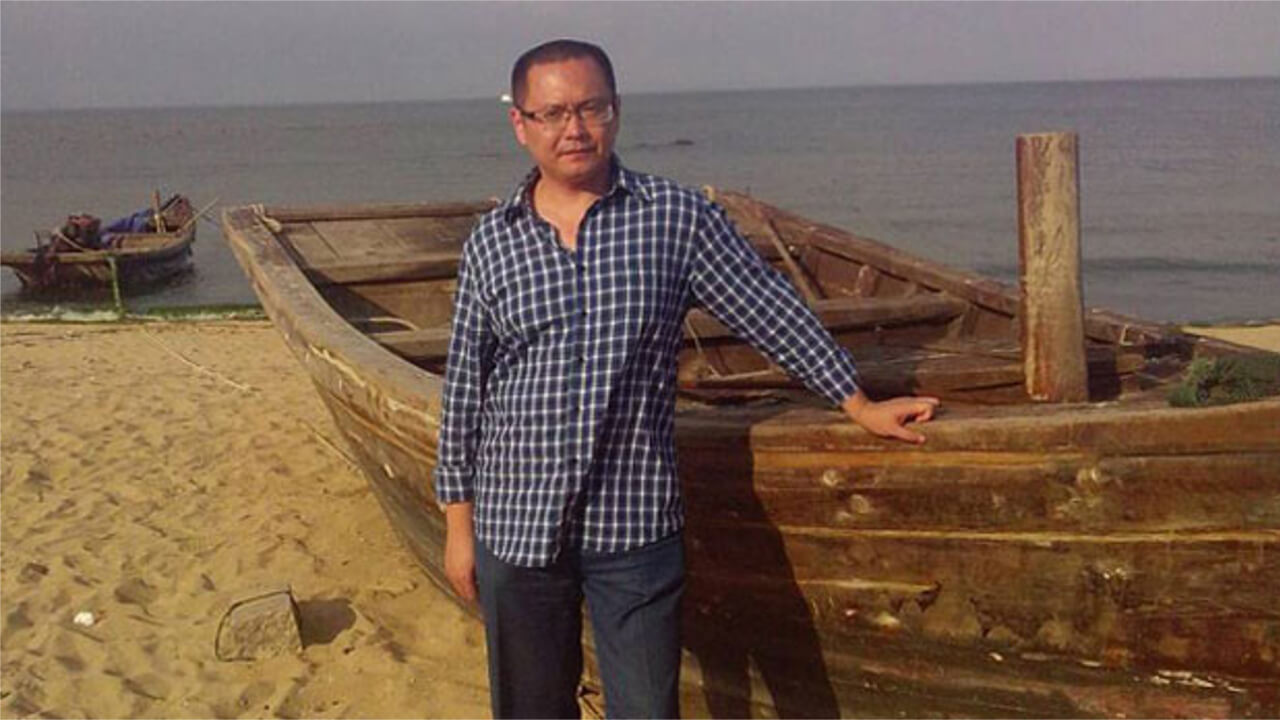 Recent threats by China's state security police against Muslim poet Cui Haoxin — known by his pen name An Ran — are a deliberate attempt to stop him speaking out about the mass incarceration of Uyghurs and other minority groups in its northwestern region of Xinjiang, a rights group has said.
Cui, a Hui Muslim, was visited and threatened by police on Aug. 16 after he sent and retweeted posts from his Twitter account about the detentions.
He was warned not to use overseas social media, and not to become a "tool" of hostile foreign forces, he wrote in a later blog post.
"As a group dedicated to safeguarding and cherishing freedom of expression everywhere, PEN America recognizes that China's policy of forced 're-education' in Xinjiang is a human rights disaster, one with dire implications for the right to free expression," PEN America said in a statement on its website.
"We call upon the government to immediately end and reverse these catastrophic and abusive policies."
Last April, An Ran was sent on a weeklong 're-education course' in eastern China and was briefly detained in connection with his poetry and other writings that reference Xinjiang, it said.
"An Ran, a poet, is speaking out on one of the most important human rights issues of our day," Summer Lopez, who heads PEN America's Free Expression Programs, said. "Instead of attempting to shut him down, authorities should be listening."
"This is a clear cut example of the Chinese government seeking to silence a critical voice through intimidation," said Summer Lopez, senior director of Free Expression Programs at PEN America.
PEN America cited "wide array of credible reports from journalists and human rights organizations [that] have revealed a broad system of state surveillance and forced detention of inhabitants … in large [camps]."
Once inside, "they are subject to a mandatory "patriotic" regimen … oriented around coercively discouraging detainees from expressing their ethnic and religious identity, including reported incidents where Muslim detainees were forced to eat pork, as well as other abuses," it said.
"While reported numbers vary, the number of detainees is widely believed to be in the hundreds of thousands," it said.
Cui told RFA he fully expects to face further retaliation, based on warnings from police during their visit that he should stop speaking out about the Xinjiang camps.
"The reason I am continuing to speak out is that there is a mass incarceration under way in Xinjiang on a huge scale," he said in a recent interview with RFA. "If we don't pay attention, we will leave [Uyghurs and other detainees] in utter despair and helplessness."
"I will continue to speak out until my last breath for these people, regardless of what happens next," Cui said.
Cui said the so-called "re-education camps" are targeting a specific ethnicity and their culture and religion.
"This is a mass incarceration targeting a specific ethnic group and a specific religion, which has similarities to the events that took place in Nazi Germany," he said. "The authorities say that they are in danger of being radicalized, and that this is an anti-terrorism measures, but I think that you can't solve social problems with concentration camps."
Turkey-based Uyghur Rafat told RFA that he has a number of friends and relatives who have been sent to the camps.
"The Xinjiang camps differ from the Nazi concentration camps in name only," Rafat said. "Anyone from the free world would see this in an instant, were they able to witness them with their own eyes."
Earlier this month, the United Nations Committee on the Elimination of Racial Discrimination (CERD) expressed concerns over China's mass internment of ethnic Uyghurs and restrictions on their religious freedom.
The panel said it was "deeply concerned" by reports that China "has turned the [Xinjiang] Uyghur Autonomous Region (XUAR) into something that resembles a massive internment camp that is shrouded in secrecy" in the name of eradicating "religious extremism" and "maintaining social stability."
Beginning in April 2017, Uyghurs and Kazakhs accused of harboring "strong religious views" and "politically incorrect" ideas have been jailed or detained in political "re-education camps" throughout the region. Many have done nothing more than go overseas, or have family members who have gone overseas.
Earlier this month, China's foreign ministry effectively expelled a BuzzFeed journalist who won a human rights award for her reporting on the mass incarceration and surveillance of Uyghurs and other groups.
The decision by China's foreign ministry not to renew the visa of BuzzFeed's China bureau chief, Megha Rajagopalan, came after she carried out extensive investigative reporting into heavy surveillance measures in Xinjiang, and the use of huge camps to detain Uyghurs and other minority groups for "re-education," the New York-based Committee to Protect Journalists (CPJ) said in a statement.
Reported by Ng Yik-tung and Dai Weisen for RFA's Cantonese Service, and by the Mandarin Service. Translated and edited by Luisetta Mudie.
Source: Copyright © 1998-2016, RFA. Used with the permission of Radio Free Asia, 2025 M St. NW, Suite 300, Washington DC 20036. https://www.rfa.org.