Authorities in the central Chinese province of Hubei tried a veteran rights activist for subversion on Tuesday after holding him for 20 months in pretrial detention.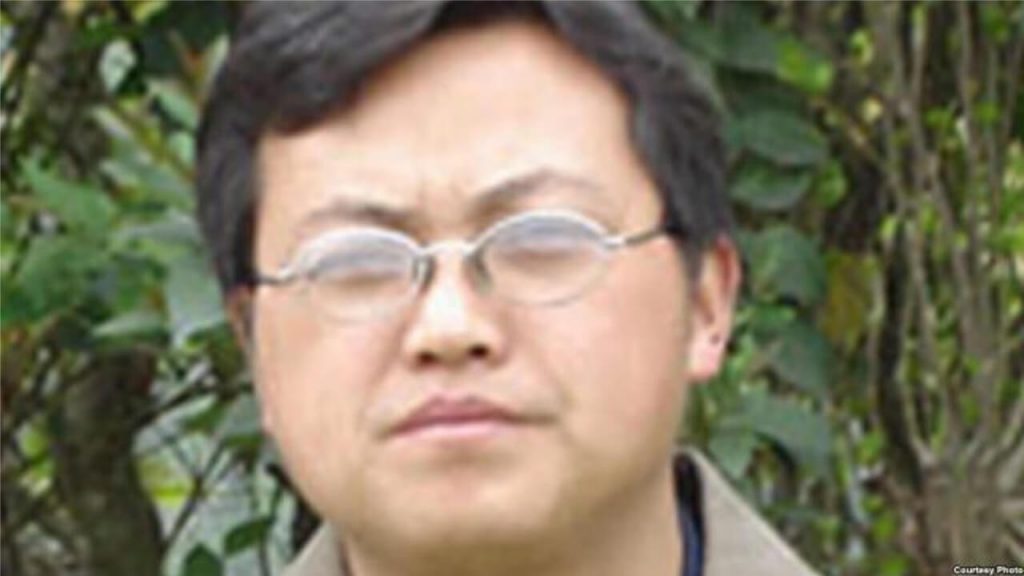 Liu Feiyue, 48, who founded the rights website Civil Rights and Livelihood Watch, stood trial at Hubei's Suizhou Intermediate People's Court on Tuesday on charges of "incitement to subvert state power."
Security was tight outside the courtroom, with a strong police presence on the streets outside the court building, Liu's supporters said.
Liu's defense attorney Wu Kuiming said he was unable to take a phone call on Tuesday, as the trial was still in session.
"It's not convenient for me to talk right now," Wu said.
The court website described Liu's case as a "public trial," with relatives present in court, as well as local political figures.
But police detained activists and supporters who tried to attend the trial, they told RFA.
"They were detaining people at the [railway and bus] stations," rights activist Wu Zhigang said. "[Hunan rights activist He] Jiawei and I went together, but they stopped Jiawei."
"When they came to detain me, they grabbed me in a hold and I fell down," he said. "After they brought us to the local police station, they questioned us about how we knew about [the trial]."
"They asked us where we were from and how we got there, details like that," he said. "Then they wrote it all down and had me sign it, before … escorting us to the station to leave town."
Wu said only a handful of supporters had gotten as far as the court buildings, however.
He Jiawei later told RFA that he had been put aboard a high-speed train back to his hometown.
"I had only just gotten out of the railway station on my way to attend Liu Feiyue's trial, when they shouted out my name immediately," He said. "I ignored them, and then several of them surrounded me and took me away immediately."
"After they were done taking my statement, they bought me a train ticket from Suizhou back to Hankou, and another from [there] to Zhangzhou," he added. "Then they escorted me to the train, and they didn't leave until it had pulled out of the station."
Repeated calls to the Suizhou municipal police department rang unanswered during office hours on Tuesday.
Barred from travel
Wuhan rights activist Bao Naigang said he was warned off traveling to Suizhou for the trial two days earlier.
"I received a warning, and I'm certain that a large number of other people did too," Bao told RFA on Tuesday. "Someone from the stability maintenance team has been visiting me in the mornings; I think my stability maintenance priority must have gotten higher."
"They told me very clearly that I couldn't go to Suizhou."
Shanghai rights activist Cheng Yulan said she had also been prevented from leaving her home to attend the trial by state security police.
"I didn't go," Cheng said. "They wouldn't let me; they wouldn't let me leave my home."
Veteran activist
Liu has been targeted for police harassment since he founded Civil Rights and Livelihood Watch in 2006, and has been routinely detained or placed under house arrest during politically sensitive events.
Volunteers at the Civil Rights and Livelihood Watch offices had previously said that Liu also stands accused of receiving overseas funding to run the group.
Liu was initially detained on Nov. 17, 2016, and placed under criminal investigation for "incitement to subvert state power."
President Xi Jinping has repeatedly warned against "hostile foreign forces" attempting to overthrow the ruling Chinese Communist Party by infiltrating China with "Western" religious practices and ideas like democracy, constitutional government, and human rights.
Liu was among more than 300 lawyers, law firm staff, rights activists, and relatives who were detained, questioned, or placed under surveillance or other restrictions in a nationwide police operation targeting the legal profession and related activists launched in July 2015.
Source: Copyright © 1998-2016, RFA. Used with the permission of Radio Free Asia, 2025 M St. NW, Suite 300, Washington DC 20036. https://www.rfa.org.