Police in the southwestern Chinese province of Sichuan have detained 17 Christians after they gathered for memorial prayers for the victims of the massacre that ended the 1989 student-led protests on Beijing's Tiananmen Square.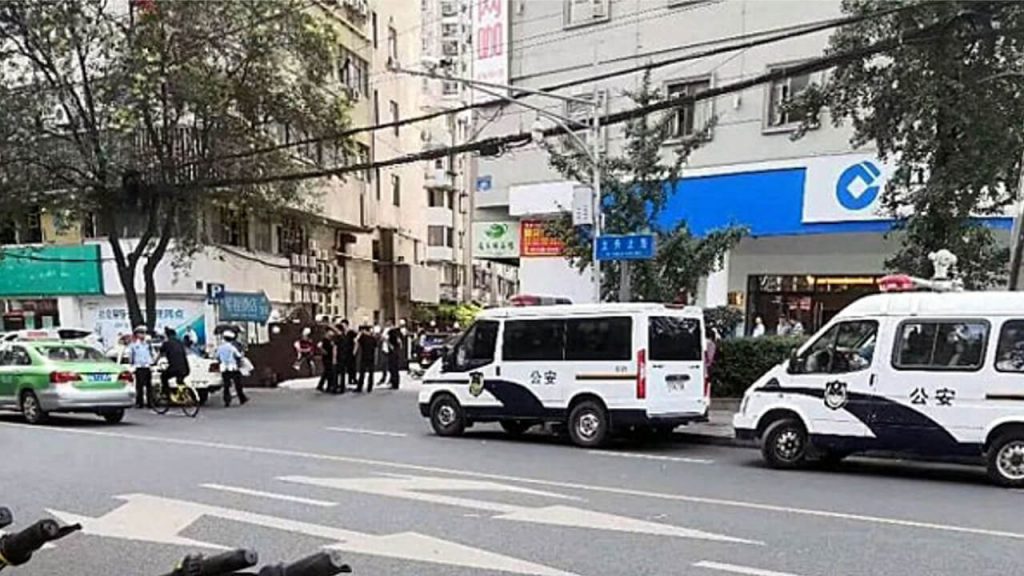 Members of the Qiuyu, or Early Rain, Protestant church in Sichuan's provincial capital Chengdu were detained after they showed up for a prayer meeting titled "Praying for Our Country on June 4," church members told RFA.
Police from Chengdu's Caoshijie police station in Qingyang district and local officials from the religious affairs bureau burst in on the gathering in a residential building in the district at around 3 p.m. on Monday.
They ordered the prayers to end immediately on the grounds that the meeting was an "illegal assembly."
Public memorials and discussions of the events of June 1989 are banned, with activists who seek to commemorate the bloodshed often detained and veteran dissidents placed under police surveillance or detention during each anniversary.
Police detained Qiuyu pastor Wang Yi and preachers Li Yingqiang, Zhang Xudong, Ge Yingfeng and more than 10 church members, taking them down to the police station for questioning.
Photos of the scene seen by RFA showed plainclothes officers in the church office, with some people shooting video of proceedings. On the street below, uniformed officers had sealed off the street to traffic, according to social media posts made by church members.
By 8 p.m. on Monday evening, a number of church members were also placed under house arrest, according to a church member who requested anonymity.
"None of them have been released yet; they won't be released now, because today is a [politically] sensitive date," the church member said. "The church members who didn't attend had been detained in their own homes."
"Pastor Wang Yi arrived at the church at around 1 p.m., and Li Yingqiang was there waiting, having called on our brothers and sisters to arrive early," the church member said. "We never thought they would be there by 3 p.m."
Released the next day
The church members were all released the following day, Li Yingqiang told RFA on Tuesday.
"They never actually gave a real reason for detaining us," Li said. "All they would say was that it was an illegal assembly. But I think the real reason was that they didn't want that prayer meeting to go ahead, so they took [us] down to the police station."
"They were very rough and rude in the process, and they beat up a few people while they were detaining us," he said. "They slapped me around the head once they'd gotten hold of me. They split my lip."
Li said he wouldn't pursue any complaint, however.
"I told them at the time that what they were doing was illegal," Li said. "I wish the authorities would understand our organization … so as to avoid any further situations where they abuse their power, and the rights of citizens, and infringe our right to the freedom of religious belief."
Calls to the Qingyang district police department rang unanswered during office hours on Tuesday.
Crackdown on house churches
Protestant "house church" pastor Huang Yizi said the authorities are currently engaged in a nationwide crackdown on unofficial Protestant churches.
"The rule of law in China is all messed up, so it's very hard for us to achieve certain things," Huang said. "For example, I think the Early Rain Church did really well yesterday."
Last month, a large group of Early Rain Church members were detained after they gathered for a memorial service on Saturday on the 10th anniversary of the devastating 2008 earthquake.
Ruling Chinese Communist Party officials in the southwestern province of Sichuan had declared the 10th anniversary of the devastating 2008 earthquake a "day of thanksgiving" for reconstruction efforts.
But many quake victims said they are worse off than before and are prevented from speaking out or holding public memorial events for the more than 80,000 people who died in the quake, in particular the thousands of children who died when school buildings collapsed.
China is home to an estimated 68 million Protestants, of whom 23 million worship in state-affiliated churches, and some nine million Catholics, 5.7 million of whom are in state-sponsored organizations.
But the ruling Chinese Communist Party, which embraces atheism, exercises tight control over any form of religious practice among its citizens.
The administration of President Xi Jinping regards Christianity as a dangerous foreign import, with officials warning against the "infiltration of Western hostile forces" in the form of religion.
Source: Copyright © 1998-2016, RFA. Used with the permission of Radio Free Asia, 2025 M St. NW, Suite 300, Washington DC 20036. https://www.rfa.org.