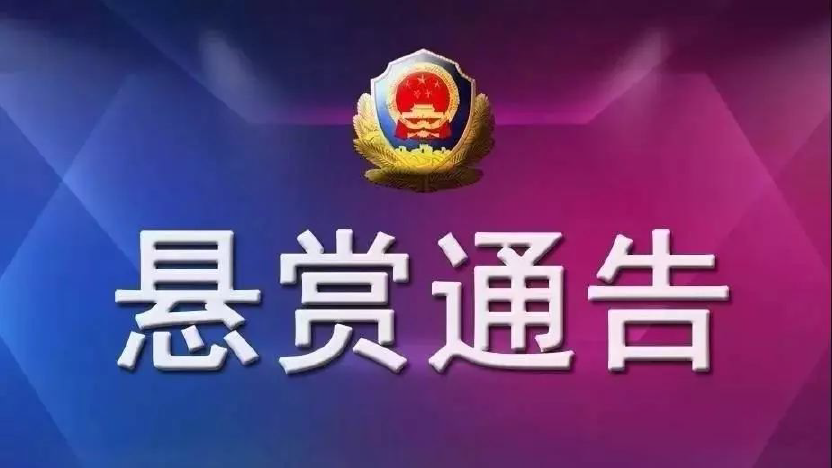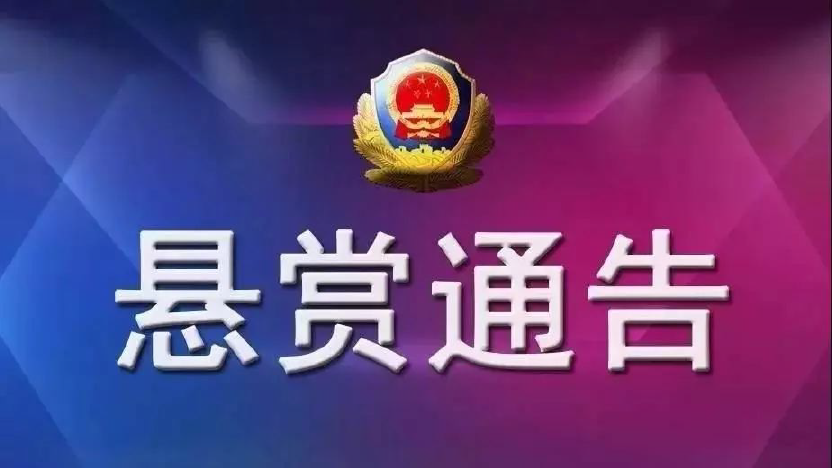 Cui Huihui, female, born on April 9, 1985, of Lepingpu Town in Chiping County, Liaocheng City in Shandong Province, became a member of The Church of Almighty God (CAG) in 2003. In that same year, at the ripe age of 18, Cui Huihui was arrested, beaten, paraded through streets and detained by the Chinese Communist Party (CCP) for 85 days for spreading the gospel. In 2013, she was once again detained for half a month for spreading the gospel. After her release, she was forced to flee her home. The CCP kept up a constant search for Cui following her disappearance. In August of 2019, the Chiping County Public Security Bureau began advertising a cash reward for information leading to Cui Huihui's arrest. Cui's current predicament is more dangerous than ever.
In May of 2003, Cui Huihui, who was at the time only 18 years of age, was arrested for spreading the gospel in Chiping County and was sent that night to the county's local detention center. During her detainment, the police interrogated Cui several times, using both intimidation and bribery to pressure her to sell out fellow Christians of her Church, but the interrogations were unsuccessful. Angered and exasperated, the police stamped and ground on the toes of her left foot, causing Cui excruciating pain. During that time, the police also paraded Cui and other male convicts through the streets to deliberately publicly shame her. This treatment was extremely damaging to Cui both physically and emotionally. After 85 days of detainment, Cui finally obtained release only after her family had spent more than 2000 RMB wining and dining the police.
On January 1, 2013, Cui Huihui was arrested by the police once more while spreading the gospel in Dong'e County, Liaocheng City. She was charged with "disrupting social order" and jailed in the Chiping County Detention Center for two weeks.
After her release, Cui Huihui fled from home to avoid being arrested and persecuted further by the CCP police.
After Cui fled, the police inquired several times with her parents regarding her whereabouts. These visits were extremely disruptive to the lives of Cui's family members, and, ultimately, Cui's younger sister and parents were forced to flee from home. However, the CCP still wouldn't let up.
On November 6, 2013, Cui's father was arrested by the CCP for his belief in God and sentenced to 3 years in prison.
On the morning of September 9, 2018, the police from Leping Town Police Station as well as the county public security bureau, once again located Cui Huihui's family members and reminded them that the CCP leadership does not allow the worship of God within its jurisdiction and that worship of God is illegal in China. The police questioned the Cui's about their daughter's whereabouts, but they declined to answer. As the police left, they ordered the Cui's to call them if they obtained any information concerning their daughter.
On June 28, 2019, Cui's little sister (30 years old at the time) was arrested by the CCP for believing in God and, on June 30 of the same year, was jailed on the suspicion of "organizing and using a xie jiao organization to undermine the enforcement of law" at the Jinan City Detention Center in Shandong Province. At present, she is still being detained.
On August 20 of the same year, the Chiping County Public Security Bureau in Liaocheng City posted a notice of a cash reward for information leading to the arrest of several wanted suspects on the bureau's WeChat account. The rewards totaled 200,000 RMB and public warrants were issued for 40 suspects. Because Cui Huihui is among the suspects listed, her current predicament is even more dangerous than before.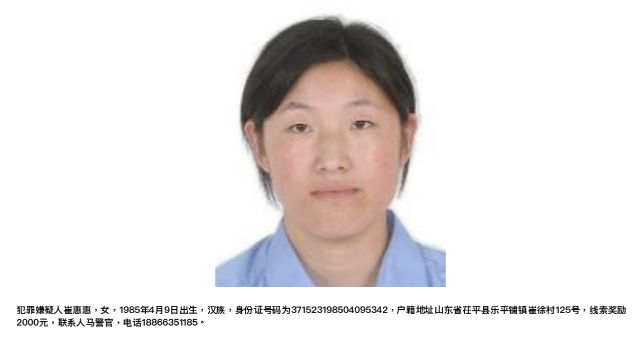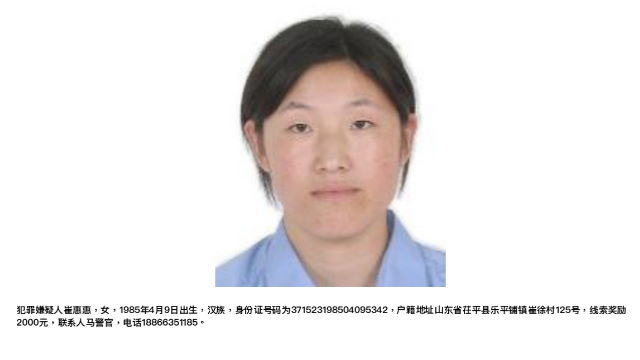 Cui Huihui has experienced great suffering and depression as a result of having to flee from home and being unable to reunite with her family. This is all due to the many long years of persecution by the CCP. She has experienced firsthand that China is a country without religious freedom.