Authorities in the southwestern Chinese province of Yunnan are holding an outspoken artist who supported a woman sent to a psychiatric hospital for splashing a poster of President Xi Jinping with ink, RFA has learned.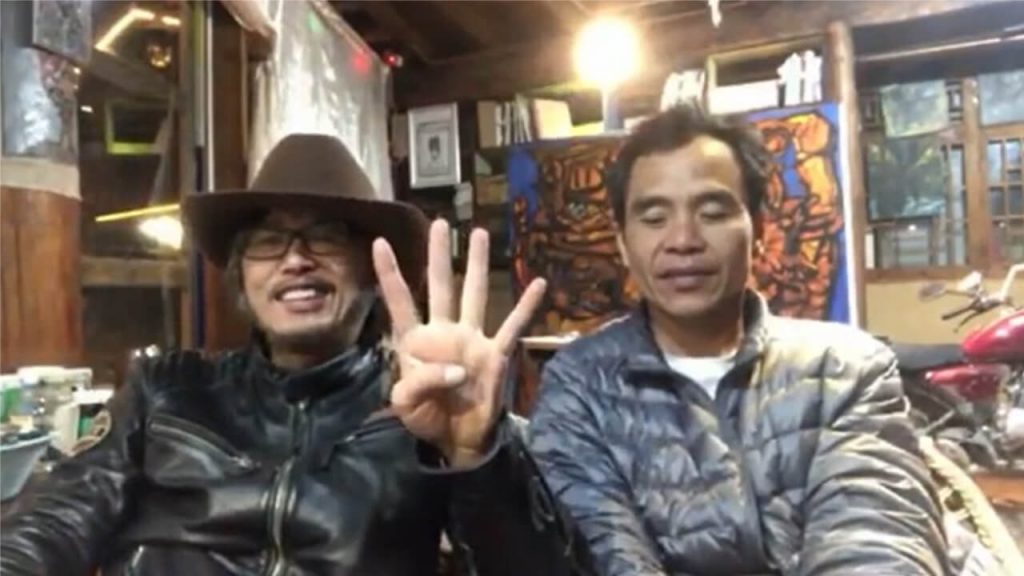 Beijing-based artist Hua Yong was detained for questioning after the protest in Shanghai by Dong Yaoqiong, after which she was incarcerated in the Zhuzhou No. 3 Hospital, a psychiatric unit in the central province of Hunan.
Though later released from police detention, he is now being held under residential surveillance and is unable to contact anyone, a friend of Hua's who gave only his surname Guo told RFA.
"After he was detained, then released, by the local police station, he didn't regain his freedom," Guo said. "He is under house arrest. I haven't been in contact with him for a long time now."
"His sister runs an inn in Yubeng village, [in Hunan's] Deqin county, and three police officers took him there for a while, but then they left a few days later," he said. "We haven't had any news of him since."
Guo said Hua is currently being held in a mountainous region on the border between Yunnan and the Tibet Autonomous Region, and his friends and family don't know the exact address.
"He has people with him round the clock, and he can't contact anyone outside," he said.
Taken by police
Hua's sister confirmed Guo's account.
"He stayed here with me for a few days last month, but the police had him under house arrest and wouldn't let him go out … and they wouldn't let me see him," she said. "Then the police took him away again. I think that was on July 23."
"I asked where they were going but they wouldn't tell me, and I haven't had any contact with him since," she said.
An officer who answered the phone at the Diqing prefecture police department in Yunnan declined to comment when contacted by RFA.
Hua's friend Ji Feng said he had received a text message from Hua saying that he is currently safe.
The message appeared to have been sent from a device carried by one of Hua's guards, Ji said.
'Brain control'
Dong, who hails from the central province of Hunan and used the Twitter handle @feefeefly, had streamed the live video of herself splashing ink on the ruling Chinese Communist Party propaganda poster in protest at "authoritarian tyranny."
In the video, Dong splatters ink across Xi's image on the poster and shouts slogans protesting "persecutory brain control," an allegation some activists have said could be linked to attempts to disorient her through psychiatric medication or technology.
Dong disappeared after reporting a number of uniformed men via her Twitter account, which was later shut down and the video deleted. She was later committed to the psychiatric hospital by her mother, who "didn't fully understand the situation," her father Dong Jianbiao told RFA.
Dong Jianbiao was later detained by state security police after he tried to visit her in hospital, where she is closely guarded by state security police.
Source: Copyright © 1998-2016, RFA. Used with the permission of Radio Free Asia, 2025 M St. NW, Suite 300, Washington DC 20036. https://www.rfa.org.