Authorities in the Chinese capital have stepped up mass evictions of low-income migrant workers and small traders in the wake of a second fire in Beijing's Chaoyang district, residents said.
Five people were killed and nine others injured after a blaze from two electric bicycles tore through a residential building Shibalidian on Wednesday morning, official media reported.
Police have detained the landlord after they discovered the building and apartments were a DIY job, prompting questions over safety.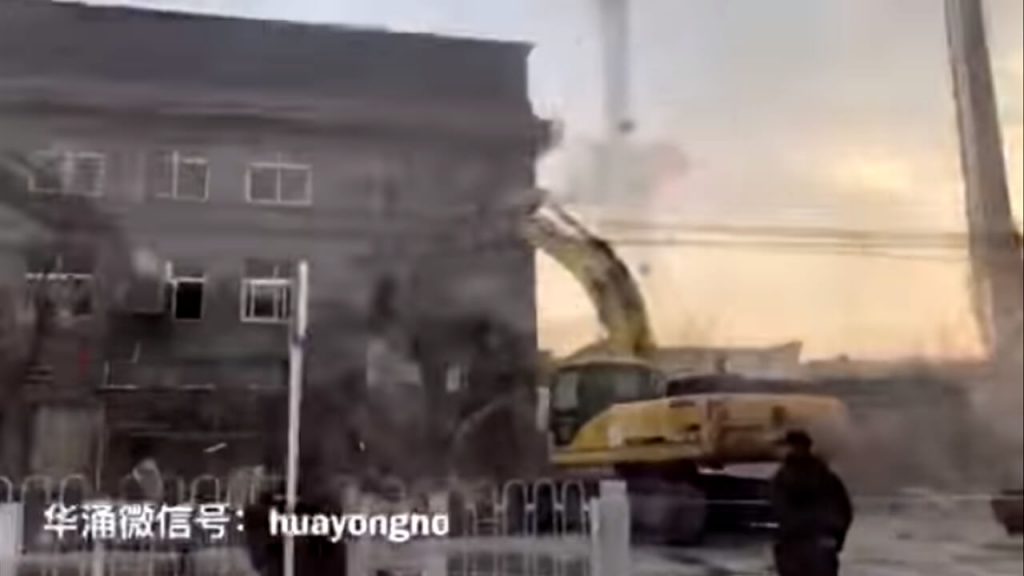 The blaze came less than a month after a dormitory fire sparked by a fault in the electrical wiring killed 19 in the southern district of Daxing on Nov. 18, prompting the authorities to evict thousands of low-paid migrants into sub-zero temperatures with scant support or financial compensation, residents have told RFA.
"City officials urged a thorough safety overhaul of illegally operated business venues and houses leased for group tenants in Beijing," Xinhua said in its report on the second fire on Wednesday.
Seven local officials including a township chief and the local police station, have been placed under investigation by the ruling Chinese Communist Party's disciplinary arm.
Local authorities appear to be continuing the sudden, often violent, eviction of migrant workers in the vicinity, resident said.
Migrant worker Ma Bo said she was suddenly evicted from her home in Beijing's Fangshan district after working in the capital for several years.
"They have been violently evicting the out-of-town population, sometimes attacking them with sticks and smashing up their stuff … and without giving the residents any prior warning," Ma said.
"They just smash through the doors and take all of their stuff away, then shut off the water and electricity," she said. "It's utter chaos. You have people coming home at the end of a day's work, to find their home has gone."
Beijing party boss urged to resign
A migrant worker surnamed Zhang said further evictions took place in a nearby district on Wednesday.
"They were inspecting Longgezhuang yesterday afternoon, and they searched all through my friend's factory," Zhang said. "As they were going into the building, they told my friend that he'd better get ready to move out."
"They herded all of the workers into a room and wouldn't let them shoot video or take photos," he said. "They gave them no time at all, and they took all of their belongings. They wouldn't even give them time to move their own stuff out themselves."
A group of academics on Wednesday reportedly penned an open letter to Beijing party secretary Cai Qi, calling on him to resign over his targeting of low-income people.
"We have noticed that after Mr. Cai Qi paid a courtesy call to the residents and the scene of the Chaoyang fire afterwards, he delivered a speech which is truly regrettable in view of the terrible death toll caused in the incident," the letter, signed by academics from the prestigious Beijing University, Tsinghua University and Renmin University, among others.
"We urge him to resign immediately, as he has seriously violated laws and discipline," the letter, which was quickly deleted from social media sites by government censors, said.
In the speech, Cai was quoted as saying that the government should take care of people working in sanitation, cleaning, security, property, housekeeping, courier, catering and other low-income jobs.
Such workers should be "made welcome, and given a sense of belonging," he said.
Activists have told RFA that thousands of migrants have been made homeless in sub-zero temperatures in Beijing in recent weeks, with some estimates putting the total around 100,000.
Calls to Beijing University and Renmin University rang unanswered during office hours on Thursday, while an employee who answered the phone at Tsinghua University declined to comment on the letter.
"I don't know about this; you need to know which department to contact," the employee said.
Beijing-based economist Hu Xingdou said the authorities should listen to the public outcry at the mass eviction program, and avoid carrying out such mass evictions in future.
"The city government and party secretary should stick to the law in carrying out their duties," Hu said. "Even more importantly, they should listen to public opinion."
Source: Copyright © 1998-2016, RFA. Used with the permission of Radio Free Asia, 2025 M St. NW, Suite 300, Washington DC 20036. https://www.rfa.org.