Masks, helmets, umbrellas, and other "sensitive" items are no longer allowed to be sent from mainland China to Hong Kong and neighboring regions.
by Zhang Wenshu
The Chinese authorities have been stifling the protests in Hong Kong with all their might, continuously introducing new control and suppression measures aimed at quashing the demonstrations. To withstand tear gas and rubber bullet attacks and protect themselves from police brutality, protesters are in dire need of face masks, helmets, and other protective gear, which are becoming hard to come by in the special administrative region.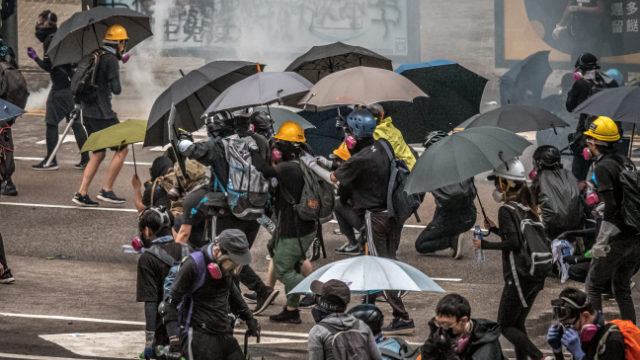 Endangering national security
To ensure that such goods do not reach Hong Kong, the CCP has implemented strict measures to control online sales and shipment from the mainland. As a result, at least 20 sellers of military surplus on Taobao, a Chinese online shopping website owned by the multinational conglomerate Alibaba, stopped selling helmets, shields, protective vests, and other similar "sensitive" merchandise to Hong Kong.
All logistics and courier companies in China have been banned from shipping the regulated items to Hong Kong and other neighboring areas, like Zhuhai and Shenzhen cities in Guangdong Province or Xiamen in Fujian Province. Since then, all packages to these destinations are inspected, and their senders are required to register their full name and ID card information.
On August 13, the police of Qingdao city's Chengyang district in the eastern province of Shandong summoned local logistics companies for a meeting and informed that knives, toy guns, safety helmets, and other "dangerous" items are not allowed to be sent to Hong Kong and the neighboring localities. If such goods are discovered, the offender will be arrested for endangering national security. All courier companies were also required to maintain surveillance records for at least three months.
Punished under Anti-Terrorism Law
Shipping and courier companies across China started adopting measures to implement government policies. On August 15, STO Express, a Chinese courier company, issued the Urgent Notice on Prohibiting the Collection and Shipment of Sensitive Courier Items to the Hong Kong and Guangdong Region. The notice lists 15 categories of "sensitive" items that are not allowed to be collected from senders and shipped to Hong Kong and Guangdong: masks, helmets, T-shirts imprinted with sensitive patterns or texts, slingshots, steel, imitation guns, hiking poles, ice shovels, pliers, bright light radiation lamps, eyeglasses, protectors, face masks, long-handle umbrellas, and glass bottles.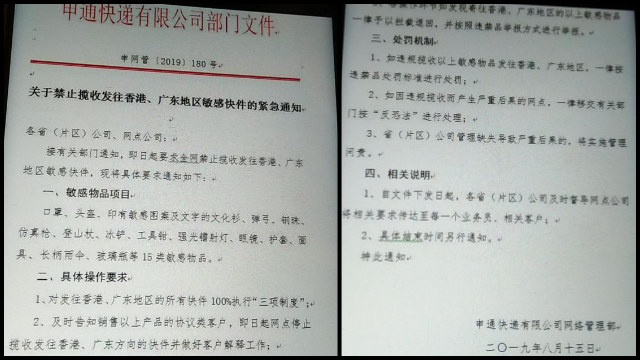 The notice stipulates that during each operational stage of shipment, any item from the list must be intercepted and sent back to the sender upon discovery, and the sender must be reported according to the procedures implemented in cases of discovered contraband.
To ensure the enforcement of this regulation, the company has introduced strict sanctions for its employees. If a "sensitive" courier package is collected, the culprits are punished with penalties imposed in cases of contraband-related violations. If the situation "leads to serious consequences," the branch that has collected the package will be investigated by relevant government departments as per the Anti-Terrorism Law.
An STO Express customer service agent told Bitter Winter that because of the restrictions, almost nothing could be shipped. "The company's delivery volume has drastically reduced, resulting in financial losses," the agent said.
Despite the harm to their capital, courier companies have no choice but to execute the restrictive regulations – or face harsh penalties. The same STO Express customer service agent revealed that in April, during the Navy Day celebrations in Qingdao, a company was fined 50,000 RMB (about $ 7,000) for shipping a prohibited item.
To avoid penalties, all customer service agents must scan and inspect packages before accepting them and make sure that the real names of the sender and recipient are used.
Mainland perspective: No support to "rioters for Hong Kong independence"
The whole world has been following the protests in Hong Kong closely, but the general public in mainland China knows very little about the matter. The "Great Firewall of China" helps the CCP to control and block all online information from outside, and the authorities disseminate false information, distorting the reality and portraying the protestors as "rioters for Hong Kong independence," to incite nationalist and anti-Western sentiment.
As part of informational warfare, the government started circulating inflammatory videos in mainland China, praising the measures which ensure that prohibited items, much needed by the protestors, do not reach Hong Kong.
"Mainland China is fully controlling the flow of prohibited items to Hong Kong," one of the videos states. "All logistics and courier companies prohibit the shipping of prohibited items to key areas. This blow completely cuts off the channels through which Hong Kong independence organizations obtain supplies. They will be unable to purchase weapons to continue rioting. The supplies they need can't be sent out. With their material supplies cut off, they will be thoroughly isolated!"
The video that is widely circulated in mainland China includes incendiary rhetoric, referring to the Hong Kong protests as "riots.":
As 
The New York Times
 noted in its August 14 article, "The result, both in mainland China and abroad, has been to create an alternate version of what, seen from Hong Kong, is clearly a popular demonstration movement. In China's version, a small, violent gang of protesters, unsupported by residents and provoked by foreign agents, is running rampant, calling for Hong Kong's independence and tearing China apart."
Source: Bitter Winter