The CCP intensifies control of postal and courier services, imposing especially harsh measures on shipments to Hong Kong, Beijing, and other "sensitive" regions.
by Wang Yong
Amid the pro-democracy demonstrations in Hong Kong, the Chinese government is stepping up all possible suppression measures aimed at curtailing the protests. Among them are the growing restrictions on items that are allowed to be mailed from the mainland, intended to cut off shipment of provisions needed by the protestors. The number of prohibited items has increased nearly four times, and people are being arrested for shipping "contraband." The restrictions have intensified, especially ahead of National Day, to mark the 70th-anniversary of Communist China on October 1.
Nearly 100 banned items
According to an internal document, issued by a courier company in the southeastern province of Fujian, the list of items allowed to be mailed to Hong Kong has been narrowed drastically, and the number of prohibited categories increased from a few dozen to nearly 100 and now include such items as golf clubs, rattan sticks, headscarves, US flags, wigs, and balloons.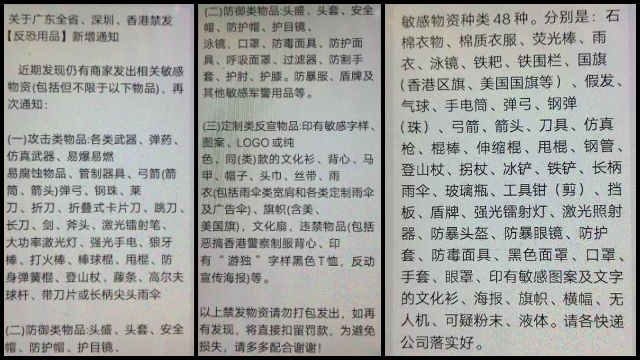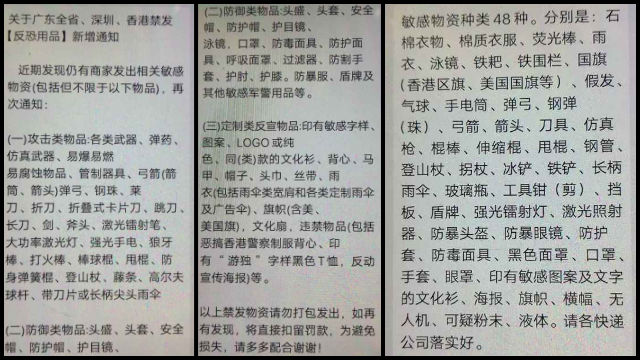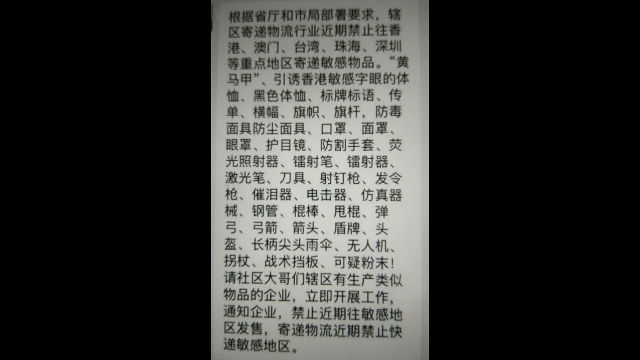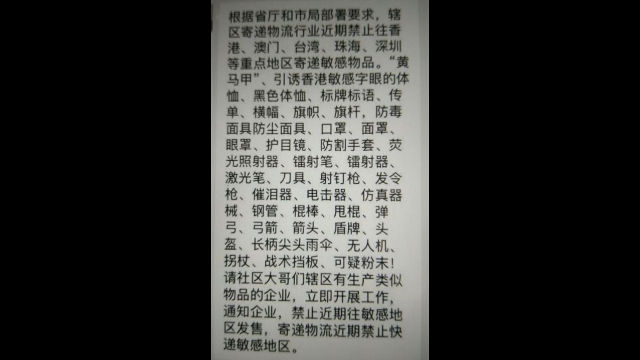 "To prevent protesters from making T-shirts, even shipping cloth isn't allowed. The shipment of rods for drying clothes has also been prohibited since they can be used as weapons," said the person in charge of a courier company in Fujian who wished to remain anonymous. He added that these restrictions have significantly impacted courier businesses in the country, also because shipment of items to Macau and Taiwan are restricted as well, authorities wanting to make sure that protestors are not sent "prohibited" goods there.
Gloves and doorbells prohibited
The state now treats attempts to mail banned items as the expression of support to "rioters" in Hong Kong.
An insider at another courier company in Fujian revealed that in September, the provincial Public Security Department stationed officers at the company's transfer station to conduct thorough inspections of items destined for Hong Kong.
After a glove manufacturer from Cangshan district in Fujian's capital Fuzhou shipped an order of 50 pairs of gloves to Hong Kong in September, the police arrested and interrogated some of the company's employees. A resident in the same district was detained for questioning after he shipped a doorbell device to Hong Kong. Doorbells have intercom capabilities and are therefore prohibited from being sent to Hong Kong, claimed law enforcement officers.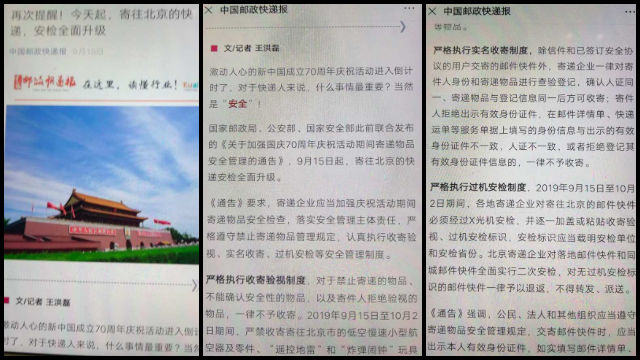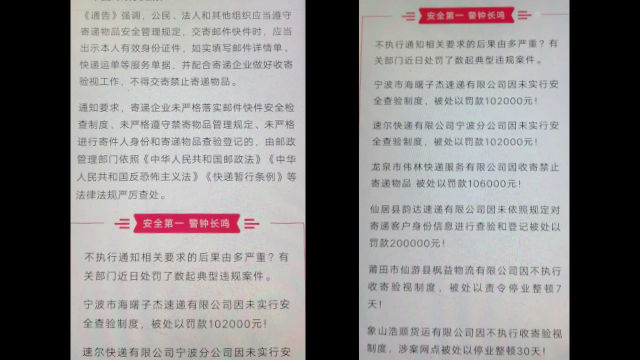 An employee at a courier company in the eastern province of Zhejiang told Bitter Winter that the police demanded to call them immediately if shipments of any prohibited items to Hong Kong are discovered.
In September, a shop owner from Zhejiang's Ninghai city shipped two packages with laser lights to the southeastern province of Guangdong, bordering Hong Kong and Macau. They were sent through two branches of Ninghai Yunda courier company but were intercepted by the police in Shenzhen, a metropolis in Guangdong that links Hong Kong to mainland China. As a result, the heads of the two company branches were arrested and interrogated; one was fined 30,000 RMB (about $ 4,200) and the other – 20,000 RMB (about $ 2,800).
Exceptionally challenging National Day for couriers
China's capital Beijing has also become a nightmare for courier companies and their personnel, in particular ahead of and during the 70th-anniversary celebrations.
In August, the State Post Bureau, together with the ministries of public and state security, issued a joint Notice on Strengthening the Safety Management of Shipped Items During the 70th National Day Celebrations. The document calls for strict inspections of items shipped to Beijing, making sure that real names of sender and recipient are always indicated, visual inspection of packages performed, and other security checks implemented. Any violators of these regulations will be severely punished. From September 15 to October 2, any military-related toys, such as remotely-controlled aircraft and alike, were not allowed to be sent to Beijing.
"Since the end of September, the company has been holding meetings constantly. Every day, several messages are sent to employees, emphasizing that goods sent to Beijing must be strictly inspected or politely rejected. As soon as it is discovered that a parcel wasn't opened and inspected, or that the registered information is inconsistent with the sender's information, then the courier(s) who handled the package will be fired," said an employee at the Jiangxi branch of SF Express, the second-largest delivery services company in China.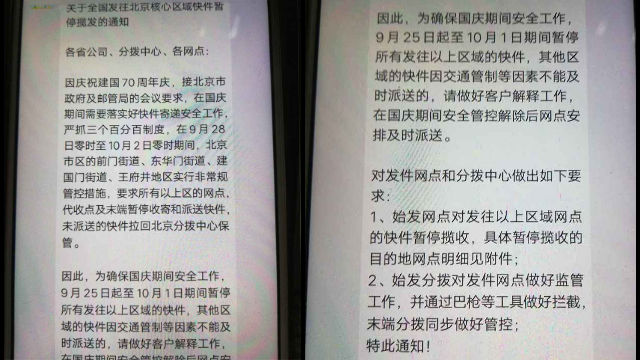 "After couriers visually inspect parcels sent to Beijing or Hong Kong, a company-designated employee opens and inspects each parcel. Customers are not informed that their parcels have been opened," another courier agent from Jiangxi told Bitter Winter. "Everyone at the company is agitated, scared of accepting packages destined for Beijing. If a prohibited item is sent, those involved will be fired immediately."
Source: Bitter Winter