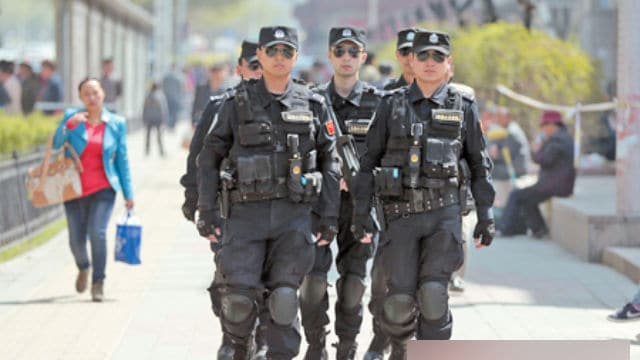 Authorities in northwest China's Xinjiang Uyghur Autonomous Region (XUAR) have sentenced a septuagenarian Uyghur retiree who spent decades as a public servant to a lengthy jail term for attending a Muslim sermon during a wake held 13 years ago, according to local officials.
A source claiming inside knowledge of the situation recently told RFA's Uyghur Service that 73-year-old Rukiya Osman, a former government official in Ghulja (in Chinese, Yining)—the seat of Ili Kazakh (Yili Hasake) Autonomous Prefecture and the XUAR's third largest city—had been arrested and sentenced to 17 years in prison.
Osman, who spent 30 years working in women's affairs in Dongmazar township, in the county-level city of 550,000 people, reportedly oversaw the interrogations of countless women for violations of family-planning policies limiting minorities to two children in the city and three in rural areas, and even escorted pregnant women to hospitals where they were forced to have abortions for skirting the rules.
A 40-year member of the ruling Chinese Communist Party (CCP), she was also responsible for having reported many violations to higher-ups in the local government, said the source, speaking on condition of anonymity for fear of reprisal. On a number of occasions, she won accolades and awards within the government system for having so dutifully carried out her work.
However, in 2017, after the start of a mass incarceration drive that has since seen an estimated 1.8 million Uyghurs and other Muslim minorities detained in a vast network of internment camps in the XUAR, and the intensification of state-led repression in the region, Osman herself became suspect and was brought in for questioning.
During her interrogation, it was discovered that 10 years earlier, she had listened to a sermon while attending a wake. This sermon was ultimately used as "evidence" against her, landing her in prison.
'Bit of a mistake'
RFA's Uyghur Service spoke with a police chief in Ghulja who referred questions about Osman's sentencing to the office of a local secretary for politics and law.
Using the number he provided, RFA was able to speak with the secretary of the township committee of the Chinese Communist Party's Office of Politics and Law who confirmed that Osman was among a group of people from Dongmazar Bazaar who had been detained.
"Among the women there's one named Rukiya—she was sentenced to 17 years," she said, adding that the woman's family name is Osman and that she is 73 years old.
"She's a Party member. She worked for the government for 30 years, but she made a bit of a mistake."
According to the secretary, who also declined to be named, during her second round of police questioning, Osman had told the police that she had gone to the wake in question 10 years prior on duty, to watch the event and ensure that nothing illegal was taking place. She reportedly attempted to convince the police that she had kept a strict boundary between herself and the "religious radicals" who were present that day.
The police did not believe her story, however, and ultimately punished her for failing to report at the time that a sermon had been delivered. They accused her of aiding and abetting criminal activity—a more serious crime than she might otherwise have been charged with—and moved her from a township detention center to a county-level facility.
Osman reportedly told police that sermons such as the one she heard while at the 2007 wake were not illegal at the time, and that the particular sermon where she was present had no "harmful content," which was why she did not report it. Still, police escorted her away from the interrogation room with a black hood over her head and took her to a detention facility.
Osman was detained in June 2017 and spent two years in detention, shackled, until she was taken to trial in mid-2019. She is currently serving her sentence in Ghulja's Baykul Women's Prison, the secretary said.
"It's been over a year," she said of the sentencing. "She was present when someone was delivering [a sermon]."
The secretary said that Osman is from Dongmazar's Aydal village and that she is widowed. She said that the former official has three daughters and three sons—the latter of which have all been sent to internment camps.
Few are safe
Osman's detention and imprisonment fit several patterns: one in which former Party members or government employees run afoul of the authorities; another in which evidence points increasingly to a shift from internment in camps to usually long sentences in prison; and another in which XUAR authorities have detained elderly Uyghurs and given them excessively long prison terms that are effectively death sentences.
Previously, RFA reported on Ziyawudun Choruq who was detained in 2017 at age 82 in Korla (Kuerle)—a county-level city in Bayin'gholin Mongol (Bayinguoleng Menggu) Autonomous Prefecture and the XUAR's second-largest city, as well as former police chief of 30 years Habibulla Abdul, who was sent to a camp at the age of 80 in Turpan (Tulufan) prefecture's Chatqal township.
Chinese officials have said internment camps in the region are centers for vocational training. However, reporting by RFA's Uyghur Service and other media outlets shows that detainees are mostly held against their will in cramped and unsanitary conditions, where they are forced to endure inhumane treatment and political indoctrination.
Reported by Shohret Hoshur for RFA's Uyghur Service. Translated by the Uyghur Service. Written in English by Joshua Lipes.
Source: Copyright © 1998-2016, RFA. Used with the permission of Radio Free Asia, 2025 M St. NW, Suite 300, Washington DC 20036. https://www.rfa.org.