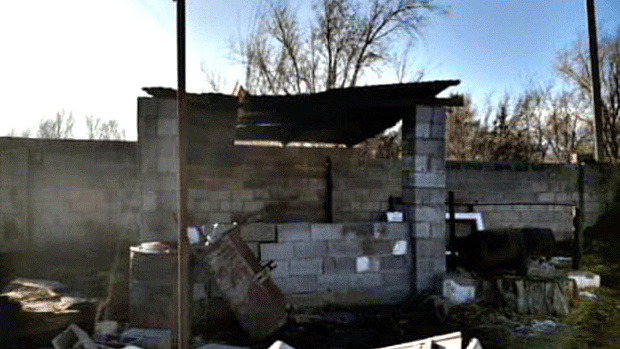 An ethnic Uyghur woman who published an account last year of torture and other abuses at an internment camp in northwest China's Xinjiang Uyghur Autonomous Region escaped an apparent attack last week when a shed connected to her home in Kazakhstan was set on fire, she says.
Speaking to RFA's Uyghur Service, Tursunay Ziyawudun said that after her husband woke her with a shout that the structure was in flames, they found that their door had been tied shut, preventing their escape.
Her husband's sister and 10-year-old niece were also in the house located in Chilek county outside the Kazakh city Almaty, she said.
"We kept pushing, but couldn't open it," Tursunay said. "We called the fire department and were able to use a knife to cut the rope and get out by the time that they arrived. We just barely made it outside."
"Was this a plot to burn us to death?" she asked.
The Feb. 14 attack, which destroyed the shed and almost spread to their house, followed a series of threatening phone calls and an incident in which Tursunay's husband Halmirza Haliq was approached by a stranger who warned him to "keep quiet."
"On that Friday, when I was coming back from prayers, someone came up to me and told me that Tursunay and I need to be quiet."
"It was someone from China," Halmirza added.
"My worry now is that this is part of a plot against me," Tursunay said. "I'm feeling under attack, like things are really dangerous for me here. What am I going to do?"
'They want to stop our work'
Also speaking to RFA, Kazakh rights activist Serikzhan Bilash—whose Atajurt group had helped Tursunay publish her account of life in China's camps after she fled to Kazakhstan in September—said that Kazakh police had raided his office on Feb. 17, three days after the fire was set.
"They showed us their papers. They were from the Almaty police," he said, adding, "They took down all the banners and other items that were hanging on our walls, and they took all our notebooks and registers."
"One policeman told us that we had been holding illegal gatherings, but we explained that we were simply helping people who had been detained in China. Then they said that we were illegally using a logo registered with the government, but we told them that our logo is different."
"Anyway, they were just making excuses. They want to stop our work," he said.
Held without explanation for nine months in one of China's vast network of camps, Tursunay Ziyawudun was initially detained on April 11, 2017 and released after a month due to poor health, but was detained again a year later after she was unable to obtain a passport to join her husband in Kazakhstan.
This time, she told RFA in an October 2019 interview, the conditions in the facility were much worse, and many of the dozen women she shared quarters with endured poor treatment, including physical abuse and forced sterilization.
"We were all handcuffed and shackled and were frequently called out for interrogation," Tursunay said.
"I can still hear the screaming, pleading, and crying in my head," she said.
Many held in the camps
Authorities in the Xinjiang Uyghur Autonomous Region (XUAR) are believed to have detained up to 1.8 million Uyghurs and other Muslim minorities accused of harboring "strong religious views" and "politically incorrect" ideas since April 2017.
Though the ruling Chinese Communist Party initially denied the existence of the camps, Chinese officials later began describing the facilities as residential schools that provide vocational training for Uyghurs, discourage "radicalization," and help protect the country from terrorism.
But reporting by RFA's Uyghur Service and other media outlets suggest that those housed in the camps are held against their will and are subjected to political indoctrination, routinely face rough treatment at the hands of their guards, and endure poor diets and unhygienic conditions in the often overcrowded facilities.
Kazakhstan and other Central Asian nations have come under fire in recent years for targeting activists who have spoken out about, and Chinese nationals who have fled, Beijing's policy of mass incarceration in the XUAR.
Reported by Gulchehra Hoja for RFA's Uyghur Service. Translated by Elise Anderson. Written in English by Richard Finney.

Source: Copyright © 1998-2016, RFA. Used with the permission of Radio Free Asia, 2025 M St. NW, Suite 300, Washington DC 20036. https://www.rfa.org.