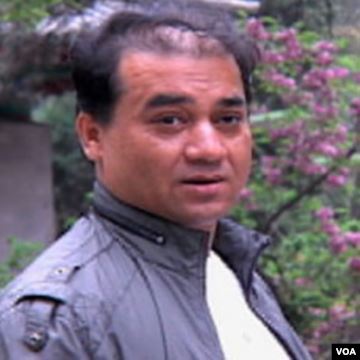 The daughter of jailed Uyghur scholar Ilham Tohti called on Wednesday for his immediate release from a Chinese prison, speaking on the sixth anniversary of his sentencing to a life term in prison for "separatism" for his advocacy for greater rights for the Uyghur people.
Tohti, a former professor of economics at the Central University for Nationalities in Beijing, was sentenced by the Urumqi Intermediate People's Court in northwestern China's Xinjiang Uyghur Autonomous Region (XUAR) on Sept. 23, 2014, despite having worked for more than two decades to foster dialogue and understanding between Uyghurs and Han Chinese.
"For the past six years, I've tried my best—everything I can—to fight for his release. [Now], we need to see what we can all do together to get my father out," Tohti's daughter Jewher Ilham said, speaking in a panel discussion hosted by the Ilham Tohti Institute.
"We need to find some sort of way to ask the [Chinese] government to review my father's case, and to ask for a change in his verdict. The best circumstance would be releasing my father immediately," she said.
Ilham said she recently learned that Chinese authorities had played a video for students at Tohti's former university presenting "evidence" that he was guilty of the offenses for which he was jailed. That video has not yet been publicly released, though, Ilham said, and may have been edited to "brainwash" students to believe that Tohti is now where he deserves to be.
"If that so-called evidence is not fabricated, and not just used for brainwashing, I would like to be 'brainwashed' too, so I don't have to have these sleepless nights and figure out why my innocent father is still locked up after six years," Ilham said.

'World is waking up'
Also speaking on the panel, Wuer Kaixi—an ethnic Uyghur and veteran of the 1989 student-led Tiananmen Square democracy movement—said that now, with the spread of COVID-19 in a pandemic beginning in China, the world is slowly "waking up" to the global threat the country poses.
"[All along], I have been telling the world the simple message that the Chinese communist regime is the very threat to the civilization we're living in," Wuer Kaixi said.
"The little information we have learned about the Uyghurs has also contributed to the world waking up," he said, adding, "It aches my heart to say that more than one million Uyghurs [have been] rounded up in concentration camps in the 21st century. The little information we learned about the Uyghurs has also contributed to the world waking up."
Human rights groups and foreign government have repeatedly voiced concern in recent years over the situation in the XUAR, where authorities are believed to have held up to 1.8 million Uyghurs and other Muslim minorities accused of harboring "strong religious views" and "politically incorrect ideas" in a vast network of internment camps since April 2017.
China has sought to justify its network of camps as voluntary "vocational centers" despite reporting by RFA which has found that detainees are mostly held against their will in poor conditions, where they are forced to endure inhumane treatment and political indoctrination.
Though momentum has been gained in the past few years in calling the world's attention to the plight of Ilham Tohti and the Uyghur population in China, much more remains to be done, Jewher Ilham said in an interview with RFA's Uyghur Service on Wednesday.
"Yesterday, the House passed the Uyghur Forced Labor Prevention Act, which is good news. And previously two months ago, the Uyghur Human Rights Policy Act was also passed and signed by the president," Ilham said, referring to recent moves by the U.S. Congress and President Trump to sanction Chinese officials responsible for abuses in Xinjiang.
"But until every innocent soul in the prisons, in the concentration camps, is released, my answer is that this is not nearly enough," Ilham said. "I would like them all to gain their freedom and be reunited with their families again."
Reported by Mihray Abral for RFA's Uyghur Service. Written in English by Richard Finney.
Source: Copyright © 1998-2016, RFA. Used with the permission of Radio Free Asia, 2025 M St. NW, Suite 300, Washington DC 20036. https://www.rfa.org.