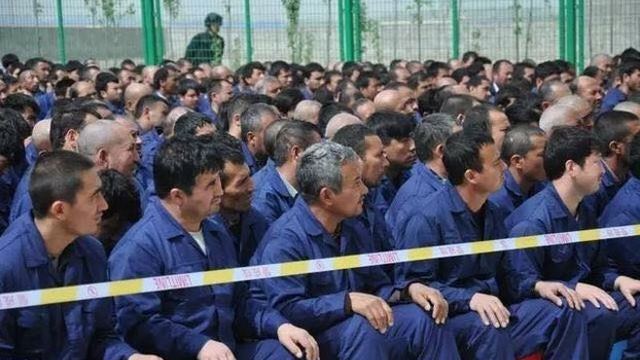 A Uyghur farmer seized at night from his home by police three years ago and sent to internment camps with his wife died ten days after being taken into custody, with his body later dumped by authorities in the courtyard of his home, RFA has learned.
Tursunjan Sawut and his wife Gulbehrem, residents of No. 2 Village in Ghulja county's Dongmazar township, were arrested at night in early 2017 when more than 30 police cars, all with their lights turned off, surrounded the couple's home, RFA's Uyghur Service was told in a tip only recently received from a source in exile.
"Around 10 police officers dressed in black then scaled the wall of their house, pulled hoods over their heads, and drove them away," RFA's source said, adding, "Ten days later, more police cars arrived in the village, this time with [Tursunjan's] body wrapped in white cloth."
Tursunjan's body was then left in the courtyard of his family's home for several hours with its face covered before being taken by police to a nearby cemetery, the source said, speaking on condition of anonymity.
Tursunjan was around 40 years of age and was reportedly in good health at the time of his arrest and brief incarceration, sources said. Gulbehrem's relatives and neighbors have meanwhile received no word of her present whereabouts or condition.
Gulbehrem, who was sent to an internment camp separate from her husband's, was not allowed to attend Tursunjan's burial, and it is unclear whether she is even aware that her husband had died. The couple reportedly have three children and a number of close family members still living.
A police officer working in Dongmazar and familiar with the couple's case confirmed Tursunjan's and Gulbehrem's arrest, saying the pair had been taken away for engaging in improper "studies"—a phrase likely indicating involvement in Islamic prayer or other religious practices.
"They did pray, but I don't know much else about them," he said.
Declining to say whether he had been part of the team that took the couple away, the officer did admit to working with officers in other villages on similar cases.
"Because we have different districts we're responsible for overseeing, we have to take care of matters in our own villages when they arise. But sometimes we team up with other groups working on other cases," he said.
The officer said that Gulbehrem is now being held for "re-education" in an undisclosed internment camp.
"She still hasn't gotten out," he said.
More camps being built
China has built 380 internment camps in the Xinjiang Uyghur Autonomous Region since 2017, and is still constructing facilities, despite claims by Chinese authorities that the "re-education" program is wrapping up and the trainees have "graduated" and returned to society, an Australian think tank has found.
The latest findings by the Australian Strategic Policy Institute come amid rising international scrutiny of Beijing's sprawling network of camps in the XUAR, and follow moves in Washington including sanctions on Xinjiang officials, blacklists of companies suspected of exporting goods made with Uyghur forced labor, and debate on genocide charges.
Beginning in October 2018, China acknowledged the existence of the camps, but described them as voluntary "vocational centers" set up to combat radical Islamic terrorism. But RFA's Uyghur Service has found that detainees are mostly held against their will and forced to endure inhumane treatment and political indoctrination.
Reported by Shohret Hoshur for RFA's Uyghur Service. Translated by the Uyghur Service. Written in English by Richard Finney.
Source: Copyright © 1998-2016, RFA. Used with the permission of Radio Free Asia, 2025 M St. NW, Suite 300, Washington DC 20036. https://www.rfa.org.