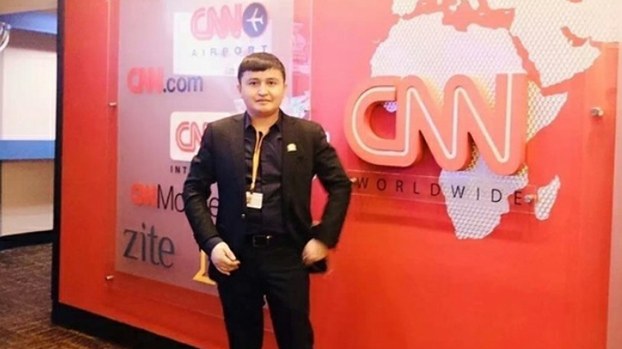 The U.S. State Department is facing increasing calls to pressure China to release a Uyghur entrepreneur who was sentenced to 15 years in prison after he visited Washington to take part in the agency's International Visitor Leadership Program (IVLP).
Ekpar Asat, a 34-year-old businessman who created a successful Uyghur social media platform called Bagdax, traveled to the U.S. in February 2016 to join a three-week journalism training as part of his acceptance to the IVLP, which he had applied to at the encouragement of the U.S. Embassy in Beijing.
While engaged with the IVLP, which the State Department says has trained more than 225,000 foreign nationals since it was established in 1940, Asat and eight others met with a number of journalists at several institutions in Washington and five U.S. states.
He also met with his older sister, 36-year-old Reyhan Asat, who was finishing a Master of Laws program at Harvard University—the first Uyghur to study law at the school. She said that he had been inspired by the IVLP and had secured a visa to return with their parents in May of that year to watch her graduate and stay for the summer.
However, weeks after Ekpar Asat returned home to Urumqi, the capital of northwest China's Xinjiang Uyghur Autonomous Region (XUAR), his family canceled their planned trip to the U.S. and he went missing in April.
It was only in January this year that the Chinese Embassy in Washington acknowledged that Ekpar Asat had been sentenced to 15 years in prison on charges of "inciting ethnic hatred" after Ambassador Cui Tiankai was sent a bipartisan letter from seven U.S. lawmakers on Reyhan Asat's behalf, urging China to release him.
Reyhan Asat told RFA's Uyghur Service that while her brother is innocent of the charges against him, even if he had "incited ethnic hatred" a normal sentence would have been three years in prison, while a maximum punishment would carry 10 years.
"This doesn't even follow their own law … A 15-year sentence doesn't make sense here," she said.
Instead, Reyhan Asat believes her brother, who she said regularly worked to improve ties between Uyghurs and majority Han Chinese, was targeted for taking part in the IVLP.
'Unable to verify'
The State Department must take a more active role in securing Ekpar Asat's release, she added, suggesting that the agency should be raising the profiles of program participants as added protection for their well-being if they risk persecution back home.
"I hope that the State Department puts my brother's case on their agenda and that they invite [Cui Tiankai] to discuss his immediate release," she said.
"What I mean to say is that they must join Congress and we must work quickly to save my brother. The State Department must take immediate responsibility for its own role in this."
In a recent statement, State Department spokesperson Morgan Ortagus said her agency is "closely tracking" Ekpar Asat's case, adding that it had "raised his case directly" with the Chinese government and "will continue to do so."
"Unfortunately, due to tight [People's Republic of China] controls on information, we have been unable to independently verify his current status and whereabouts, but we consistently press the PRC for this information whenever we raise his case," she said.
She also urged Beijing to "immediately release all those arbitrarily detained" in the XUAR, including an estimated 1.8 million Uyghurs and other Muslim minorities believed to have been detained in a vast network of some 1,300 internment camps in the region since April 2017.
While Beijing initially denied the existence of the camps, China last year changed tack and began describing the facilities as "boarding schools" that provide vocational training for Uyghurs, discourage radicalization, and help protect the country from terrorism.
But reporting by RFA and other media outlets indicate that those in the camps are detained against their will and subjected to political indoctrination, routinely face rough treatment at the hands of their overseers and endure poor diets and unhygienic conditions in the often-overcrowded facilities.
While Ortagus did not comment on Ekpar Asat's participation in the IVLP or whether it could be the reason he was targeted, other State Department officials have made the claim that there is no direct evidence that taking part in the program directly led to his disappearance.
Ekpar Asat is not the first Uyghur to have disappeared after participating in activities organized by the State Department. Ababekri Muhtar, founder of the Misranim website, was also imprisoned in April 2016 after meeting with then-U.S. Ambassador to China Gary Locke during Locke's 2014 visit to the XUAR and later visiting the U.S. on a two-week tour set up by the agency.
Urgent action appeal
Last week, London-based rights group Amnesty International issued an "urgent action" appeal to Chinese President Xi Jinping on Ekpar Asat's behalf, calling for his immediate and unconditional release and, pending his release, urging authorities to allow him access to his family and a lawyer of his choice.
Francisco Bencosme, director for Amnesty's Asia-Pacific advocacy, told RFA the Uyghur entrepreneur had been "doing what he was supposed to do" and generally displaying loyalty to the Chinese government.
"But it seems like the only thing he did wrong was participate in the State Department International Visitor Leadership Program, which should not be reason enough for him to go missing and for him to be sentenced as unjustly as he did," he said.
"And obviously, he's still missing, and it's heartbreaking to see his family still asking for his release. It's clear that it's part of a larger campaign against Uyghurs and other ethnic Muslims by the Chinese government."
Bencosme said Amnesty is concerned that Ekpar Asat was sentenced secretly and that he was targeted despite being "a model citizen."
"Given that he is an alumni of the IVLP program, and also that it's part of a larger serious concern and human rights issue that's going on in China, his case and all the other cases need to be elevated at the highest levels of the State Department—it should be at the forefront of our U.S.-China policy," he said.
"It's not just the State Department—it also needs to be elevated by the White House, all the way to the top. The President of the United States needs to raise this with President Xi, because nobody should be arbitrarily detained or lack justice simply for participating in a cultural exchange program."
'Take responsibility'
Washington-based Uyghur attorney Nury Turkel told RFA that if Ekpar Asat's case goes unresolved, it would amount to a stain on the IVLP, adding that the onus is on the State Department to secure his release.
"Now it's understood that there's a relationship between Ekbar Asat's case and the U.S. State Department, and it's the first such case for which there is proof," he said.
"If the U.S. government had not brought this man here, it's possible to say that he might not have been imprisoned. If the State Department were to take responsibility and try to resolve this, if they were to have the intention to resolve this, if nothing else they should be able to get him out of prison."
Mass incarcerations in the XUAR, as well as other policies seen to violate the rights of Uyghurs and other Muslims, have led to increasing calls by U.S. officials to hold Beijing accountable for its actions in the region, including from Secretary of State Mike Pompeo, U.S. Vice President Mike Pence, and several lawmakers.
Last week, the U.S. Senate passed the Uyghur Human Rights Policy Act of 2020 that would sanction Chinese government officials responsible for arbitrary incarceration, forced labor and other abuses in the XUAR and requires regular monitoring of the situation there by U.S. government bodies, once signed into law by President Donald Trump.
U.S. Rep. Chris Smith, the author of the Uyghur Human Rights Policy Act in the House of Representatives, said he was seeking quick passage of the bill, which he called "an important bipartisan statement recognizing that the mass surveillance and internment of Muslim Uyghurs and other ethnic minorities is unconscionable and we cannot be silent when faced with such horrific atrocities."
"The situation in the Xinjiang region has become even more dire since the legislation was first introduced, with systematic forced labor now allowing the Chinese government and companies to profit from mass detention. If we are truly committed to stopping these atrocities, passing this legislation has to be a starting point, not our last word or action," he told RFA.
Reported by Jilil Kashgary and Alim Seytoff for RFA's Uyghur Service. Translated by Elise Anderson. Written in English by Joshua Lipes.
Source: Copyright © 1998-2016, RFA. Used with the permission of Radio Free Asia, 2025 M St. NW, Suite 300, Washington DC 20036. https://www.rfa.org.