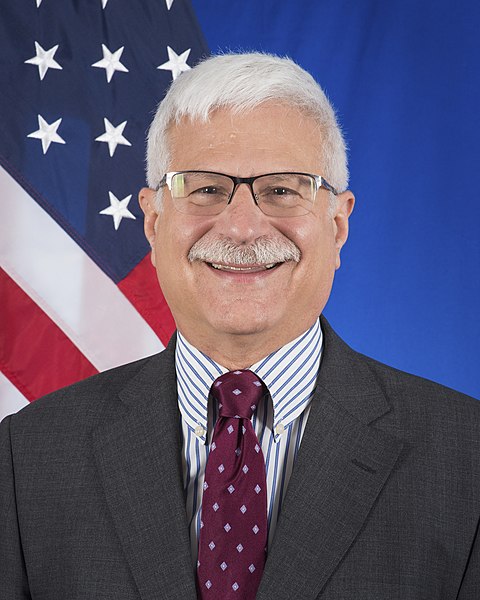 U.S. Secretary of State Mike Pompeo on Wednesday named Robert A. Destro, a veteran human rights advocate and civil rights attorney, to serve as the department's Special Coordinator for Tibetan Issues, a position that had gone unfilled since 2017.
Destro, now Assistant Secretary of State in the Bureau of Democracy, Human Rights and Labor, will serve in both positions simultaneously, Pompeo told reporters in Washington, adding that Destro will press China to resume talks with exiled Tibetan spiritual leader the Dalai Lama.
"He will focus on advancing dialogue between the communist-run government in Beijing and the Dalai Lama, protecting the distinct religious, cultural, and linguistic identity of Tibetans, improving respect for their human rights and much, much more," Pompeo said.
Nine rounds of talks on greater autonomy in Tibetan areas of China were held between envoys of the Dalai Lama and high-level Chinese officials beginning in 2002, but stalled in 2010 and were never resumed.
"The systematic violation of the most basic human rights for their own people and consistent repression in Tibet is one of the core challenges that we've identified from the Chinese Communist Party," Pompeo said.
"And this is what President Trump has directed us all to work to try and preserve: as much freedom, as much dignity for every citizen of China as we possibly can when they're confronted with these massive human rights violations that are being conducted by the Chinese Communist Party."
"Whether it's in Tibet, Xinjiang, Inner Mongolia, or Hong Kong, we simply are demanding of the CCP what we ask of every nation–to preserve the basic freedoms, human dignity, and religious freedom of every one of its citizens," Pompeo said.
Speaking to reporters, Pompeo called the result of a vote on Tuesday giving China a seat on the United Nations' Human Rights Council "a win for tyrants, and an embarrassment for the United Nations."
The Trump administration withdrew the United States from the Council in 2018 over what it said were membership rules that "allow the election of the world's worst human rights abusers to seats on the Council."
"We were right to leave that body," Pompeo said.
"When institutions are irredeemable, as was demonstrated yesterday, the U.S. under President Trump simply will not participate."
Display of support, strengthened stance
Speaking to RFA's Tibetan Service, Bhuchung Tsering—vice president of the Washington D.C.-based advocacy group International Campaign for Tibet—thanked the Trump administration for its appointment of a special coordinator for Tibet issues, noting that the post is mandated by the Tibet Policy and Support Act of 2020.
"However, we are concerned that Assistant Secretary Robert A. Destro of the Bureau of Democracy, Human Rights and Labor holds a lower rank than what [the post requires], and that this might send a wrong signal to the Chinese government."
The appointment of an assistant secretary nevertheless points to U.S. commitment to a negotiated resolution of the problem of Tibet, Tsering said.
"So until January 2021 [when Trump's present term in office ends], the new special coordinator for Tibet appointed by this administration has the responsibility, and must try his best, to promote the U.S. goal of protecting Tibet and [taking care of] Tibetan issues," Tsering said.
Ngodup Tsering, representative to the Office of Tibet in North America, noted that the India-based Tibetan exile government the Central Tibetan Administration (CTA) had appealed many times to the U.S. administration to appoint a special coordinator for Tibetan issues at the State Department.
"During that time, the U.S.-China relationship has deteriorated, and we believe this appointment is a display of support for Tibet," Tsering said.
"The Chinese Communist government has repressed and tortured the Tibetan people for years, and I believe this appointment is also a move to strengthen America's stance toward China."
Tibet policy initiatives of the Trump administration have drawn support from the India-based Tibetan exile government the Central Tibetan Administration, and from ICT.
On July 7, 2020, U.S. Secretary of State Pompeo announced U.S. visa restrictions on selected Chinese officials deemed responsible for policies restricting access for foreigners to Tibetan areas of China, pursuant to the Reciprocal Access to Tibet Act signed into law by President Trump in December 2018.
The law also requires the State Department to provide to the Congress each year a list of U.S. citizens denied entry into Tibet.
Washington has long complained that Chinese diplomats, scholars, and journalists enjoy unrestricted travel in the United States, while China tightly restricts the access of U.S. counterparts to Tibet and other areas.
A formerly independent nation, Tibet was invaded and incorporated into China by force nearly 70 years ago, following which the Dalai Lama and thousands of his followers fled into exile in India and other countries around the world.
Chinese authorities maintain a tight grip on the region, restricting Tibetans' political activities and peaceful expression of ethnic and religious identity, and subjecting Tibetans to persecution, torture, imprisonment, and extrajudicial killings.

Reported by Tashi Wangchuk for RFA's Tibetan Service. Translated by Tenzin Dickyi. Written in English by Richard Finney.
Source: Copyright © 1998-2016, RFA. Used with the permission of Radio Free Asia, 2025 M St. NW, Suite 300, Washington DC 20036. https://www.rfa.org.