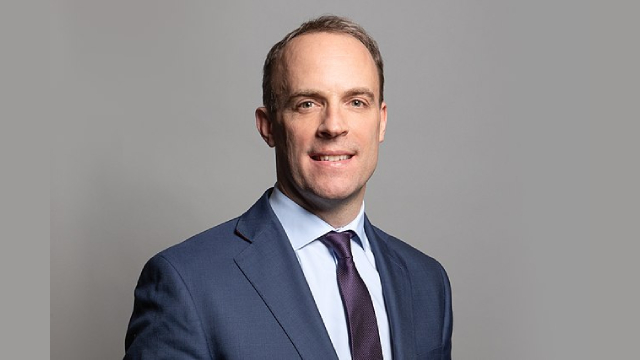 The United Kingdom on Thursday hit out at China's disqualification of four pro-democracy members of Hong Kong's Legislative Council (LegCo), saying that the country is in breach of a 1984 treaty promising to protect the city's freedoms.
"Beijing's imposition of new rules to disqualify elected legislators in Hong Kong constitutes a clear breach of the legally binding Sino-British Joint Declaration," Foreign Secretary Dominic Raab said in a statement.
"China has once again broken its promises and undermined Hong Kong's high degree of autonomy."
Raab said the U.K. would stand with its allies to hold Beijing responsible for multiple violations of the U.N.-registered treaty governing the 1997 handover of Hong Kong to Chinese rule.
"This is the third time since 1997 that China has breached the legally-binding Joint Declaration," Raab said.
The first was with the cross-border arrest of Hong Kong bookseller and U.K. national Lee Bo, while the second was in June 2020 when Beijing introduced a draconian national security law criminalizing dissent and peaceful criticism of the authorities.
"The U.K. will stand up for the people of Hong Kong, and call out violations of their rights and freedoms," Raab said.
A Nov. 11 decision by the standing committee of China's National People's Congress (NPC) resulted in the expulsion of Dennis Kwok, Alvin Yeung, Kwok Ka-ki and Kenneth Leung from LegCo, on grounds that they didn't meet the requirements laid down by the NPC.
Raab said the NPC decision was "part of a pattern apparently designed to harass and stifle all voices critical of China's policies."
He said the new rules for disqualification used vague criteria open to wide-ranging interpretation.
The lawmakers' ouster prompted 15 pro-democracy lawmakers to hand in their resignations to the authorities in protest on Thursday, as resigning Democratic Party lawmaker Lam Cheuk-ting hung a banner outside the LegCo chamber calling Hong Kong chief executive Carrie Lam "the scourge of Hong Kong's people," and "guilty for a thousand years," in an ironic echo of a phrase used by Chinese officials to describe Hong Kong's last colonial governor, Chris Patten.
'Not quitting the fight'
Pro-democracy camp convenor Wu Chi-wai said he hoped the mass resignation would show the world how Beijing had destroyed Hong Kong's status as a separate jurisdiction under its "one country, two systems" pledge.
Lam Cheuk-ting warned that the mass resignation will mean that the Hong Kong government can now pass any legislation it likes, and that only one voice will now be permitted, whether it be in LegCo, the education sector or the civil service.
Council Front's Claudia Mo, who submitted her resignation wearing a black shirt and carrying a yellow umbrella in support of recent protest movements in Hong Kong, said she was sad to be going, but also relieved.
"Relieved in the sense that the council, at the moment, is very painful to deal with because it's so full of fake speeches and so full of fake sincerity," Mo said in comments reported by government broadcaster RTHK.
"The pro-Beijing types will just pass anything that the government wants to pass … I keep saying, it's okay to lose but it's not okay to quit. We are quitting the legislature only at this juncture, we are not quitting Hong Kong's democracy fight," she said.
'Rubber stamp' legislature
Benedict Rogers, chief executive of the U.K.-based rights group Hong Kong Watch, said it was a "dark day" for democracy in Hong Kong.
"The move by Beijing to disqualify four pro-democracy lawmakers and the passing of a resolution that would purge pro-democracy voices from the Legislative Council … will turn Hong Kong's legislature into little more than a rubber stamp comprised of pro-Beijing acolytes, entirely unrepresentative of the people of Hong Kong," Rogers said in a statement on the group's website.
"Now that Hong Kong's highest democratic body has been reduced to little more than a puppet-show, it will fix its sights on the judiciary," he warned.
Former governor Lord Patten of Barnes also criticized the move.
"This is yet another example of the Chinese Communist Party trampling on what is left of democracy in Hong Kong," Patten said. "Once again, Xi Jinping's regime has demonstrated its total hostility to democratic accountability, and those who wish to stand up for it."
Beijing's Hong Kong and Macao Affairs Office (HKMAO) of the State Council said the mass resignation was yet another example of opposition lawmakers' "stubborn confrontation with the central government."
"It is a blatant challenge to the central authority and the authority of the Basic Law, and we severely condemn it," a HKMAO spokesman said in a statement, referring to the action as a "farce."
Reported by RFA's Cantonese and Mandarin Services. Translated and edited by Luisetta Mudie.
Source: Copyright © 1998-2016, RFA. Used with the permission of Radio Free Asia, 2025 M St. NW, Suite 300, Washington DC 20036. https://www.rfa.org.