A small religious group commits two murders. The CCP accuses Falun Gong, repeating the scheme it used against The Church of Almighty God with the 2014 McDonald's incident.
by Massimo Introvigne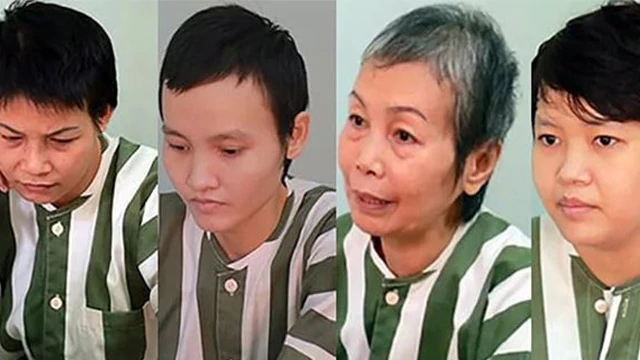 The CCP is never very original in its propaganda. In 2014, a small religious movement, which believed that God had incarnated in its two female leaders, Lü Yingchun and Zhang Fan (1984–2015), "two bodies in the flesh sharing the same divine soul," killed a young saleswoman, Wu Shuoyan (1977–2014), in a McDonald's diner in Zhaoyuan, Shandong. Wu had refused to give the group her phone number, and they killed her believing she was possessed by a "demon."
Immediately, the CCP launched a campaign claiming that the assassins were members of The Church of Almighty God, a movement Chinese authorities had been persecuting since the 1990s. The fake news spread to foreign media and is still occasionally repeated in China, despite the fact that even Chinese media that covered the subsequent trial reported that the criminals were part of a different religious group, which was not connected with The Church of Almighty God.
Since international human rights reports, some of them produced by the government of the United States, continue to mention the persecution of Falun Gong, senior CCP leaders, including Zhao Leji (赵乐际), the secretary of the Party's Central Commission for Discipline Inspection (中国共产党中央纪律检查委员会), have called for more crackdown and more propaganda against the movement.
A key tool of this propaganda is the manipulation of a criminal case in Vietnam, and what happened is strikingly similar to the McDonald's incident of 2014. On July 3, 2020, the Bình Dương Province People's Court in Vietnam sentenced to death a 32-year-old woman called Phạm Thị Thiên Hà. Her mother, 67-year-old Trịnh Thị Hồng Hoa, was sentenced to 13 years in jail. Two accomplices, Lê Ngọc Phương Thảo (30) and Nguyễn Ngọc Tâm Huyên (40) were sent to prison for 22 years and 19 years respectively.
The incident was nicknamed in Vietnam the "corpse-in-concrete" case. Hà, an educated woman and the former owner of a coffee shop in Saigon, had created her own small qigong group, which promoted peculiar practices such as mandatory 14-day strict fasting periods. In January 2019, during a retreat in the Bà Rịa–Vũng Tài Province, one member, Trần Đức Linh (1968–2019), was unable to continue the fasting and was beaten to death by the others (or, as they claimed, injured himself by jumping out of a window and was left by the group to die without taking him to the hospital). His body was then moved to a house in Bàu Bàng District, Bình Dương Province.
There, another young member, Trần Trí Thành (1992–2019), was also unable to fast. He also sexually molested female co-religionists and was caught masturbating. He was first electrocuted, under the pretext of submitting him to acupuncture, and then strangled. The corpses of Linh and Thành were hidden in containers filled with concrete, which were later discovered by the owner of the home the group was renting, who called the police, leading to the arrest of Hà and her followers on May 17, 2019. Interestingly, in another parallel with the McDonald's case, they said they had to kill Thành as he was possessed by an "evil spirit."
Immediately after the arrests in 2019, some Vietnamese media reported that the group was part of Falun Gong, a group active in Vietnam although occasionally harassed by the police and kept under surveillance. Sources in Vietnam told Bitter Winter that they believe the Chinese Embassy "helped" the authorities in identifying the perpetrators as Falun Gong members.
The trial of the accused assassins opened on June 25, 2020. There, it became clear, that the murderers, as reported by leading Vietnamese media, "did not follow [the] principles of Falun Gong," but "practiced methods created by Hà." Even in 2019, some media had correctly reported that her teachings were "loosely based on qigong." Without discounting the possibility of "suggestions" by the Chinese Embassy, it would seem that some local media continued to use "Falun Gong," incorrectly, as if it was a synonym for the generic "qigong." The beliefs and practices promoted by Hà do not appear to be typical of Falun Gong.
Notwithstanding the trial's results, media in China continued to claim that the group was part of Falun Gong. On July 13, 2020, the China Anti-Cult Network website (launched with great fanfare in 2017) published a long article on the "Corpse-in-Concrete" case, trying to prove those responsible were part of Falun Gong. The article included a picture allegedly showing Hà participating in a Falun Gong parade in May 2017 in New York. Even if this would not make Falun Gong responsible for her subsequent criminal activities in Vietnam, the picture looks suspicious. It may be doctored, or the woman may not be Hà. It is claimed that Hà was not only a practitioner but a leader of Falun Gong, yet she is not dressed in yellow as Falun Gong members in the parade are. The parallel claim that Hà had shared Falun Gong contents on her social media accounts, even if true, would not prove that she was a "member" or "leader" of Falun Gong either.
It is of course well possible that Hà and her followers had read about Falun Gong, whose literature circulates in Vietnam. Some of them had been abroad and may have come across Falun Gong overseas, or may be described as "former" practitioners of Falun Gong, who had later moved to the idiosyncratic method taught by Hà on the basis of multiple Buddhist, qigong, and folk religion sources. However, Hà's group was not "part" of Falun Gong, and at its core were different teachings and practices created by Hà herself. Rather, it was one among hundreds of small new religious groups that mushroomed in Vietnam since the country introduced a modicum of religious liberty. Using the incident to claim that "the murder case in Vietnam once again exposed the evil essence of Falun Gong," and to justify the arrest, torture, and extra-judicial killing of thousands of Falun Gong practitioners in China is just part of the usual propaganda and fake news.
Source: Bitter Winter