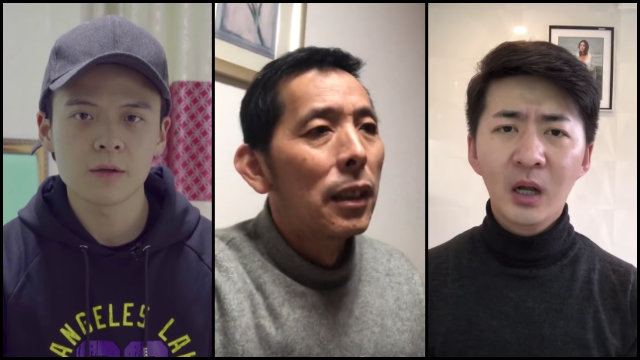 A petition calling on Washington to take up the case of coronavirus reporter Chen Qiushi, who is being held by the authorities in enforced "quarantine" after he reported from the front line of the COVID-19 epidemic, has garnered tens of thousands of signatures since it was posted last month.
The petition on the White House website also highlights the case of Wuhan citizen journalist Fang Bin, who has stopped reporting since being hauled in for questioning by police after uploading video of dead bodies to social media.
"They published a few videos on WeChat, a popular messaging app among Chinese people, showing what was really happening in Wuhan under the current coronavirus epidemic," the petition text reads.
"Their audience and family members have lost contact with them for a couple of days now," says the petition, which is dated Feb. 8.
Both reporters remain incommunicado amid growing rumors that Chen has died, with a message posted to Twitter calling on people to do all they can to confirm or deny the rumor of Chen's death.
"The authenticity of this rumor can't be verified, but what is true is that nobody is able to contact Chen Qiushi right now," the person, who identified themself as one of Chen's "emergency contacts," says.
"I hope everyone will do everything in their power to confirm Qiushi's health status as soon as possible."
His friend and mixed martial arts (MMA) star Xu Xiaodong said the rumors are untrue, however.
"I can tell you now that Qiushi isn't dead, nor does have have COVID-19," Xu said in a social media post. "I would like to reassure everyone that there's nothing wrong with him at all."
Banned from family contact
Xu said he had official confirmation of Chen's health status, but that it was impossible to say when he would regain his freedom. Chen's family has also been asked not to speak to Xu, he added.
"Qiushi's family are banned from taking any calls from me, through any channel, even WeChat," he said. "I tried to contact his family but they aren't picking up, because they are breaking off contact with me, which has never happened before."
One of Chen's last broadcasts was from the newly built prefabricated hospital in Wuhan, which he had reached on a borrowed electric motor scooter, and which he described as "not fit to house infectious disease patients, as it was obviously designed to be a battlefield hospital."
In a video posted about the events of Jan. 29, Chen had already expressed concerns that the authorities were on his trail.
"I have the coronavirus in my face, and the entire law enforcement system of China on my tail," he said. "But I will carry on reporting from Wuhan for as long as I am still alive."
"If I'm not afraid to die, why would I fear the Communist Party?"
Second reporter detained
Authorities in the central Chinese city of Wuhan last month also detained Li Zehua, a former news anchor with China's state broadcaster CCTV who quit his job to report from the front line of the coronavirus epidemic in the central province of Hubei, of which Wuhan is the capital.
Li saw himself as the willing successor of previous citizen journalists who have since disappeared from Wuhan after reporting on the harsh reality of the epidemic for millions of the city's residents.
In one of Li's early videos, he says: "If one Chen Qiushi falls, 10 million more Chen Qiushi's will stand up to take his place."
The ruling Chinese Communist Party is cracking down on earlier signs of original news reporting coming out of Wuhan, replacing frontline video on social media with government-approved narratives about brave "heroes" on the front line.
As millions of people remain confined to their homes in central China, the party's powerful Central Political and Legal Affairs Commission has set up shop in Wuhan to take charge of the stories that emerge from that city, in spite of growing public anger over the lack of transparency in the early stages of the epidemic.
President Xi Jinping's right-hand man and party secretary of the commission Chen Yixin was dispatched to the city last month. A directive detailing the sort of "heartwarming stories" Chen wants to see coming out of Wuhan followed soon after, dated Feb. 18.
The party's central propaganda department has also sent more than 300 journalists to Hubei, of which Wuhan is the provincial capital.
They have been tasked with producing propaganda praising the disease prevention and control effort from the front line.
Reported by Gao Feng for RFA's Mandarin and Cantonese Services. Translated and edited by Luisetta Mudie.

Source: Copyright © 1998-2016, RFA. Used with the permission of Radio Free Asia, 2025 M St. NW, Suite 300, Washington DC 20036. https://www.rfa.org.