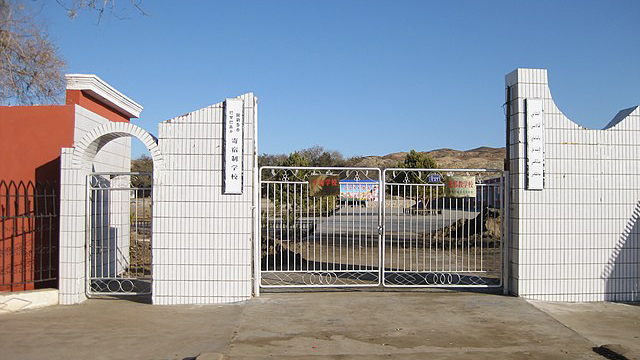 Teachers from China's interior are being encouraged to move to and settle in the Xinjiang Uyghur Autonomous Region (XUAR) to provide "aid" for residents, according to sources, but members of the Uyghur exile community say the program is another measure aimed at "colonizing" their homeland.
The "Plan to Aid Tibet and Xinjiang with 10,000 Teachers" was envisioned by Chinese President Xi Jinping and the Central Party Committee as a "long-term solution for the stability" of the two regions, according to the official China Education Net, and has been promoted—along with other policies in the region—as a form of "poverty alleviation" to improve the lives of the local population.
At its launch in 2018, 4,000 teachers were sent to the XUAR from China's interior, while in 2019, another 3,180 were shipped to the western region.
While contract periods initially lasted between 18 months and two years, authorities have recently begun offering a plethora of subsidies to entice teachers to remain in the XUAR beyond the terms of their agreements, sources have told RFA's Uyghur Service.
Beijing shuttered schools across China in February to control the spread of the coronavirus, but as measures to combat the outbreak appear to have yielded results, authorities reopened them in the XUAR on March 23.
Around the reopening, state media published several reports of teachers being sent to the XUAR as part of the Plan, including an article published on the Dahe website on April 3, which said 249 teachers from Henan province were assigned to elementary and middle schools at the 13th Division of the quasi-military Xinjiang Production and Construction Corp (XPCC) in Kumul (in Chinese, Hami) prefecture.
All of the teachers had applied for the "Xinjiang Aid" program that is part of a cooperative agreement between authorities in Henan and the XUAR, the article said.
The official Tianshan.net website recently published an article stating that 170 teachers from Shanghai had been assigned to 15 elementary and middle schools in four counties of Kashgar (Kashi) prefecture—Yarkand (Shache), Poskam (Zepu), Kargilik (Yecheng), and Maralbeshi (Bachu)—while only 15 teachers in the same program were sent to Tibet.
And on March 16, the Xinjiang People's Radio Station broadcast a report that 80 Han teachers from Guizhou province had returned to Xinjiang for work at schools in Hotan (Hetian) prefecture two days earlier.
Teachers were required to return to the XUAR prior to March 15, the report said, and authorities arranged special transport for them on airplanes and buses so that they—along with other educators from outside of the region—could return to work "on time," ahead of the reopening of schools a week later.
According to the broadcast, Wang Jiwen, vice secretary of the Hotan Prefectural Party Education Committee guaranteed that he would oversee the return of 18,800 teachers from outside of the XUAR.
Enticing teachers to stay
RFA's Uyghur Service recently spoke with a Han Chinese employee of the Work Office for Teachers in the Xinjiang Aid Program, under the Ministry of Education in Atush (Atushi) city, in the XUAR's Kizilsu Kirghiz (Kezileisu Keerkezi) Autonomous Prefecture, who said that Hebei is the partner province providing teaching "aid" to her region.
"That's been in place here for one year, since 2019," she said, speaking on condition of anonymity.
The employee said that last year, eight teachers were sent from Hebei to Atush to teach at two middle schools and several elementary schools in the city, and that all had expressed a desire to stay there after then end of their contracts, which she called a "sign of the program's success."
RFA also spoke with a cadre from the 13th Division of the XPCC, or "bingtuan," in Kumul, who confirmed that the program "is for people from [China's] interior."
While he said that the program does not have any restrictions on ethnicity, the vast majority of people from non-autonomous regions in other parts of China are Han Chinese.
The cadre also declined to be named but claimed to be in charge of placing teachers from Henan and Hebei as part of the Xinjiang Aid program.
Contracts for teachers are usually between 18 months and two years, he said, but there is a plan to entice teachers to permanently stay in the region after the contracts end.
"Applications for the program are still open," he said, adding that his group "make[s] determinations based on the different places that need people."
"If teachers who've come here after earning college degrees want to stay on after their contracts have ended, we'll help them do the paperwork to update their status and move their household registration here. Whether to stay or leave is entirely up to the applicants themselves."
'Colonization' of the region
Uyghurs in exile say that undermining traditional Uyghur education is a key part of Beijing's policy of cultural assimilation in the XUAR, which officials believe will make members of the ethnic group more loyal to the ruling Communist Party and solidify the central government's control of the region.
The "Xinjiang Aid" program has been put into place as the XPCC has overseen the extending of various subsidies to Han Chinese residents of other parts of China to relocate in droves to the XUAR, including offering them homes and plots of land with generous tax abatements.
Meanwhile, authorities in the XUAR are believed to have detained up to 1.8 million Uyghurs and other Muslim minorities accused of accused of harboring "strong religious views" and "politically incorrect" ideas in a vast network of internment camps since April 2017.
Memet Tohti, a Canadian representative of the Munich-based World Uyghur Congress (WUC), told RFA that authorities in the XUAR are seeking "to make our people Han by means of assimilation."
"The colonization that is currently occurring on our home soil—the government is achieving it by putting its own people onto our land," he said.
"This is the final step for them to make this land their own … It's an issue of eliminating an entire ethnic group."
Reported by Gulchehre Hoja for RFA's Uyghur Service. Translated by Elise Anderson. Written in English by Joshua Lipes.

Source: Copyright © 1998-2016, RFA. Used with the permission of Radio Free Asia, 2025 M St. NW, Suite 300, Washington DC 20036. https://www.rfa.org.