Cases of crackdowns against Taoism, one of the Chinese Three Teachings, from Zhejiang, Liaoning, and Jilin provinces.
by Wang Anyang
Zhejiang Province
In June, the Lingxi town government in Wenzhou city's Cangnan county sent about 100 workers to demolish two buildings in the Nan'an Natural Taoist Temple as "illegal constructions": a two-story guest house and a one-story kitchen.
"Worshipers used to come from afar to our temple, so we had a place for them to stay and eat for free," a local Taoist explained. "They cannot do this anymore after the two buildings have been demolished."
The 80-year-old temple keeper, who resided in the guest house, was not informed about the demolition, so all his belongings were buried in ruins. The elderly man now lives in a makeshift shed nearby.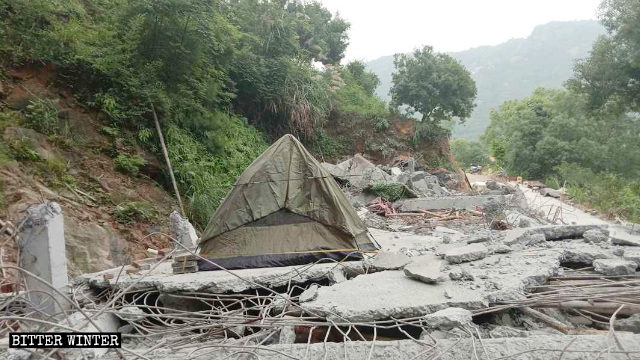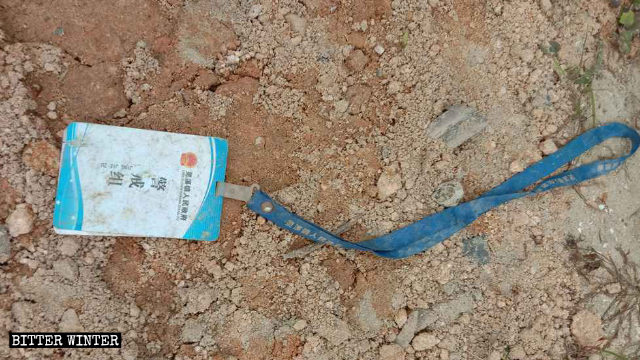 The temple keeper has been applying for a religious activity venue certificate since 2015, but local authorities kept delaying his request. "The government always finds pretexts to demolish temples, and the Communist Party has the final say," a local Taoist commented.
Two other Taoist temples­­ in Lingxi–the Taixu Temple and Canglong Temple–were demolished in March. A town resident told Bitter Winter that the Taixu Temple's director had repeatedly appealed to the government, asking to stop the planned demolition, but was told that "there was no room for negotiations."
"Many elderly people donated their money to build the temple, skimping on good food and clothes," the resident explained. "The demolition happened amid the height of the coronavirus epidemic when people were restricted to move around, but government representatives could do whatever they pleased."
The Tianfu Temple in Haixi, a town in Wenzhou's Pingyang county, was demolished in February.
Liaoning Province
The Xiaodong Temple in Liaoyang city's Liaoyang county in the northeastern province of Liaoning was shut down last year. This April, some of its buildings were demolished.
"Many Taoist temples have been destroyed, and new ones are not allowed to be built," a local Taoist master said. "The state vigorously cracks down on religions to prevent their development."
The Qingxu Palace Temple in Liaoning's Dandong city was shut down and turned into a nursing home last year after all statues of deities have been removed from it. Instead of the temple name signboard, a new one, "Wulong Garden," has been displayed on the building's exterior wall.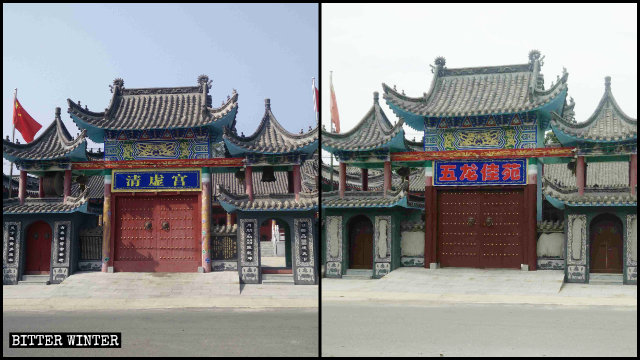 The Longmuyuan Temple (translated as "Dragon Mother Garden") in Donggang city was sealed off in September 2018. In July this year, it was turned into a nursing home.
"At least they didn't destroy the temple," a city resident remarked.
The Yuhuangding Temple (translated as "Jade Emperor Peak Temple") in Donggang, built with private funds, was shut down as "an illegal construction" in August 2018. The city's authorities destroyed all statues in the temple and took control over it. In May this year, the venue was converted into a folk customs exhibition hall.
"It's a pity that the wonderful statues of deities in the temple have been demolished," a local Taoist said. According to him, the building could still be demolished if higher-level authorities decide that the rectification has not been sufficient.
Jilin Province
A Taoist temple in Ji'an, a county-level city in the northeastern province of Jilin, has been suffering harassment from the local government for over two years. In 2018, officials from the city's United Front Work Department and Religious Affairs Bureau repeatedly pressured an elderly nun in charge of the venue to turn over the temple's donation money, but she refused each time. In September that year, all religious statues were taken away from the temple for "being unlicensed." Two months later, the temple's signboard and incense burner were removed.In August 2019, the government demolished a two-story building used to accommodate visiting worshipers.
"The state has labelled me 'an evil force," the nun said indignantly, referring to the nationwide campaign to "clean up gang crime and eliminate evil, which the CCP uses to crack down on religion.
In August last year, the Songyuan city government demolished the Sanyuan venue for Taoist rites and rituals as "an illegal construction."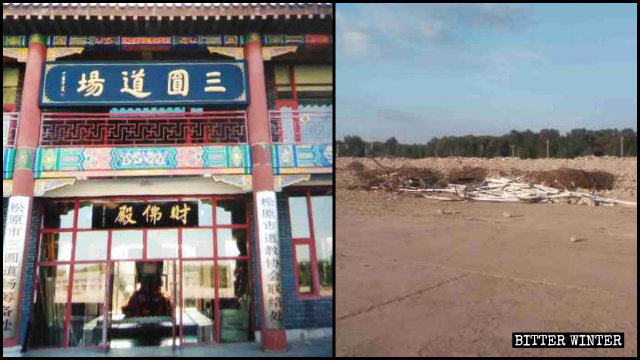 Source: Bitter Winter