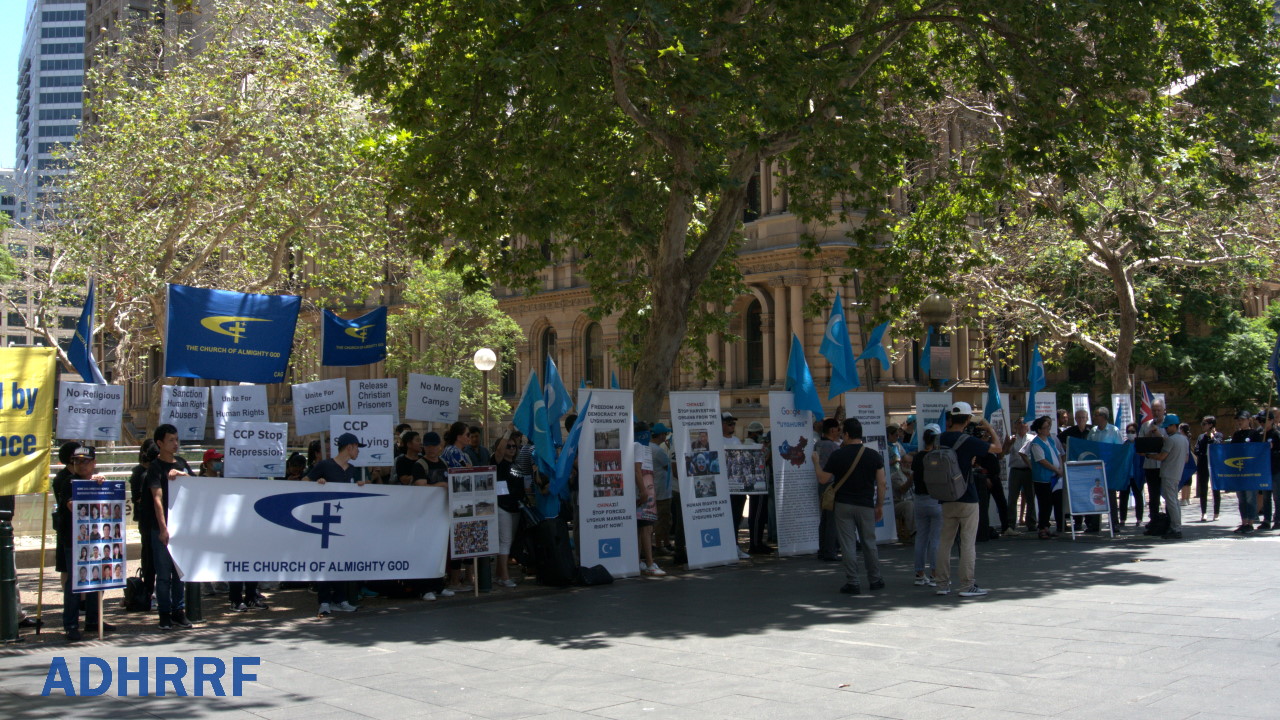 ADHRRF – On Feb. 1, around a hundred people gathered near the Sydney Town Hall Square to call on attention to groups persecuted by the Chinese Communist Party (CCP) including Uyghurs and Christians. Some participant said Xi Jinping is a murderer and terrorist much worse than Hitler.
At noon on Feb. 1, the Australian Uyghur Association hosted a rally near the Sydney Town Hall Square. Almost a hundred participants including Australian human rights activists, representatives of the Federation for a Democratic China, Christians from The Church of Almighty God, and Falun Gong practitioners attended the event, which was held to commemorate the Uyghurs who lost their lives in the Yining Massacre perpetrated by the CCP on Feb. 5, 1997, to denounce the CCP's forced detention of millions of Uyghurs in concentration camps for racial and cultural genocide, and to rebuke the CCP's cruel persecution of Christians.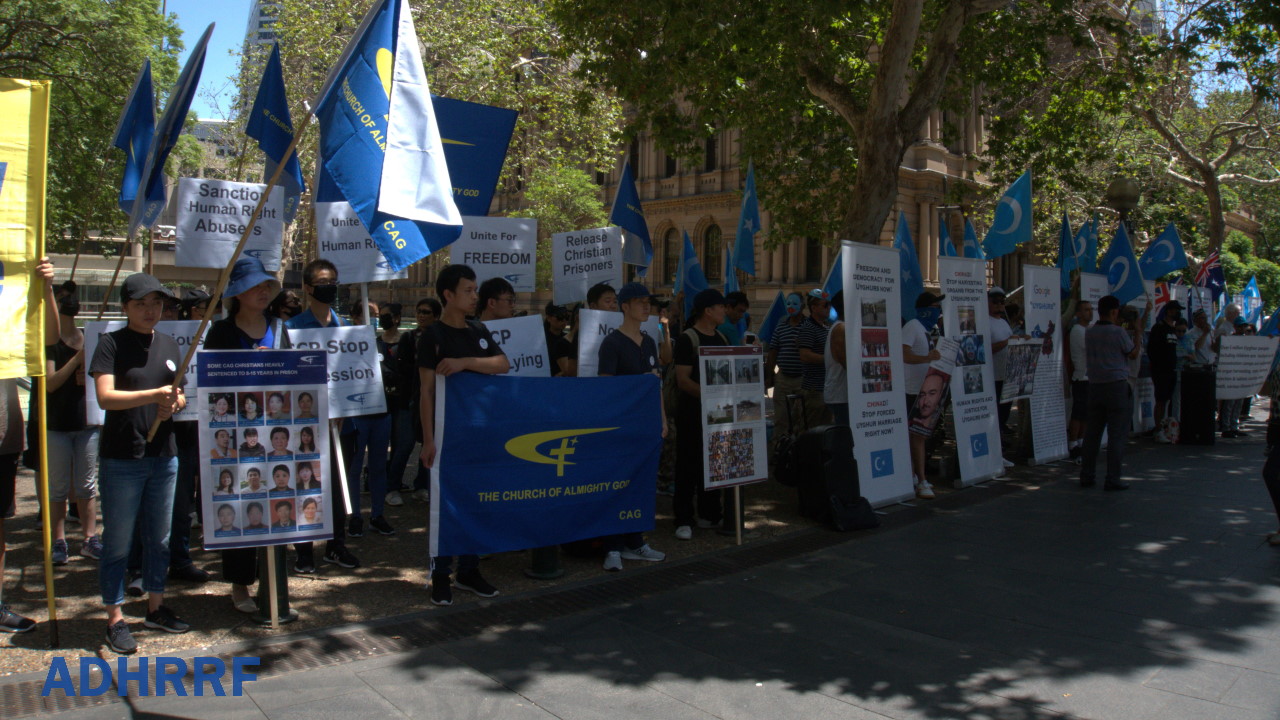 In his interview with our reporter, Mehmet Obul, President of Australian Uyghur Association, revealed the truth of the Yining Massacre in Xinjiang in 1997. The Chinese government dispatched a security army to repress the peaceful demonstrators, hundreds of whom were shot dead or frozen to death after being hit by water cannons in the bitter winter. Besides, in the past three years, millions of Uyghurs were detained in the concentration camps and many died there. He said, "We didn't have any connections with our relatives and friends, and [for] some of them, even we don't know whether they are still living somewhere." "The Chinese [government] is always lying. Just in the last several months, they said they closed the concentration camps and re-education camps. But in fact, no. It's completely lying."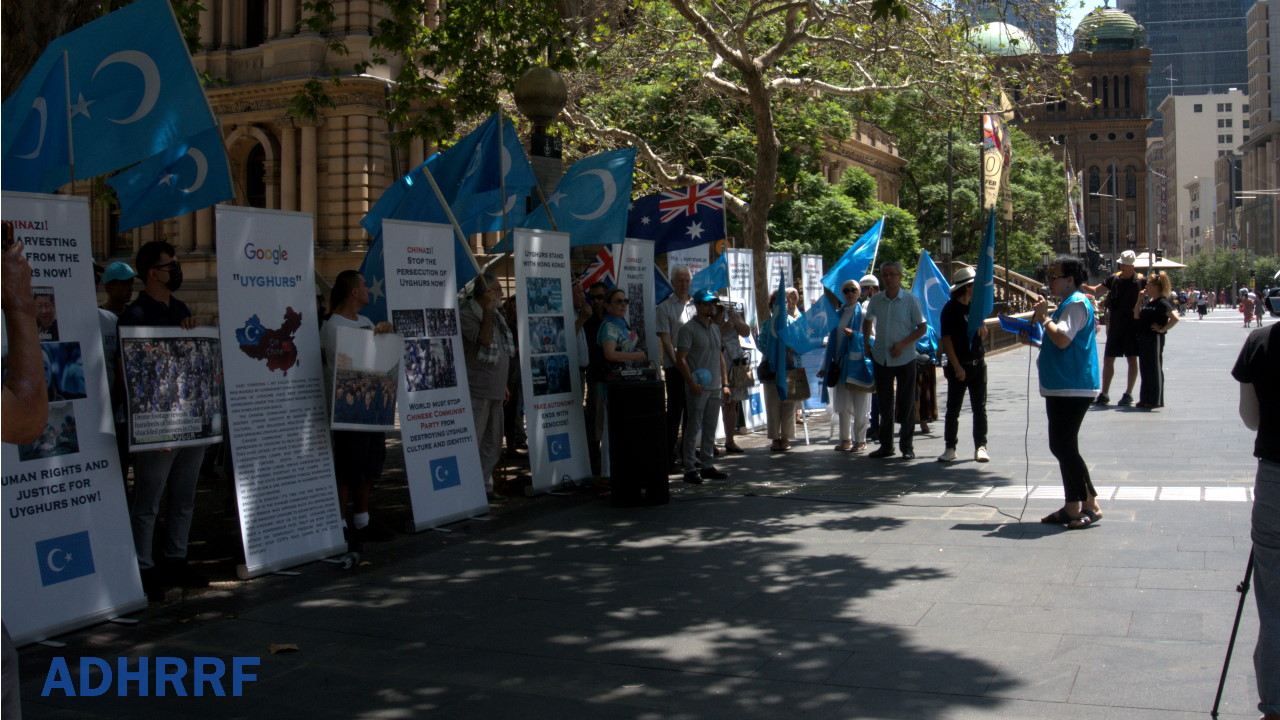 Australian rights activist Bob Vinnicombe said in his interview, "The Chinese communist regime launched a campaign to eradicate all religions from the territory of communist China. They want everyone to follow the communist religion. They want to destroy Christianity. They want to destroy Islam. … And they want to destroy Buddhism, because Communist China is a totalitarian country." He stated that though China is an important trade partner, human rights are more important than economy and cannot be overlooked. One reason for China's rapid economic growth is its use of slave workers including the political prisoners detained in concentration camps.
Mehmet Celepci, a Uyghur representative, said to our reporter that he joined the rally in the hope that more people can show their concerns for the Uyghurs and pressure China into closing the concentration camps. He also mentioned the persecution of Falun Gong practitioners and Christians from The Church of Almighty God, who cannot practice their faith normally in China, and added that the CCP wants everyone to believe in atheism and become robot people. He called on people to unite and bring their persecution story to the public attention through social media.
A Korean attendee pointed out that the current human rights situation in China is terrible: They (the CCP) are organ harvesting, killing Chinese people, killing opponents and all people. Whether be Christians or Buddhists, their basic human rights are the protection of religion. But in China, all religious practices are forbidden. He said, "Xi Jinping is a murderer, much worse than Hitler." "[Xi Jinping] is a most terrible person in the world." He hopes that people can continue to organize activities like this and write to the Lodge to draw the attention of the Australian government.