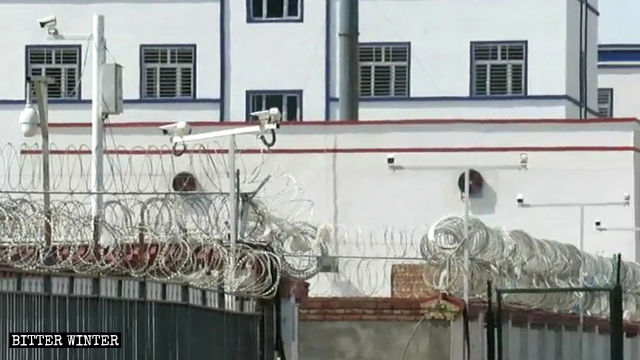 China has built 380 internment camps in the Xinjiang Uyghur Autonomous Region since 2017, and is still constructing facilities, despite claims by Chinese authorities that the "re-education" program is wrapping up and the trainees have "graduated" and returned to society, an Australian think tank has found.
Using the latest satellite imaging, the Australian Strategic Policy Institute identified 380 detention centers established across the XUAR since 2017 — 100 more than previous investigations have revealed.
ASPI found newly constructed detention facilities and extensions to several existing ones, with at least 61 detention sites undergoing new construction and expansion work between July 2019 and July 2020 and at least 14 facilities still under construction in 2020, according to new satellite imagery.
"The findings of this research contradict Chinese officials' claims that all 'trainees' from so-called vocational training centres had 'graduated' by late 2019," wrote ASPI researcher Nathan Ruser.
"Instead, available evidence suggests that many extrajudicial detainees in Xinjiang's vast 're-education' network are now being formally charged and locked up in higher security facilities, including newly built or expanded prisons, or sent to walled factory compounds for coerced labour assignments," he wrote.
Authorities in the XUAR are believed to have held up to 1.8 million Uyghurs and other Muslim minorities in a vast network of camps since April 2017.
Beginning in October 2018, China acknowledged the existence of the camps, but described them as voluntary "vocational centers" set up to combat radical Islamic terrorism. RFA's Uyghur Service has found that detainees are mostly held against their will and forced to endure inhumane treatment and political indoctrination.
As international criticism mounted, China doubled down on assertions the program was winding down.
China's claims contradicted by data
In a July 2019 press conference, XUAR Chairman Shohret Zakir told reporters that more than 90 percent of internees from "vocational training centers" had graduated from their "studies" and been placed into jobs.
Early this month in Paris, Chinese Foreign Minister Wang Yi repeated the claim that all those sent to the camps have been released and placed in employment.
"The rights of all trainees in the education and training program, though their minds have been encroached by terrorism and extremism, have been fully guaranteed," he said during a conference at the French Institute of International Relations. "Now all of them have graduated, there is no one in the education and training center now. They all have found jobs."
"But this claim is contradicted by the new evidence in this database," writes Ruser of ASPI, which has published its findings in an online database, the Xinjiang Data Project.
RFA reporting from several parts of the vast XUAR has also shown many camps still in operation, holding tens of thousands of inmates.
Last week RFA found many as eight internment camps may be operating in Turpan (in Chinese, Tulufan), the ancient Silk Road city where parts of Disney's new U.S. $200 million live-action version of the popular 1998 animated film "Mulan" were filmed.
ASPI found that Dabancheng, the XUAR's largest documented camp near the regional capital Urumqi, saw new construction in 2019 run for more than a km (0.6 mil) and is now a complex of 100 buildings, while a new detention center in the Kashgar has 13 five-storey residential buildings spread over 25 hectares (60 acres), surrounded by a 14-metre-high wall and watch-towers.
ASPI breaks the camps into four different tiers, reflecting levels of security and controls on inmates: lower security re-education camps, dedicated re-education camps, detention centers, and maximum security prisons.
"We suspect that there's an administrative difference between these levels of detention; however, the opaque nature of Xinjiang's carceral system makes it difficult to ensure that our different tiers correspond to any official classifications or types of detention facility," said Ruser's report.
'Potemkin-village-style tours'
The think tank notes that half of the 60 facilities which have recently been expanded are higher security, "which may suggest a shift in usage from the lower-security, 're-education centres' toward higher-security prison-style facilities."
The report has also found some 70 lower security camps that appear to have had security controls reduced, with internal fences and perimeter walls removed.
ASPI said the low security camps had been opened to government arranged "Potemkin-village-style tours" by selected journalists to support the official line about re-education camps.
"There is evidence that detainees 'released' from these camps have gone into either forced labour assignments or strictly controlled residential surveillance. Therefore, these facilities have classrooms and can support the misleading narrative that they're designed to purely 'educate' or 'train' detainees," said the report.
The latest findings by ASPI come amid rising international scrutiny of Beijing's sprawling network of camps in the XUAR, and follow moves in Washington including sanctions on Xinjiang officials, blacklists of companies suspected of exporting goods made with Uyghur forced labor, and debate on genocide charges.
On Tuesday, the U.S. House of Representatives passed the Uyghur Forced Labor Prevention Act that would block imports from the XUAR, amid growing evidence that internment camps have increasingly transitioned from political indoctrination to forced labor, with detainees being sent to work in cotton and textile factories.
From Germany, World Uyghur Congress President Dolkun Isa told RFA that the ASPI project "has proven unequivocally that China continues to operate hundreds of concentration camps in spite of international condemnation of China's crimes against humanity."
"It's clear that China will not stop committing such crimes against Uyghurs until there is a robust and concerted international action. It's high time the UN and EU followed the footsteps of the U.S. to take urgent actions to prevent China's genocide of Uyghurs in front of the international community."
With reporting and translation by Alim Seytoff for RFA's Uyghur Service.
Source: Copyright © 1998-2016, RFA. Used with the permission of Radio Free Asia, 2025 M St. NW, Suite 300, Washington DC 20036. https://www.rfa.org.