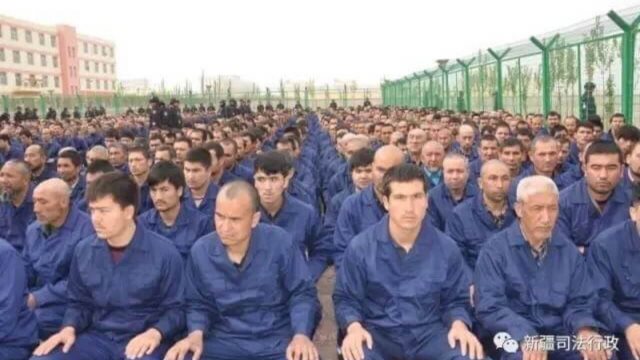 Around 20,000 former internment camp detainees are working at the Aksu (in Chinese, Akesu) prefecture branch of an eastern China-based textile producer that has been identified as part of a forced labor scheme in the Xinjiang Uyghur Autonomous Region (XUAR), according to a company official.
Video reports, filmed in secret inside China and uploaded to YouTube last month by Miradil Hesen, a resident of Aksu prefecture, highlighted abusive labor practices amid growing evidence that internment camps in the XUAR have increasingly transitioned from political indoctrination to forced labor, with detainees being sent to work in cotton and textile factories.
In his videos, Hesen gave detailed accounts of young women and other ethnic Uyghurs from the prefecture's Uchturpan (Wushi) county who are being forced to work at the Aksu Huafu Textile Factory 12 hours a day, with only one day free each month.
Rooms for workers are provided, but workers must provide their own food, said Hesen, now under arrest in eastern China's Jiangsu province after being sought by police for downloading Instagram onto his mobile phone and for publishing videos criticizing China over rights abuses.
Salaries drawn by forced laborers in Aksu, who earn only 1,500 yuan per month (U.S. $220) are not enough on which to live, and deductions of from 40 to 50 yuan (U.S. $6-7) are removed from workers' pay for time taken off for reasons not normally allowed, Hesen said.
Hesen's accounts in the videos were later verified by RFA's Uyghur Service through telephone interviews in the region.
According to materials available in the public domain, the Aksu Huafu Textile Factory is a branch of Huafu Fashion Co. Ltd., a company registered in Huaibei city, Anhui province; offices in Shenzhen; and production facilities in Zhejiang province, Aksu, the "Yellow River-Huai River Region," the "Yangtze River Region," and Vietnam. The Aksu branch of the company consists of factories and workshops in 12 different locations throughout the prefecture.
Based on Hesen's claims, local leaders of the Aksu branch have been collaborating with the authorities in Uchturpan for "certain benefits"—likely economic and political—shared between the parties and sending detainees from the camps into factory settings to work immediately upon their "release."
Former detainees employed
RFA spoke with an official from the Uchturpan Justice Department who, when asked whether he had been present at the signing of a contract with Huafu to place people from internment camps into jobs, said he was not, although he did not deny that such a contract exists.
The official confirmed that Huafu has a factory in the county bazaar, but when asked how much money the local government receives for placing former detainees, he said he would only discuss the issue in person.
A second government official from Uchturpan refused to answer any questions about the scheme when contacted by RFA.
After multiple attempts to reach the Aksu branch of Huafu, RFA was able to speak with a representative from the Shenzhen office, who provided additional details about the company's operations in the XUAR.
"You want to know how many employees we have [there], correct? … It's got to be around 30,000 in total," she said.
When asked whether Huafu has any employees in her office who have been transferred from internment camps, the representative said, "we don't have any in Shenzhen."
But asked whether the company employs people who have been brought from the camps in its factory in the XUAR, she confirmed that was the case.
"Yes, we do … There must be around 20,000 in Aksu," she said, although she acknowledged that she did not know the exact number.
The representative, who noted that workers at the Aksu branch "spin and weave yarn and raw materials," said she was unsure of the salaries and living conditions provided at the factory.
Numbers she provided for how many people are employed at the factory appear to align with claims Hesen made in his videos that the facility is one of the largest in the entire prefecture.
Heightened US scrutiny
The latest of several cases of forced labor confirmed by RFA follow a year of heightened U.S. scrutiny of Beijing's sprawling network of camps in the XUAR, where authorities are believed to have held up to 1.8 million Uyghurs and other Muslim minorities in a network of internment camps as part of an extralegal campaign of incarceration that began in early 2017.
On Sept. 30, the U.S. House of Representatives passed the Uyghur Forced Labor Disclosure Act, which the requires U.S. publicly listed companies to audit supply chains for forced labor. It also directs the Securities and Exchange Commission to require publicly traded companies to disclose imports of manufactured goods and materials derived from forced labor in the XUAR.
That new legislation follows the passage Sept. 22 of the Uyghur Forced Labor Prevention Act, which requires the Secretary of State to determine if imposing forced labor on Uyghurs and other Muslim Turkic groups constitutes crimes against humanity or genocide under U.S. law.
Washington is also taking customs inspection measures to block imports of suspect goods and to sanction and hold to account Chinese officials responsible for human rights violations in the XUAR. The U.S. has warned U.S. firms to ensure supply chains in China do not involve forced labor.
On Tuesday, U.S. Customs and Border Protection (CBP) announced its first forced labor finding since 1996, having determined that stevia extracts and derivatives produced using convict, forced, or indentured labor by Inner Mongolia Hengzheng Group Baoanzhao Agriculture, Industry, and Trade Co., Ltd. (Baoanzhao)—located in China's Inner Mongolia Autonomous Region (IMAR)—are being, or are likely to be, imported into the U.S.
U.S. law prohibits the importation of merchandise mined, manufactured, or produced, wholly or in part, by forced labor, including convict labor, forced child labor, and indentured labor.
Based on the CBP's finding, port directors have been ordered to seize the merchandise in question and to commence forfeiture proceedings.
CBP issued a Withhold Release Order against Baoanzhao in May 2016 after conducting an investigation into the company based on allegations by a nongovernmental organization. Stevia is a sweetener and sugar substitute derived from the leaves of that plant species.
Reported by Shohret Hoshur for RFA's Uyghur Service. Translated by the Uyghur Service. Written in English by Joshua Lipes.
Source: Copyright © 1998-2016, RFA. Used with the permission of Radio Free Asia, 2025 M St. NW, Suite 300, Washington DC 20036. https://www.rfa.org.