The CCP continues removing domes and minarets from mosques and suppresses any expression of Hui Muslim tradition and culture.
by Li Wensheng
The coronavirus outbreak did not prevent President Xi Jinping from pushing forward his policy to "sinicize" Islam. Numerous domes and star-and-crescent symbols were removed from mosques in the northwestern province of Gansu amid the pandemic. The Kongtong district in the province's Pingliang city was among those struck hard: In late March, Islamic symbols were removed from 17 mosques.
The dome of the Dongjiao Grand Mosque in the district was removed in May. "The government claimed that it had been built in a foreign style and must be demolished," a local Hui Muslim, in his 80s, told Bitter Winter. "They were persuading us to take off the dome last year, but now they simply removed it by force."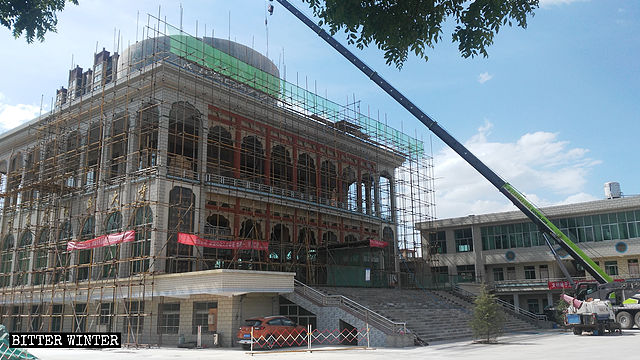 Domes from at least eight mosques in Kongtong district's Dazhai township and Gaoyuan village were also taken off amid the pandemic. "This is the Communist Party's policy," a Hui Muslim said helplessly. "We can do nothing about it and have to swallow our tears."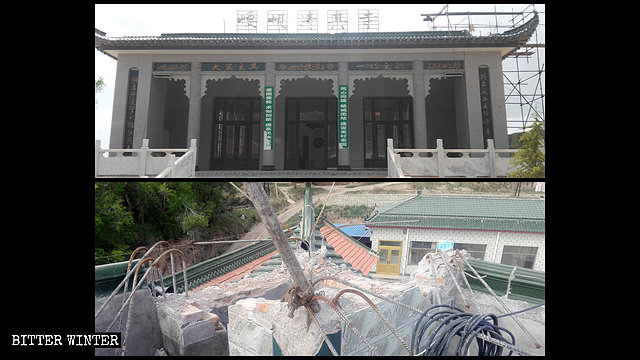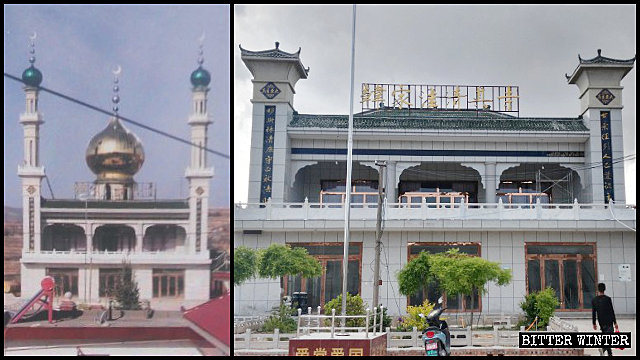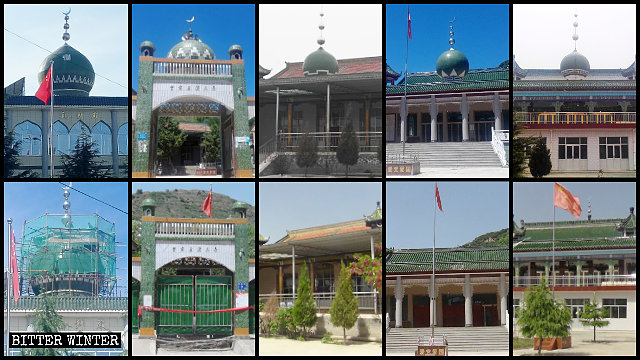 Eliminating symbols that indicate halal foods from businesses is also a part of the Islam "sinicization" campaign.
"Every restaurant must have their signboards replaced," explained a restaurateur in Huangzhong county of Xining, the capital of the northwestern province of Qinghai. "Orders to get rid of halal symbols come from the central government, from the United Front Work Department, Civil Affairs or Urban Administrative and Law Enforcement bureaus. If you don't obey, the government will shut down your restaurant."
Owner of a noodle restaurant told Bitter Winter that all identifying symbols in Arabic that his place was halal had been removed, and all decorative paintings with words in Arabic had to be replaced with landscape paintings. "Officials from the Urban Administrative and Law Enforcement Bureau forcibly removed the Chinese characters for 'halal' in May."
A Hui Muslim from Yongning county in Yinchuan, the capital of Ningxia Hui Autonomous Region, working in construction told Bitter Winter that he could not find a place marked with a halal symbol to have lunch. Not wanting to eat non-halal food, he prepared steamed buns for lunch every day. Because of bad nutrition, he has lost a lot of weight and energy and had to quit his job since he could not withstand the workload.
Some shops claim that they sell halal food, but they cannot mark it as such. As a result, their businesses are suffering, as more and more customers leave. "There are too many fake Halal food stores nowadays," a local Muslim commented. "Without a halal symbol, it's impossible to know for sure."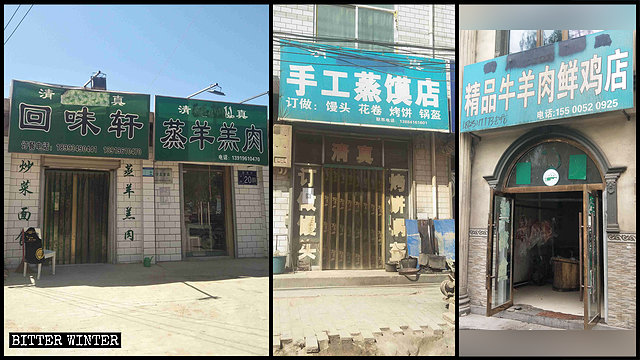 All other Hui Muslims' customs and traditions are being wiped out gradually as the CCP advances its "sinicization" campaign.
"Bureau of Industry and Commerce personnel banned me from wearing my veil and gave me paper hats to put on while I work in the restaurant," said the proprietress of a café in Ningxia's Guyuan city.
"Officials from the Bureau of Industry and Commerce and Security Bureau prohibited from wearing traditional white skullcaps," a waitress in another halal restaurant echoed. "Employees now have to wear disposable paper hats instead. Similar restrictions are being imposed on government employees and bus drivers." The woman believes that the government aims to eliminate the identity of the Hui people. "Little by little, the Hui will forget what they are," she added.
Source: Bitter Winter