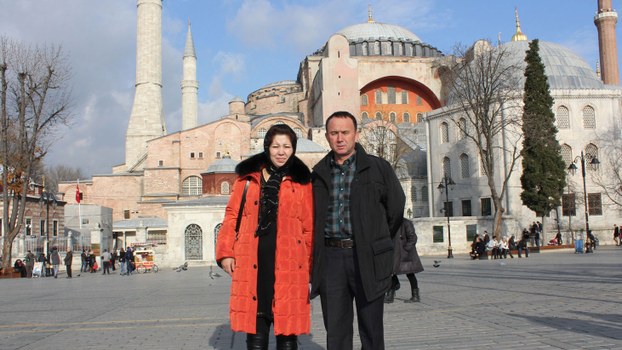 Authorities in China's Xinjiang Uyghur Autonomous Region (XUAR) have jailed four siblings and a brother-in-law of an Ankara-based Uyghur academic for more than a decade each for "aiding and abetting terrorists" for sending gifts to the scholar, a 30-year-resident and citizen of Turkey.
Erkin Amet, a lecturer at Ankara University and a freelance journalist, told RFA's Uyghur Service that he has learned from the Kashgar District Intermediate People's Court that three of his brothers were sentenced for 11 years each, his sister received 14 years, and her husband was jailed for 23 years.
Erkin Amet told RFA he had been out of contact with his family for years, and only learned of the January 2019 indictment of the five relatives when he was sent an electronic copy of the court document by an acquaintance in China last month.
He had learned in 2019 that 13 relatives were imprisoned in the XUAR internment camps in which China has locked up as many as 1.8 million for what it says is re-education to combat Muslim extremism. Critics call them concentration camps that merit an investigation into genocide and the United States has sanctioned the architect of the camp system.
In the indictment, Chinese authorities accused Erkin Amet of being a "terrorist" and said they had arrested his siblings and brother-in-law on charges of "aiding and abetting terrorists" and "keeping contact with a member of a terrorist organization, Erkin Amet, between 2006 and 2016," he said.
The indictment described gifts his brothers gave to Erkin Amet and his wife – gold rings and household items worth about $2,500 – as "aid for terrorist activities."
Erkin Amet's younger sister, Nurnisa Amet, visited Turkey in January 2013 with the permission of the Chinese government with her husband, Kadir Memet, and they stayed only three days at her brother's house – a stay described in the indictment as "liaising with terrorists," the scholar said.
No contact for two decades
Kadir Memet was jailed for 23 years, and fined 3 million yuan ($500,000) while his wife was sentenced to 14 years. Erkin Amet's brothers–Memtimin Amet, Enver Amet and Emer Amet each got 11 years and fines of 30,000 yuan, the court papers showed.
Erkin Amet – a lecturer since 1992 at the state-run Ankara University's Department of Language, History and Geography – has been a correspondent and contributor to RFA's Uyghur Service from Turkey, and managed RFA's office in the Turkish capital from 2001-12.
"How can someone with a connection to terrorism work at a state university in Turkey?" he said in an interview with RFA Friday.
"I haven't been in contact with my siblings for … years. I haven't seen them, and I didn't even get a phone call," added Erkin Amet.
He said the criminal charges for the family's exchange of gifts is "a typical example of the current policy of evil repression against the Uyghurs."
Erkin Amet said the terrorist accusation in the indictment did not specify a terrorist organization or a terrorist act.
WUC connection?
Local media in Turkey, home to more than 50,000 Uyghurs who fled there to escape persecution in China, have speculated that the main reason for Erkin Amet's "terrorism" accusations is related to his work for RFA and his decade-long relationship with the Munich-based World Uyghur Congress advocacy group.
Erkin Amet said his property was confiscated by the state after his brother-in-law was unable to pay his 3 million yuan fine.
"Now that they are in prison, how will their children live without their property or financial resources? It's an unfathomable cruelty."
Erkin Amet wrote letters to Turkish President Recep Tayyip Erdoğan, the Turkish Foreign Ministry and the U.S. State Department to seek help with his family's case.
"As stated in the indictment, it was only I who caused my siblings to be sentenced," he said.
"The Republic of Turkey knows what kind of person I am, so I wrote a letter to the president, asking him to raise my issue diplomatically with China, telling the Chinese government about the situation and asking for the rescue of my siblings," he said.
"I haven't received a clear answer yet."
RFA previously has reported that a blacklist of 17 people from Kashgar's Yopurgha county who went abroad is circulating on social media, and at the top of the list of "terrorists" is Erkin Amet, a native of the county.
China has imprisoned numerous Uyghurs for having visited Turkey and other Muslim countries, or for having relatives living in those countries.  Chinese authorities have also jailed dozens of relatives of RFA Uyghur reporters in retaliation for their work.
Reported by Azigh for RFA's Uyghur Service. Translated by Mamatjan Juma for RFA's Uyghur Service. Written in English by Paul Eckert.
Source: Copyright © 1998-2016, RFA. Used with the permission of Radio Free Asia, 2025 M St. NW, Suite 300, Washington DC 20036. https://www.rfa.org.