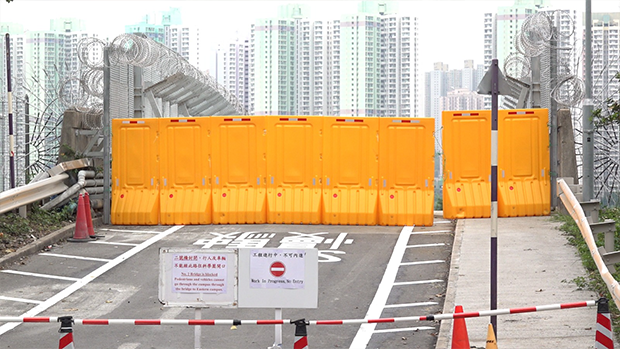 A Hong Kong-based human rights group has detailed a litany of police violence and abuse of power during last year's protests in a report to the U.K. parliament, as sporadic protests continue in the city in spite of the coronavirus pandemic.
In a damning report, the Hong Kong Civil Rights Observer described several cases of excess use of force, degrading treatment, and physical abuse of arrestees by the Hong Kong police in a report dated April 2020.
It also joined Hong Kong doctors and paramedics in slamming the harassment, arrest, and physical abuse of medical personnel helping the injured during the protests.
In an Aug. 11 incident, police fired tear gas canisters horizontally in the direction of first aid volunteers and journalists, it quoted one interviewee using the pseudonym Timothy as saying.
"A group of police tactical squad unit officers was subduing a group of protesters and Timothy got subdued in the same action," the report said. "The police tore his respirator off his face and tied his wrists with a cable tie while the other police officers were deploying tear gas, making Timothy lose consciousness partly and vomit."
Timothy was then later denied access to medical attention, in violation of his rights as a detainee, and later suffered long-term nausea as a result of tear gas exposure, the report said.
"Timothy requested to see the doctor several times as he kept vomiting but was ignored," it said. "While he was resting his head and arms on the table, a police officer asked whether he wanted to become a floating corpse."
This was a reference to several floating bodies found in Hong Kong waters since the anti-extradition movement expanded into a full-on campaign for fully democratic elections and official accountability.
'In a worse situation'
In an incident on June 12, a first-aider identified as Peter saw a teenager being covered in tear gas or pepper spray and left for 10 minutes before being put in an ambulance, during which time police prevented first-aiders from treating him.
"I think Hong Kong people are in a worse situation than war captives or prisoners of war," Peter told the CRO. "Prisoners of war are protected by the Geneva Conventions. People in Hong Kong are not."
Another first-aider identified as Charles was shot in the face by a non-lethal bullet fired by police, despite wearing a reflective vest clearly identifying him as a medical volunteer, the report said.
"The police searched Charles and many others on the street. Charles' bag was also searched," its said. "Charles observed that some female first aiders were searched by male police officers on the street."
Later, at the siege of Hong Kong's Polytechnic University on Nov. 17, Charles reported being verbally abused by police, who called the first-aiders "cockroaches," telling them that they shouldn't count on immunity from arrest.
"The police claimed they did not need my help as they themselves have first aid qualifications," he told CRO. "I know they are qualified; the problem is they weren't treating the injured."

Recurring nightmares
On the same day, first-aider Alex, clearly identifiable as a first aider with reflective clothing, reported that police pointed what appeared to be AR-15 semi-automatic rifles at first-aiders from a high level about 150 meters away.
Police claimed the group were suspected of rioting, and asked them to wait for a body search before leaving the area, later arresting Alex.
"During the arrest, the police forcefully pulled Alex, spraining his waist and thigh" before making the arrestees watch as they fired high volumes of tear gas into the Poly U campus, the report found.
"After the arrest, Alex experienced recurrent nightmares of the scenes. He has been diagnosed with posttraumatic stress disorder and bipolar disorder by a psychiatrist and a psychologist," the report said.
Volunteer medic Kyle was handcuffed with cable ties on the same night, and kept waiting at the police station for 15 hours before being sent to hospital after requesting medical care.
He was also denied access to a lawyer, and was forced to make a statement without one present, CRO said.

Beaten by police
First-aider Harry described being surrounded by a group of police officers, with his head, arms, body, and back beaten by their fists and elbows for around ten to 20 seconds, then pinned to the ground.
"The police kept asking Harry not to resist. Harry reiterated he was a social worker and did not resist. The police kicked him and hit him with their baton/batons," the report said.
Hong Kong-based doctor Darren Mann said all injured persons have the right to receive medical assistance, which can be administered by anyone present with enough knowledge or training.
"They shouldn't be obstructed, let alone harassed or intimated," Mann, who penned a highly critical report in The Lancet detailing the mass arrests of medics at Poly U last November, he told RFA in a recent interview.
Mann said the United Nations Special Rapporteur on Human Rights believes that there is evidence that the Hong Kong Police used ambulances to transport police officers and weapons instead of transporting the injured.
Police also arrested people in ambulances, he said.

Barriers, barbed wire
At the Chinese University of Hong Kong (CUHK), where police fired thousands of tear gas canisters in the space of a single day after protesters and students barricaded themselves inside campus, the No. 2 footbridge that became the focal point of fierce fighting reopened this week, complete with prison-like barriers and curls of barbed wire.
A protester and CUHK student who gave only the nickname Tom said that, for him, the campus no longer feels safe, as students prepare to return to their studies.
"That day was the first time I felt that this place that was so safe, and which should have protected us, was violated," Tom said.
Police fired a total of 2,330 tear gas canisters, 1,700 rubber bullets, 434 textile bullets, and 159 sponge bullets on the CUHK campus on Nov. 12 alone, as well as deploying water cannon.
The students responded with Molotov cocktails, bricks, and other makeshift projectiles, using any objects to hand to build defenses to prevent riot officers storming the campus.
"Sometimes students report finding bullets, rubber bullets, tear gas canisters still lying around the place," Tom said. "When this place was violated, we were very willing to protect it."
CUHK politics lecturer Nelson Lee said the battle of the No. 2 footbridge had left an indelible mark in the city's collective memory.
"I feel it very keenly," Lee said. "Especially these new students who started university this [academic] year, they lost out hugely at a time that should be the most important of their lives."
"They had barely started being at university when they were no longer able to enjoy that life any more," Lee said.

Reported by Tseng Yat-yiu and Man Hoi-tsan for RFA's Cantonese Service, and by Jia Ao for the Mandarin Service. Translated and edited by Luisetta Mudie.
Source: Copyright © 1998-2016, RFA. Used with the permission of Radio Free Asia, 2025 M St. NW, Suite 300, Washington DC 20036. https://www.rfa.org.