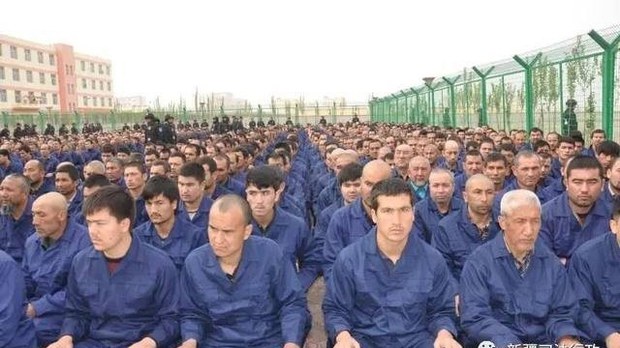 China's increased repression of Uyghurs in the Xinjiang Uyghur Autonomous Region is "emblematic of the worsening human rights situation under President Xi Jinping," sparking a mounting backlash from the global community, Human Rights Watch (HRW) said Wednesday in an annual report issued the same day the United States banned all cotton imports from the XUAR over forced labor concerns.
The crackdown in the XUAR—where authorities are believed to have held up to 1.8 million Uyghurs and other Muslim minorities in a vast network of internment camps since early 2017—as well as severe restrictions in Hong Kong and an initial coverup of the coronavirus that contributed to a global pandemic, "have generated growing international mobilization against Beijing's rights record," HRW said in its World Report 2021.
"Governments increasingly realize that Beijing's rights abuses at home have global consequences," said Sophie Richardson, China director at HRW.
"That momentum should translate into support for independent investigations into Xinjiang, a new United Nations mandate to monitor human rights abuses, and an end to the Chinese government's impunity for serious violations."
According to the report, the Chinese government's efforts to "erase the identity" of Uyghurs and other Muslims continued in 2020, citing reports that more than 100 traditional Uyghur cemeteries had been destroyed in the XUAR, as well as other measures aimed at eradicating the ethnic group's culture.
HRW also noted reports that authorities had built more than 260 large detention structures in the XUAR since 2017, further supporting claims of a policy of mass extralegal incarceration in the region.
It said that under increasing international scrutiny, authorities in the XUAR have begun to send detainees to work at factories as part of an effort to label the camps "vocational centers," although those held in the facilities regularly toil under forced or coerced labor conditions. In February last year, an Australian think tank revealed a list of 82 global brands that sourced from factories in China that used workers from the region under conditions that "strongly suggest" forced labor.
HRW's report was released hours before the U.S. announced it will ban imports on all cotton products and tomatoes from the XUAR, citing concerns over forced labor.
"Forced labor is a form of modern slavery," Acting Department of Homeland Security Deputy Secretary Kenneth Cuccinelli said on a call announcing the move, which follows similar bans on three hair-product and garment producers in the XUAR in 2020.
"'Made in China' doesn't just indicate country of origin—it's a warning label."
Cotton imports worth US $9 billion
U.S. Customs and Border Patrol (CBP) issued a Withhold Release Order (WRO) to detain the goods at the country's ports of entry, saying that the agency had identified indicators of forced labor including debt bondage, restriction of movement, isolation, intimidation and threats, withholding of wages, and abusive living and working conditions.
Acting CBP Commissioner Mark Morgan said that the WRO will apply to apparel, textiles, tomato seeds, canned tomatoes, and tomato sauce, as well as to products manufactured in other countries that use cotton and tomatoes from the XUAR. The U.S. imported U.S. $9 billion worth of cotton products and $10 million of tomatoes from China over the past year, according to the CBP. Most of China's cotton is from the XUAR.
Last month, a report by the Washington-based Center for Global Policy noted that the XUAR produces 85 percent of China's and 20 percent of the world's cotton, potentially "affecting all supply chains that involve Xinjiang cotton as a raw material."
Despite efforts to hold Beijing accountable for its repression in the XUAR, HRW noted that "a significant number" of the Uyghur diaspora continue to have no information about missing loved ones in the region.
"While the Chinese government appears to have shut down some political education camps and 'released' detainees following global outrage, an untold number of Turkic Muslims remain in detention and imprisoned solely on the basis of their identities," the group said.
Additionally, Chinese government-linked groups have used malicious hardware to hack into Uyghurs' phones both inside and outside of China "on a large scale," according to HRW, working to identify new targets for detention and undermine efforts by the exile activist community abroad.
However, HRW said that an increasing number of governments, United Nations officials and rights experts, and civil society groups around the world publicly expressed concerns over China's human rights violations in 2020—particularly with regard to the XUAR and Hong Kong.
In June, a group of 50 U.N. human rights experts called on member states to work to ensure that China respects human rights and abides by its international obligations.
Britain, Canada respond
The U.S. has aggressively ramped up its response to reports of abuses in the XUAR, with President Donald Trump's administration in July leveling sanctions against several top Chinese officials deemed responsible for rights violations in the region, including regional party secretary Chen Quanguo, under the Global Magnitsky Human Rights Accountability Act.
The move, which marked the first time Washington had sanctioned a member of China's powerful Politburo, followed Trump's enactment in June of the Uyghur Human Rights Policy Act of 2020 (UHRPA), which passed nearly unanimously through both houses of Congress at the end of May. The legislation highlights arbitrary incarceration, forced labor, and other abuses in the XUAR and provides for sanctions against the Chinese officials who enforce them.
In October, the U.S. House of Representatives passed the Uyghur Forced Labor Disclosure Act, which the requires U.S. publicly listed companies to audit supply chains for forced labor. It also directs the Securities and Exchange Commission to require publicly traded companies to disclose imports of manufactured goods and materials derived from forced labor in the XUAR.
That legislation followed the Sept. 22 passage of the Uyghur Forced Labor Prevention Act, which requires the Secretary of State to determine if imposing forced labor on Uyghurs and other Muslim Turkic groups constitutes crimes against humanity or genocide under U.S. law.
Omer Kanat, executive director of Washington-based Uyghur Human Right Project (UHRP), applauded Wednesday's WRO on cotton and tomatoes and called on all governments to take similar actions.
"This is the right decision, and more steps are needed," he said.
"UHRP has been calling for a complete ban on imports tainted by China's atrocity crimes against Uyghurs … Uyghurs don't understand how 'business as usual' has continued as long as it has."
The move was also welcomed by Rushan Abbas, executive director for Washington-based Campaign for Uyghurs (CFU), calling it "a bright spot of hope that justice will be had."
"I hope to see more widespread regional bans and restrictions on Chinese goods to follow," she said.
The United Kingdom recently announced plans to strengthen its Modern Slavery Act in response to forced labor concerns in the XUAR, while Canada has issued a trade advisory in connection to the region and Australia's parliament will soon consider a customs amendment.
Source: Copyright © 1998-2016, RFA. Used with the permission of Radio Free Asia, 2025 M St. NW, Suite 300, Washington DC 20036. https://www.rfa.org.