Countless places of worship suffer devastating consequences as local authorities do anything to please CCP's visiting higher-ups.
by Li Mingxuan
In September, the Liaocheng city CCP committee in the eastern province of Shandong dispatched 12 teams to 36 towns and townships in its jurisdiction to inspect grassroots Party organizations. Although the teams' primary tasks are to check "organizational capacities and governing capabilities," promote "solutions to unhealthy practices and corruption issues," and alike, religious issues play a central part during the inspections, planned through mid-December.
Such inspections are organized throughout China since August 2019, when the Central Committee of the CCP initiated a plan for "centralized rectification of grassroots Party organizations that are weak and lax" in villages, communities, schools, enterprises, and other entities. As President Xi called it, "to purify the Party."
After one of the inspecting teams has visited Liaocheng's Gaotang county, all Three-Self Church sites without the religious activity venue registration certificate were closed down. Local officials had to take photos of the shut places of worship and send them to the provincial inspection team.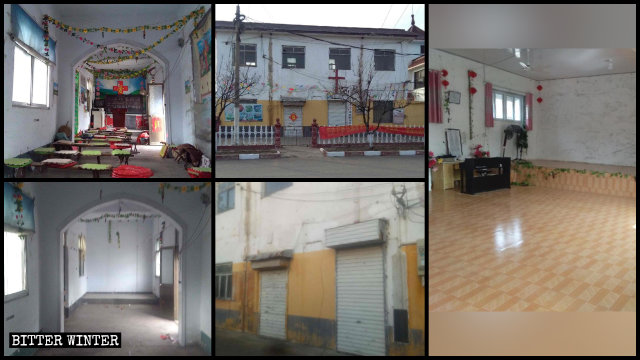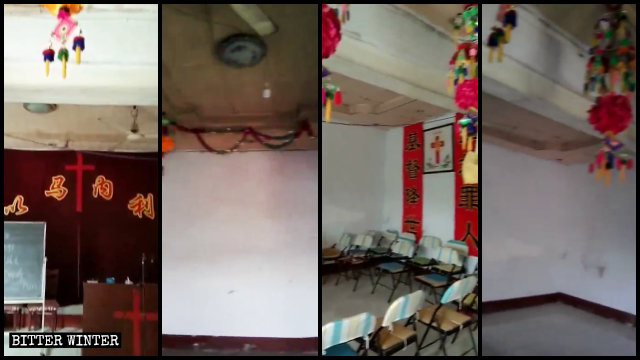 "Officials piled up benches, took down the blackboard, and tore down crosses and religious images from the walls and then photographed them," one of the closed-down venue's director said.
"They filmed us removing the cross and religious couplets, recording the venue before and after the rectification," a congregation member at another venue recalled.
"All unlicensed venues in Zhaozhaizi town were closed in September," a town government employee explained. "Even their benches have been removed. All visiting higher-ups now inquire about the status of religion."
Because of the growing scrutiny over religious affairs, local authorities intensify crackdowns on places of worship to present themselves in a better light ahead of each inspection by superior officials. The United Front Work Department (UFWD) of Jinan, Shandong's provincial capital, ordered in June to merge and shut down all venues subordinate to Three-Self churches. A member of the city's Shengfu Church told Bitter Winter that only six venues remain open out of the church's nearly 30 subordinate sites. The rest had their activity certificates revoked and were shut down.
"We repainted the venue's walls awaiting the reopening after the pandemic restrictions had been lifted," a congregant at one of the shut-down venues recalled. "We didn't expect that it would be closed, and our certificates confiscated. It was the only remaining Protestant venue in the four neighboring villages."
Out of the 36 licensed Three-Self venues in Jinan's Tianqiao district, servicing over 3,000 believers, only three were allowed to function.
Religious venues in Shandong's Linyin city have suffered unprecedented crackdowns since 2018. Many Three-Self venues have been closed already before the coronavirus outbreak, and more were merged or shut after the pandemic restrictions have been eased. For example, a town in Linyi's Tancheng county demanded in July to close all its 40 Three-Self Church and house church venues.
The remaining places of worship are often ordered to remove their religious symbols. In June, many Christian venues in Linyi received a notice from the local UFWD, demanding them to remove crosses from their buildings. A state-run Catholic church in the Hedong district had its cross and the Chinese characters for "Catholic Church" removed the next month. The sign "Creator of All Things" above the church entrance was also purged, and the church was locked. When a nonagenarian churchgoer asked where the congregation should gather, a local official threatened to demolish the building if believers continued asking questions.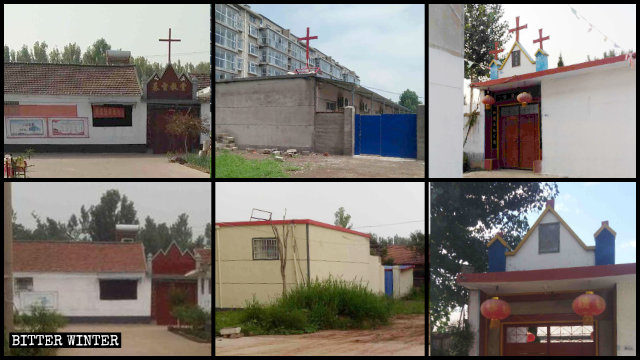 Crosses were also removed from 14 churches in Linyi's Gaoxin district in the first two summer months.
The government of another Linyi-administered county introduced an assessment system for officials in charge of religious work. They are given one point for merging a religious venue or reducing its congregation to fewer than ten, while points are deducted if a venue has over ten believers or is equipped with a blackboard, audio system, desks, and chairs.
Source: Bitter Winter