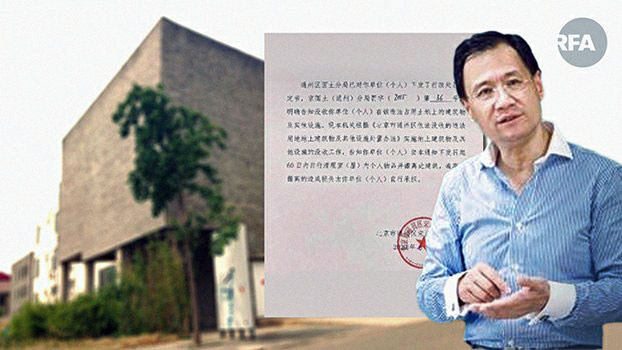 Authorities in the Chinese capital have detained an outspoken law professor who called for political reforms.
Xu Zhangrun, law professor at Beijing's prestigious Tsinghua University, was taken away by police on Monday morning, a friend of his who asked to remain anonymous told RFA.
"There weren't any family members present when [Xu] was arrested," the friend said.
"There are two completely different stories about what happened," he said. "One of the neighbors said there were more than 10 police vehicles and more than 20 officers."
"But the help said they didn't see any vehicles, and that only two to three people came," the friend said. "We think the help may have been warned off [saying anything] or threatened in some way."
Xu's detention came after his wife received a call from police in the southwestern province of Sichuan, where police have accused him of seeking out prostitutes.
"Xu's wife was very surprised to get a call from the Sichuan police," Xu's friend said. "Xu was arrested on suspicion of seeking out prostitutes, which is a common method used by the ruling Chinese Communist Party."
"It's also ridiculous. China's current totalitarian dictatorship is indecent, cruel and shameless," the friend said.
He said Xu's detention could be linked to the publication of one of Xu's books in New York last month.
"Originally, this book was going to be published by Hong Kong's City University of Hong Kong in the first half of this year, but then the City University Press and the university president were subjected to threats from China," Xu's friend said.
"They didn't dare to publish it after that … and the collection of Xu's most controversial articles was published in New York more than 10 days ago," the friend said.
"We think the real reason for [Xu's] detention is that the authorities are angry over the publication of that book."
Beijing-based rights lawyer Mo Shaoping, said he would be willing to provide assistance if asked by the family.
"Under normal circumstances, they can hold him for up to 24 hours for questioning, during which time they need to determine what actually happened, and whether or not it constitutes a crime," Mo said.
"Of course he can continue to be detained if they believe a crime has been committed," he said.
"After that, they can either ask prosecutors to approve his formal arrest or they can release him on bail under residential restrictions pending trial," Mo said.
"If he isn't considered to have committed a crime, then he should be released within 24 hours," he said.
'Frightening the monkeys'
An academic who declined to be named described Xu's detention as an ultimatum to dissident intellectuals.
"I believe this was the result of a personal command at the highest level," the academic said. "It is a warning to all intellectuals; a case of killing the chickens to frighten the monkeys."
Xu's detention is the latest in a string of actions targeting dissenting voice in China's higher education sector, the academic said.
"They want to make this arrest as another step towards a final sweep," he said.
Xu recently also criticized the Beijing municipal authorities for demolishing an artists' village, and that the administration of President Xi Jinping is taking China into "a dead end."
In April 2019, Xu was notified by Tsinghua that he should cease performing any duties, and that he was banned from teaching and counseling students.
The move came after he published an article last July hitting out at the return of totalitarianism under the ruling Chinese Communist Party, including the abolition of presidential term limits and a cult of personality around Xi.
Xu called for amendments nodded through by China's rubber-stamp parliament, the National People's Congress (NPC), in 2018 to be revoked and for an end to massive international expenditure to boost China's influence overseas, as well as for legislation requiring officials to publish details of their assets and financial interests.
Xu also published articles in November and January hitting out at "red" imperialism and calling for an upgrade to China's political system.
Reported by Gao Feng for RFA's Mandarin and Cantonese Services. Translated and edited by Luisetta Mudie.
Source: Copyright © 1998-2016, RFA. Used with the permission of Radio Free Asia, 2025 M St. NW, Suite 300, Washington DC 20036. https://www.rfa.org.