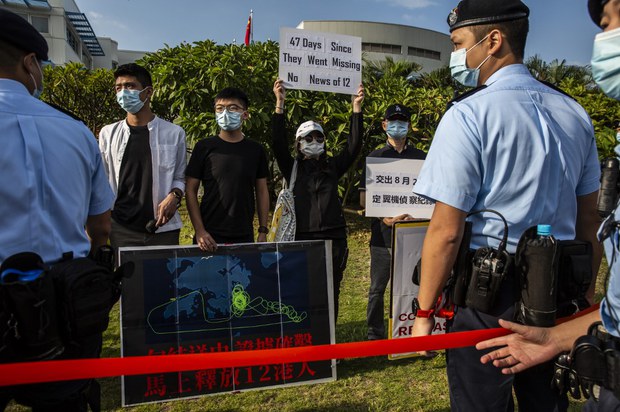 Hong Kong's government is seeking to amend the city's immigration laws to enable security chiefs to ban passengers from taking any form of transport in or out of the city, sparking concern that the authorities may be getting ready to stop people from leaving amid a crackdown on dissent under the national security law.
The move comes amid growing fears that the city's airport is already under routine surveillance by national security police, after a Hong Kong-based Youtuber filmed a group of unidentified people with no luggage lingering in the departure hall and watching passengers board their flights.
A planned amendment to the Immigration Ordinance debated in the city's Legislative Council (LegCo) on Wednesday has been billed by the government as a crackdown on asylum-seekers and undocumented migrants, making easier for the authorities to deport them.
But it also includes a clause enabling border guards to prevent a person from boarding a flight or any other form of transportation out of the city, paving the way for exit bans on any of Hong Kong's seven million residents or visiting foreign nationals.
The proposed amendment to Section 6A of the existing law will "empower the Director to direct that a passenger or a member of the crew of a carrier may or may not be carried on board the carrier," according to copies of the draft amendments posted by the government.
The amendment, which looks likely to be passed in a LegCo now devoid of any opposition members, also sets up an advanced passenger information system that will funnel the data of people arriving in the city to the immigration department for vetting, making it easier for people to be denied entry or detained on arrival.
Secretary for security John Lee told LegCo recently that amendments will also be required to existing firearms legislation to enable border guards to carry guns, the Apple Daily newspaper reported on Wednesday.
This would enable the Immigration Department to "deploy manpower more flexibly and carry out its own training, improving detention centers' ability to respond to emergencies and conduct law enforcement operations."
Former opposition lawmaker Lam Cheuk-ting told the paper that the potential for exit bans "would seriously violate the rights of Hong Kong's residents to come and go freely, because the director of immigration will be able to restrict individuals' movements without the need for a court order."
He said the move to arm border guards was also worrying, as it would create a "reserve" of weapons-trained law enforcement officers, the paper reported.
Bob's Your Uncle
The Hong Kong Youtuber who runs a travel review channel called "Bob's Your Uncle," spotted a group of people lingering around the departure hall of Hong Kong International Airport as he took a flight to the U.K. and reviewed Virgin Atlantic's Upper Class flight to London on Dec. 14, 2020.
"Just as we were heading to the entrance, we saw four tossers [jerks] standing by the road, all of whom were packed way too light for a trip, be it leisure or business," Uncle Bob narrates in the video, using English subtitles.
After taking note of the unidentified individuals' clothing, Uncle Bob later finds a man and a woman from the group wandering the corridors and standing watching passengers leave via the departure gate.
"The jackets were there again by the time we reached the gate," he reports. "Rarely do you see passengers flying long haul without a single carry, not even a backpack."
He continues that the couple didn't seem to board the flight, based on a quick visual check of the cabin, and just stood at the boarding gate watching people get on the flight.
"Less than 30 years [after the 1997 handover to Chinese rule], and we're already on par with Pyongyang," he comments.
Hong Kong police told RFA on Tuesday that they might "arrange patrols when appropriate by uniformed or plainclothes officers." But they declined to comment on operational details.
Google search engine results in December 2020 indicated a sharp rise in the number of searches for emigration-related topics from Hong Kong since China first mooted the draconian national security law for the city, which took effect from July 1.
"Emigrating to Taiwan" and "emigrating to Canada" were among top searches from Hong Kong in that month, along with keywords relating to offshore accounts with foreign-based banks including HSBC, suggesting that the city's middle-class families are at least thinking about leaving.
Analysts estimate that hundreds of thousands, possibly millions, of the five million people eligible for the U.K.'s British National Overseas (BNO) passport will apply for a pathway to citizenship offered in the wake of the national security law.
Tens of thousands more have been offered automatic visa extensions and a pathway to citizenship by Australia, while the democratic island of Taiwan has also offered to smooth the paths of Hongkongers fleeing arrest.
Soaring paperwork applications
Applications to the authorities for certificates of no criminal record — a crucial stage in any emigration application — soared to around 3,000 a month in the wake of last year's protest movement, which was triggered by plans to allow extradition to mainland China.
Applications dipped in the wake of the COVID-19 pandemic to less than 2,000 a month in May, but bounced back in June, where they have stayed at around 2,600 a month since.
District councilor Lee Yue Shun said it would "not be surprising" if there were national security police at entry and exit points in the city, but said he had been unable to confirm the identities of the people in the YouTube video independently.
"Hong Kong has always been an international interchange for people from many different countries, and we have always had freedom of entry and exit," Lee told RFA.
"But if the national security police are now monitoring immigration and stalking ordinary citizens, then of course that's going to have a hugely negative impact on the image of Hong Kong International Airport," Lee told RFA.
The former Cathay Dragon air crew union leader Rebecca Sy told RFA that plainclothes police, private security guards and immigration officers often patrolled the area, making it hard to tell who they represented.
"It's hard to say whether they are police, immigration personnel, or airport security," Sy said. "It's hard to know what they were doing there, although in sensitive times like these, people are bound to think they are special police looking to arrest people."
In December 2020, former pro-democracy lawmaker Baggio Leung also reported being followed by suspicious individuals as he left the city to claim political asylum in the United States.
"I saw a lot of strange-looking people at the airport … there was a guy who was clearly not dressed for travel; he looked like a Hongkonger, middle-aged, wearing headphones," Leung told RFA after arriving in the U.S.
"I went to the automatic passport gate and tried to scan my passport but it wouldn't let me through," he said. "I had to go to the manned counter, where the customs officer stared at me for two or three minutes [before letting me pass]."
Reported by Chan Yun Nam, Lu Xi and Lau Siu Fung for RFA's Cantonese and Mandarin Services. Translated and edited by Luisetta Mudie.
Source: Copyright © 1998-2016, RFA. Used with the permission of Radio Free Asia, 2025 M St. NW, Suite 300, Washington DC 20036. https://www.rfa.org.