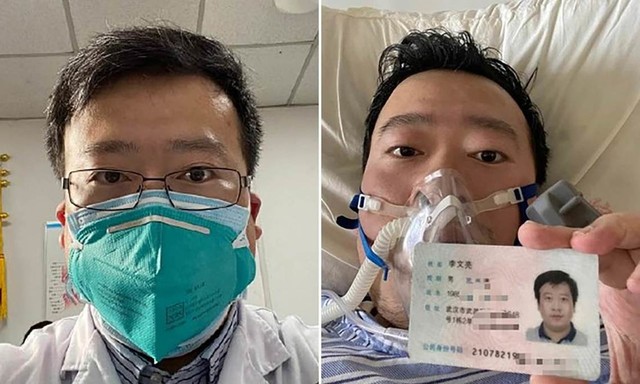 One year after the death of whistleblowing Wuhan doctor Li Wenliang, authorities in the central province of Hubei are keeping his family under tight surveillance and restrictions, while his colleague and fellow whistleblower Ai Fen is no longer able to work after failing to receive treatment for a detached retina, RFA has learned.
An official working in the Hubei provincial health administration said both Li's widow, children, and elderly parents remain under "stability maintenance" measures, one year after the ophthalmologist's death from COVID-19, which came after he and seven colleagues were reprimanded and questioned by police for trying to warn the world about the newly emerging pandemic virus.
Faced with relentless pressure from the authorities, Li's widow has taken the couple's two children back to live in her hometown in provincial Hubei, the official, who gave only a surname Liu, told RFA.
The authorities have also put huge pressure on Li's elderly parents, who have been unable to get over their son's untimely death, to prevent them from talking to the media, Liu said.
Meanwhile, Li's erstwhile colleague and former ER director at Wuhan Central Hospital, Ai Fen, is no longer able to work after being misdiagnosed after problems with her vision, RFA has learned.
Ai was one of the doctors who first sounded the alarm on Dec. 30 about the emergence of a mystery virus in Wuhan that seemed similar to SARS.
The authorities detained and questioned eight of the doctors on Jan. 3, including Li Wenliang, who later died of the virus, accusing them of "rumor-mongering."
Ai was given a stern reprimand after sending information about the early stages of the outbreak to the group of eight doctors, she wrote in a now-deleted essay published in China's People (Renwu) magazine.
'Can't reason with these people'
Health official Liu said none of the doctors had done anything wrong.
"What this person said was true; it didn't overstate the case at all," Liu said. "You can't reason with these people."
"Every day they say that these are sensitive times, and that they're not allowed to say anything that could negatively affect the hospital," Liu said. "But if [the ruling Chinese Communist Party (CCP)] doesn't learn from its mistakes, how are we going to avoid making the same mistakes in future?"
"They don't want us to talk: they just want us to sing their praises."
A doctor at Wuhan Central Hospital who asked to remain anonymous told RFA that the authorities have confiscated passports and Hong Kong and Macau travel documents from all of the hospital's doctors, apparently for "stability maintenance" purposes.
Hospital party secretary Wang Weihua refused to respond directly when contacted by RFA for verification of the doctor's claim.
"Who told you that?" Wang said. "What's the surname of this comrade?"
"Whoever said this, I think it would be better to ask that person if they want to retract it, OK? Because we have a system for giving media interviews," Wang said.
An official who answered the phone at the Wuhan municipal government declined to comment when contacted by RFA.
Forced to wait for treatment
Liu, the Hubei health official, said Ai had been forced to wait two months for treatment after problems with her eyesight, because the ophthalmology department at her own hospital was shut down while Wuhan was under lockdown.
She has now partially lost her vision as a result of the delay and misdiagnosis, Liu said.
When contacted by RFA, Ai confirmed that she has a detached retina and loss of vision following the delay to her treatment due to the impact of COVID-19 on medical personnel in the city.
"I thought it was just nearsightedness, so I went to see a doctor," she said. "It was very hard to get to see a doctor in a public hospital … three of the doctors in our own ophthalmology department had died."
She said doctors at Hubei Aier, a large, specialized eye hospital, hadn't taken her problem very seriously.
"They told me that I just had cataracts, and then replaced my lenses with a very advanced lens," she said. "After [the operation] I told them I still couldn't see properly, but they didn't really take much notice of that."
"Then, in October, my retina became detached. Actually, my vision problems were caused by an issue in the fundus [back of the eye], but they didn't check," Ai said.
'Inconvenient' to comment
She declined to comment on Li Wenliang or the emergence of the COVID-19 pandemic in Wuhan, however, saying it was "inconvenient," a phrase that is often used by people who are under pressure from the authorities.
But Ai had further allegations about Aier Ophthalmology, which forms part of a secretive chain of medical businesses and hospitals run out of Putian in the southeastern province of Fujian, suggesting that they had deliberately allowed her retinal detachment to worsen.
In 2016, the CCP banned its state media from reporting on the activities of Putian-linked facilities — which have business ties with police and military hospitals — after a public outcry after the death of a patient, Wei Zexi, in one of them.
The People's Liberation Army (PLA)'s business dealings are generally a forbidden topic for news media, and the authorities were keen to avoid triggering an outpouring of government anger over the scandal, sources told RFA at the time.
Aier spokeman Li Jinzhou denied that the company was a part of the Putian network, when contacted for comment by RFA.
"Judging from one of our own test results, there was no direct relationship [between Ai Fen's retinal detachment and the cataract operation]," Li said. "To answer your other question, we are not a Putian hospital."
Network of vested interests
Li declined to comment on Ai's claim that Aier sponsors all major ophthalmology conferences in China.
However, Ai said the company had sent her a fake scan after she asked to see her initial scans from before the operation.
"They knew that there was a problem with my eye and didn't tell me; they just watched my retina detach," she said. "I asked them for the scan from before the operation, and they actually gave me a fake."
"Later, they panicked and called and said that all of the data had been deleted, owing to lack of system memory," she said, adding that she plans to use iris-scanning technology to prove that the scan they sent was a fake.
Ai said she feels obliged to speak out about Aier, which has business ties with ophthalmology departments across China.
"If professionals like me won't speak up, how are ordinary people going to do it?" she said. "Last year, I … didn't speak out … but this time I have no thought for my personal interests; I want to change the status quo in this industry."
Ren Ruihong, a former head of critical illness at Chinese Red Cross, said Ai is facing down a massively powerful and corrupt network of vested interests in taking on Aier.
"In this kind of hospital in China, the players and the referees are all in cahoots," Ren told RFA. "Too many of these people are intertwined with the National Health Commission."
"They have a colossal amount of money … how can you basically go head to head with the entire ruling class and expect to have any effect?"
Reported by Xiaoshan Huang and Chingman for RFA's Cantonese Service, and by Hwang Chun-mei for the Mandarin Service. Translated and edited by Luisetta Mudie.
Source: Copyright © 1998-2016, RFA. Used with the permission of Radio Free Asia, 2025 M St. NW, Suite 300, Washington DC 20036. https://www.rfa.org.