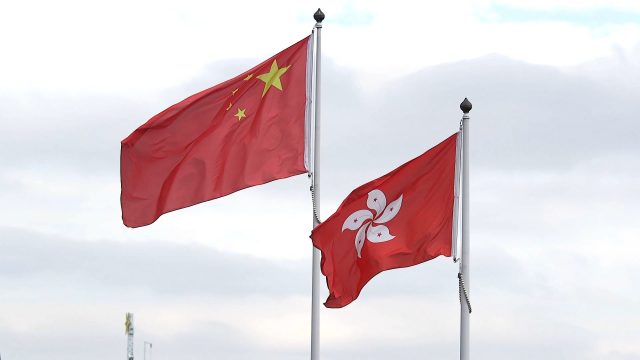 Hong Kong leader Carrie Lam on Tuesday said the once semi-autonomous city no longer has any separation of powers — a mechanism found in liberal democracies to ensure that lawmakers and judicial systems remain free of executive control.
Echoing ruling Chinese Communist Party doctrine for the rest of mainland China, chief executive Lam told journalists: "There is no separation of powers in Hong Kong. Our high degree of autonomy doesn't mean we have total autonomy."
"Our executive, legislative, and judicial arms of government aren't separate as they would be … in a constitutional political system," she said.
"Any power we enjoy here in Hong Kong is granted to us by the central leadership [in Beijing]."
Lam's comments are the starkest admission since China imposed a draconian national security regime on Hong Kong that the city is no longer regarded as a separate jurisdiction, and that the ruling Chinese Communist Party is now treating it like anywhere else in China.
Hong Kong was promised the continuation of its traditional freedoms of press and association, as well as judicial independence, under the terms of the 1997 handover agreement.
But the imposition of the national security regime on the city from July 1, which includes a new headquarters for China's feared state security police to operate in Hong Kong, sparked an international outcry, with the U.S. imposing sanctions on Chinese and Hong Kong officials, and many countries ending their extradition agreements with the city.
Under general secretary Xi Jinping, Communist Party doctrine has been increasingly insistent that the separation of powers is a dangerous Western import that is inappropriate for China.
That doctrine is now apparently also shared by the Hong Kong authorities.
Lam said: "The executive, legislative, and judicial branches … balance each other and cooperate with each other, but the ultimate authority lies with the appointed representative of the Central People's Government, namely, the chief executive."
A 2011 reference to the separation of powers found by RFA on the Hong Kong government's official website was apparently deleted around the time of Lam's comments, as the link was no longer valid on Tuesday.
No respect for the judiciary
Pro-democracy lawmaker, Dennis Kwok, who represents the legal profession in the city's Legislative Council (LegCo), said Lam's statement couldn't just suddenly end the separation of powers in Hong Kong, which has until now maintained a common law jurisdiction separately from mainland China.
"This … shows a total lack of respect for the judiciary," Kwok said. "First we had [separation of powers erased] from school teaching materials by the education bureau, and we were told that it couldn't be discussed."
"I think this was a political move, in accordance with orders they have received."
He called on the city's Court of Final Appeal to adjudicate on the matter.
Former Hong Kong Liberal Studies teacher Yeung Chi-chun agreed that the move was deliberately political, confirming that some teaching materials have indeed been edited to remove any references to the separation of powers.
"This is unprecedented," Yeung told RFA. "They may be looking to create a new normal."
"[The Chinese government] has never endorsed the separation of powers, nor judicial independence," he said. "They think that everything should be executive-led, and that the Hong Kong government should have the greatest power."
"They are hoping to weaken judicial independence," Yeung said.
Confused by statement
The pro-government camp appeared somewhat confused by Lam's statement, according to government broadcaster RTHK.
Lawmaker Junius Ho told the station: "I believe that there is still separation of powers in Hong Kong."
But he said that didn't mean the separate branches of government were able to "just do whatever they like."
Lawmaker, barrister, and Basic Law Committee member Priscilla Leung said Beijing had final power over any decisions made in Hong Kong, and any separation of powers in Hong Kong couldn't be formal.
Senior counsel and executive councilor Ronny Tong, said there was no separation of powers as a matter of constitutional order.
"All the powers of Hong Kong comes from the central government under the Basic Law. The Chief Executive is responsible for the whole of Hong Kong to be accountable to the central government," he told RTHK. But he suggested that the fact that different arms of government had different jobs to do was enough to show that there was effectively a separation of powers.
US imposes sanctions
The United States on Aug. 7 announced sanctions against Hong Kong leader Carrie Lam and other senior officials for their role in curbing the city's promised freedoms, and in implementing a draconian national security regime.
The State Department said Beijing had made it clear that Hong Kong will never again enjoy the high degree of autonomy promised under the 1984 Sino-British Joint Declaration, and that the city will no longer be regarded as a separate jurisdiction from mainland China by the U.S.
The U.S. has banned Americans from any business transactions with those on the list and has frozen their assets, meaning that international banks with a presence in the U.S. are barred from offering deposit accounts, loans, or credit cards to sanctioned individuals.
Lam told Chinese state media on Aug. 17 that she had been "hampered" by the loss of access to credit card and other financial services, but that she regarded the inconvenience as "meaningless."
Reported by Lu Xi and Man Hoi-tsan for RFA's Mandarin and Cantonese Services. Translated and edited by Luisetta Mudie.
Source: Copyright © 1998-2016, RFA. Used with the permission of Radio Free Asia, 2025 M St. NW, Suite 300, Washington DC 20036. https://www.rfa.org.