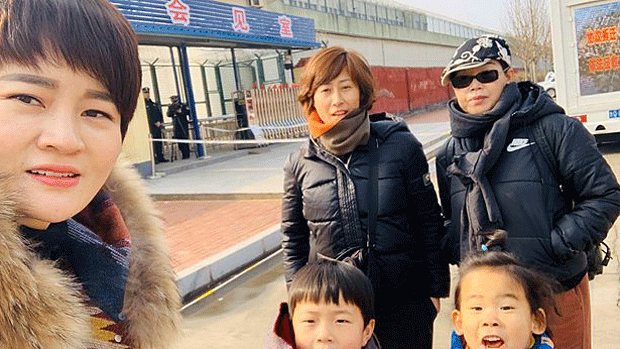 The wife of jailed human rights lawyer Wang Quanzhang says she is concerned he may not be allowed to live at home with his family after his scheduled release on Sunday.
Li Wenzu said she fears the authorities will use current coronavirus travel restrictions as a pretext for not allowing Wang to join his family at their home in the capital.
"Beijing ruled a few days ago that nobody from Hubei will be allowed into Beijing," said Li, who is a native of the central province of Hubei but who has lived in Beijing for many years.
Li, who had planned to go and meet Wang on Sunday on his release from Linyi Prison, said she now fears that if she does, she won't be allowed back into Beijing, as the birthplace of mainland Chinese residents is indicated on their national ID card.
"If I go to meet him, it's not just Wang who could be prevented from entering Beijing; I could too."
She said the stress of the situation is being to take its toll on her mental health.
"I am nervous, anxious and upset all the time these days," she said. "We have been looking forward to [Wang's release] as the date gets closer and closer, but I won't be able to go to greet him outside the prison gates."
"I'm just wondering what to do, every day, watching the day draw nearer," she said.
A form of persecution
Chen Yue, director of the China Human Rights Lawyers Concern Group in Hong Kong, said Wang should be allowed to return to the family home in Beijing after his release.
"The issue is that Li Wenzu has lived in Beijing for many years, but her household registration [hukou] remains in Hubei," Chen told RFA.
"By law, anyone who has lived somewhere for more than a year has that as their habitual place of residence, so she should be allowed to go to the prison to meet Wang Quanzhang, and go home with him."
"If the authorities don't allow this, then it's a form of persecution of that family."
Beijing-based rights activist Hu Jia said there should be no problem regarding quarantine, as Linyi Prison in the eastern province of Shandong has been relatively free of COVID-19 infection.
"The only thing that should be necessary is to inform the neighborhood committee, register, and show his health clearance. Then it's basically home quarantine for 14 days," Hu said.
But he said things may not go so smoothly.
"[Wang] said in a recent letter to his wife that the prison authorities had told him he had to go back to [Shandong's] Jinan city after being released," Hu said, adding that that is where Wang's hukou is located.
"He will likely be sent to Jinan and remain under surveillance for some time," he said.
Rights abuses in prison
Rights lawyer Xi Yanyi agreed.
"These criminals are afraid that Wang Quanzhang will expose human rights abuses including torture and other crimes committed while he was in prison," Xie said.
"[That's why] they won't let Wang Quanzhang go back to Beijing."
Rights lawyer Jiang Tianyong has been under house arrest in Henan province since his release last year.
Wang wrote in a recent letter to Li: "I hope that I won't be subject to further controls on my release, and that nobody will bother us at home."
"I want to go back to the life we had before, and our child needs a fixed address."
But he said he would likely have to go back to Jinan because of his hukou registration.
Wang is serving a four-and-a-half year jail term handed down on Jan. 28, 2019 by the Tianjin No. 2 Intermediate People's Court, which found him guilty of "subversion of state power."
The verdict and sentence followed repeated delays, resulting in Wang being held in pretrial detention for more than three years with no access to a lawyer or family visits.
Concerns over torture
Rights groups say there are concerns that Wang may have been subjected to torture or other mistreatment in detention, as he was detained incommunicado for such a long period of time, and that this may be the reason behind officials' insistence on secrecy.
During that time, the authorities failed to provide a proper account of Wang's prolonged detention to the public, including Wang's family and family-appointed defense lawyers.
A nationwide police operation under the administration of President Xi Jinping has targeted more than 300 lawyers, law firms, and related activists for questioning, detention, imprisonment, debarring, and travel bans since it launched in July 2015.
Reported by Gao Feng for RFA's Mandarin Service, and by Ng Yik-tung and Sing Man for the Cantonese Service. Translated and edited by Luisetta Mudie.

Source: Copyright © 1998-2016, RFA. Used with the permission of Radio Free Asia, 2025 M St. NW, Suite 300, Washington DC 20036. https://www.rfa.org.