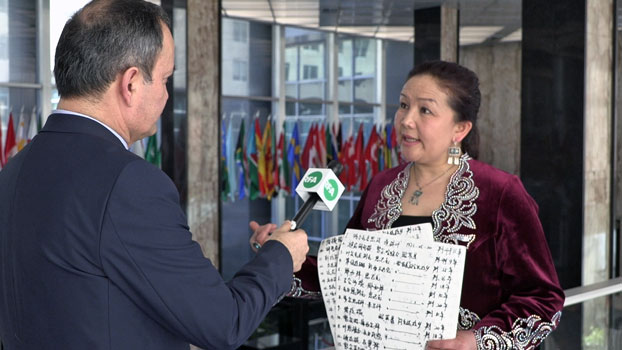 On March 4, U.S. Secretary of State Michael R. Pompeo hosted the Annual International Women of Courage (IWOC) Awards in Washington, honoring a dozen women from around the world who have taken extraordinary risks, including a Muslim of Kazakh descent, Sayragul Sauytbay.
Originally from the Ili Kazakh Autonomous Prefecture in northwestern China's Xinjiang Uyghur Autonomous Region (XUAR), Sayragul is a former medical doctor who was separated from her family, tortured, imprisoned, and faced execution for speaking out about the Chinese Communist Party's (CCP) repression of Muslim minorities.
In July 2016, Sayragul and her family left Xinjiang to move to Kazakhstan, but Chinese authorities confiscated her passport and prevented her from going. From November 2017 to March 2018, she was forced to teach Chinese to ethnic minority inmates in a Xinjiang detention camp. She then successfully fled to Kazakhstan to avoid being sent back to the camps, believed to hold as many as 1.8 million Uyghurs, Kazakhs and other Muslim minorities.
Sayragul began speaking out about the CCP's repression of Muslims, sparking an international response against the rights abuses. Sayragul and her family now live in Sweden, where they received asylum.
"She bravely provided accounts of Xinjiang's internment camps and continues to inspire other former detainees and their family members to come forward and tell their stories to the world," Pompeo said.
Following the award ceremony at the State Department, Alim Seytoff, director of RFA's Uyghur Service asked Sayragul about her thoughts on her award and the message it sends to Chinese authorities and about the reasons behind China's persecution of Muslim minorities forced into the camps. The Q&A has been edited for length and clarity.
RFA: How do you feel about receiving the 2020 International Women of Courage Award from the U.S. State Department?
Sayragul: I'm really excited. They gave really high credit to my work, even though I don't believe I did such great things. What makes me really happy is that I have had the opportunity make the voices of millions detained heard even louder in a great democratic country like the U.S. which highly values human life. I have met with many high-level officials and raised the issue with all of them. For me, this is a great opportunity to help free the people in the camps.
RFA: What message is the U.S. trying to send to China by giving you the award?
Sayragul: Officials in President Donald Trump's administration, especially Secretary of State Mike Pompeo, have been voicing support for the long-suffering people in East Turkestan [XUAR] for a long time. I'm extremely grateful to President Trump and Secretary Pompeo for their support. I believe it is a signal to put more high-level pressure on China to close the camps.
RFA: You initially fled to Kazakhstan, then moved to Sweden, and now you're in the U.S. But what about your relatives back home?
Sayragul: China imprisoned my over 70-year-old mother and younger sister after I fled to Kazakhstan. They were all innocent because they had no connection with me. I moved away soon after I got married. I didn't live with them in the same place. I had never told them about the camp where I worked or the nature of my work. Nobody besides me knew about it. I had no business with them. I didn't even tell them about my flight. I later learned they were released, but I provided the U.N. with their names, addresses, photos, and contact information. They promised they would follow their cases. I don't have direct communication with my relatives, so I don't know their current situation.
RFA: Why do you think China is detaining millions of Uyghurs, Kazakhs, Kyrgyz, and other indigenous Turkic Muslims in the camps?
Sayragul: I believe this is not something that occurred in one day. This is the result of long-term planning during the past several years. Their objective has several stages. The first stage is to assimilate all ethnic groups and eliminate their differences. They have already began this first stage. In their view, East Turkestan is a very beautiful, resource-rich, and huge region, so they want to get rid of people using all sorts of pretexts and make the region theirs. But the people are innocent. That is the reason why they have murdered some and attempted to assimilate others. They are also turning locals into loyal members of the CCP to be their eyes and ears so they can carry out the second and third stages. The current situation has already surpassed ethnic and religious issues and has risen to a level of humanitarian tragedy.
RFA: China accuses camp survivors like you — whether Kazakhs or Uyghurs — who tell the world about their ordeals in the detention centers, as liars trying to deceive the international community into believing that the facilities are not "vocational skills training centers" as the Chinese describe them. How do you respond?
Sayragul: To fight for truth is a great calling. I am telling what I have seen. China has always accused people like us in order to justify its evil policies. We're all aware of how evil and dishonest the Chinese Communist Party is, so that is how it is justifying its rule by portraying us as liars. But you can never deface the truth. We're fighting for the truth, not falsehood. We're telling exactly what has happened.
RFA: China established the camps in early 2017 and has detained 1 million to 3 million Uyghurs, Kazakhs, Kyrgyz, Uzbeks, and other indigenous people. People of those nationalities who live in exile have begun focusing only on their own ethnic group when speaking out about the camps. Is this approach working?
Sayragul: We have long passed the time of focusing on one particular ethnic group. Because we are few, out fate — whether Kazakhs, Kyrgyz, or Uyghurs — is the same. We are facing the end of the world now. At a time like this, we can't say, 'I will focus on mine, and you focus on your cause,' because our opponent is the same. The tragedy that has befallen us is the same. That is why we should all unite, support one another, and strive together. Then, I believe, we will be stronger and do even greater things.
Reported and translated by Alim Seytoff of RFA's Uyghur Service. Written in English by Roseanne Gerin.

Source: Copyright © 1998-2016, RFA. Used with the permission of Radio Free Asia, 2025 M St. NW, Suite 300, Washington DC 20036. https://www.rfa.org.