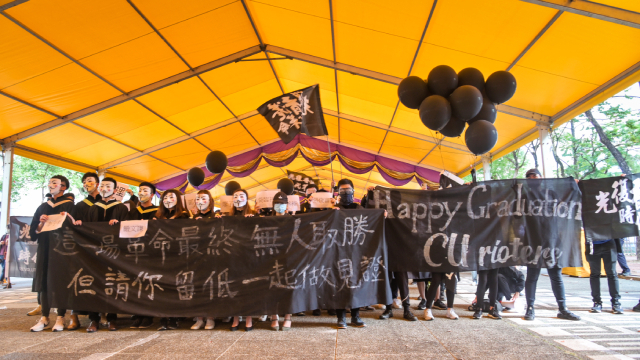 Police in Hong Kong on Monday arrested eight people — including two directly elected members of the District Council — over a peaceful graduation protest at the Chinese University of Hong Kong (CUHK), three of them under the national security law for "inciting secession."
The eight men aged 16-34 were suspected of involvement in an "illegal assembly" on the CUHK campus on Nov. 19, during which some people chanted and displayed pro-independence slogans, a police spokesman said.
"We only arrested those who were [suspected of] shouting slogans, displaying flags which involved some national security concerns," Senior superintendent Steve Li told journalists.
He said the three people arrested under the national security law imposed on Hong Kong by the ruling Chinese Communist Party from July 1 were all students, but not from CUHK.
CUHK authorities called the police to report "serious crimes" on campus on Nov. 19, and officers had used online video footage and photos of the protests to follow up, Li said.
"Today, the National Security Agency (NSA) arrested eight Hongkongers, at least three of whom are CUHK alumni, for their involvement in last month's CUHK graduation protest," the CUHK Students' Union said in a statement on its Facebook page on Monday.
"Today's arrests happened because CUHK reported its own graduates to the police," the statement said. "[This] is outrageous, and we condemn them in the strongest possible terms."
Hong Kong's newly minted national security police raided CUHK buildings on Nov. 20, confiscating "evidence" that protesters had broken the national security law.
The protest marked the anniversary of a standoff between riot police and CUHK students after police besieged the campus, firing more than 1,000 tear gas rounds at students.
Some protesters wore Anonymous masks, while some displayed banners and shouted slogans calling for Hong Kong independence, or shouted "Free Hong Kong, revolution now!" a slogan from last year's protest movement that has now been banned under the new law.
Law destroys protections
Rights groups say the vaguely worded law, which threatens anyone criticizing the Chinese or Hong Kong authorities anywhere in the world, is "devastating" to human rights protections in the city.
"One year has passed, and with the collapse of the political system in Hong Kong, it has become commonplace for Hong Kong people to be persecuted, arrested, and forced into exile by this totalitarian regime," the CUHK student union statement said, adding that CUHK had been partly built on the talents of people who had fled CCP rule during British colonial rule.
CUHK alumnus Andrew Shum, who founded the Civil Rights Observer rights group, said an important line had been crossed with the raid on the CUHK campus.
"The key to ensuring academic freedom in higher education institutions is making sure that students and faculty can speak freely and express their thoughts and opinions without fear," he said. "The guarantee of such freedom is crucial to academic development."
Bank accounts frozen
Meanwhile, police have ordered HSBC to freeze accounts belonging to the wife and parents of former pro-democracy legislator Ted Hui, who has fled to the U.K. after facing multiple criminal charges linked to peaceful protest activities.
"When my and my family's HSBC accounts were frozen [over the weekend], the available balance in the account showed zero, and no deposits, transfers, or cash withdrawals could be made to the accounts," Hui said in a statement on Facebook.
"Under the national security law, how much are banks and businesses willing to sacrifice in order to serve this regime?" he wrote.
While HSBC appeared to have unfrozen the accounts following a public outcry at the weekend, police have now ordered accounts belonging to his wife and parents to be refrozen as police investigate allegations that Hui "colluded with foreign forces" via an online crowdfunding campaign.
HSBC said in a statement: "We have to abide by the laws of the jurisdiction in which we operate."
Hui, who announced his exile last week, faces multiple protest-related prosecutions.
The United States has imposed sanctions on 14 Chinese officials after Beijing disqualified four elected democratic lawmakers in Hong Kong, U.S. Secretary of State Mike Pompeo said in a statement Monday.
Those sanctioned, including officials of China's parliament, or National People's Congress, and members of the CCP, along with their immediate family members, "will be barred from travelling to the United States," Pompeo said, adding, "Their assets within the jurisdiction of the United States or in the possession or control of U.S. persons will be blocked and U.S. persons are generally prohibited from dealing with them."
Responding to early indications that the move would be made, Chinese foreign ministry spokeswoman Hua Chunying said: "China has always firmly opposed and strongly condemned U.S. interference in China's domestic affairs through the Hong Kong issue."
Reported by Gigi Lee for RFA's Cantonese Service, and by Lu Xi for the Mandarin Service. Translated and edited by Luisetta Mudie.
Source: Copyright © 1998-2016, RFA. Used with the permission of Radio Free Asia, 2025 M St. NW, Suite 300, Washington DC 20036. https://www.rfa.org.