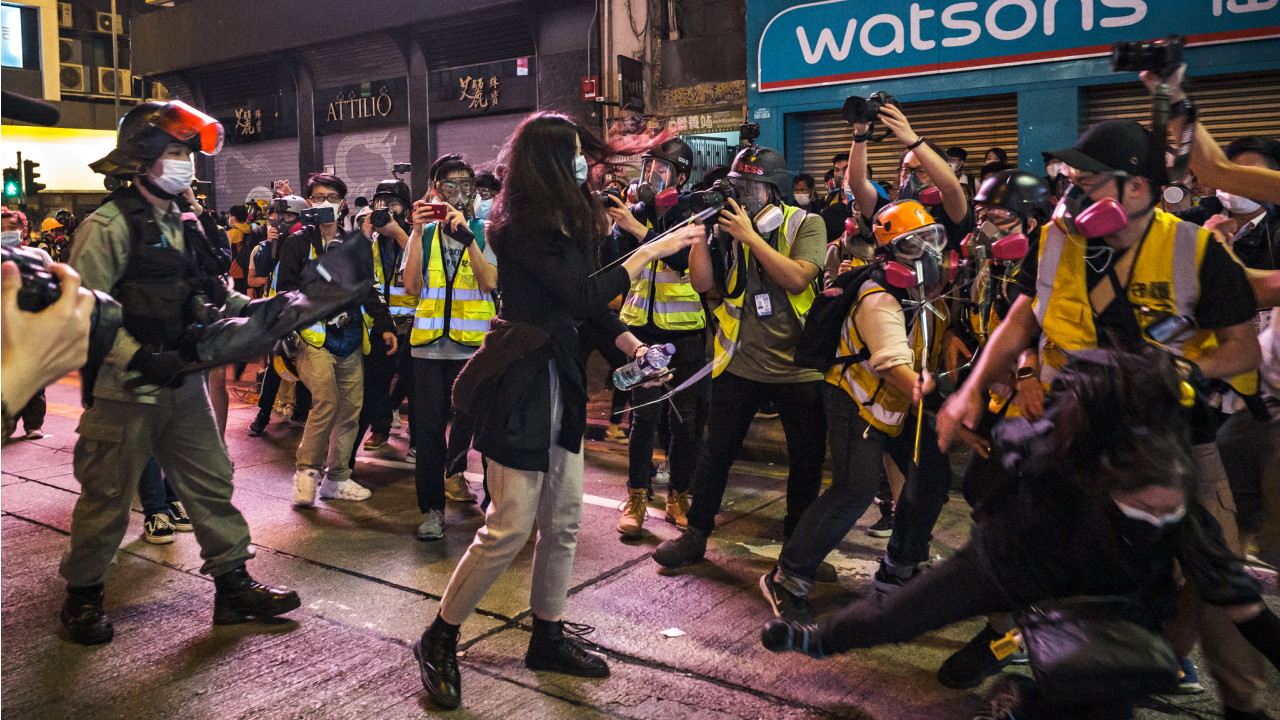 Journalists in Hong Kong have once more hit out at the city's police force for their treatment of journalists during the ongoing protest movement that began as mass opposition to extradition to mainland China last June, and widened into calls for more democracy and accountability.
"Since June, clashes between police and protesters over the now-withdrawn extradition bill have escalated," Chris Yeung, who chairs the Hong Kong Journalists' Association (HKJA), said in an open letter to police chief Chris Tang.
"Frontline reporters have been facing obstruction and interference by the police in their reporting work," Yeung wrote. "The use of force, violence, verbal abuses and humiliation by police turned from bad to worse."
"The government has done nothing to restrain the behavior of front-line officers," the letter said.
The letter was posted to the HKJA's website after a weekend in which police once more deployed tear gas and pepper spray as crowds of protesters took to the streets to mark an Aug. 31 attack by riot police on passengers inside Prince Edward MTR Station.
Police fired tear gas and pepper spray at short range to disperse a large group of protesters who had gathered outside the MTR station, six months after it was stormed by riot police, resulting in persistent rumors of one or more deaths and confirmed reports of dozens of injuries.
The rumors of deaths in the attack have never been independently confirmed or disproved, although the police and rescue services have repeatedly denied them, because all of the media were ordered to leave before riot police entered the station.
Police warned the crowd that the gathering constituted an "illegal assembly," although Hong Kong's citizens were promised the continuation of their freedoms of expression and association after the 1997 handover to Chinese rule.
"On Saturday, groups of people had gathered outside Exit B of Prince Edward Station where make-shift shrines had sprung up time and again as anti-government protesters placed flowers and burned joss sticks to pay their respects," government broadcaster RTHK reported.
"A group of police officers then came out of Mong Kok police station adjacent to the MTR exit and removed flowers and stickers placed there by some people," it said.
Virus and lull in protests
The coronavirus epidemic had coincided with a relative lull in the size and frequency of protest activities in Hong Kong in recent weeks.
However, the HKJA's Yeung said the police have now gotten into the habit of pepper-spraying journalists.
"Due to the outbreak of coronavirus, the number of people who took part in demonstrations has drastically decreased," the HKJA letter said. "Clashes between police and protesters were less violent. The overall environment of protest areas was less tense than before."
"But anti-riot police officers still kept targeting reporters at the scene. Some sprayed pepper spray directly at reporters and their lenses. That has become a norm," Yeung wrote, adding that journalists who film police mistreatment of their colleagues are often surrounded, searched and intimidated, while police have also pepper-sprayed reporters as they are leaving at police request.
"Freedom to report is a significant part of press freedom. Journalists will not be able to tell the public the whole truth if their reporting is being obstructed and interfered [with]," Yeung wrote.
Hong Kong police have arrested more than 7,100 people since protests began in June, 4,608 of whom were of people aged 19-30. On Nov. 18, police arrested 1,071 people in a single day, the second day of their siege of Hong Kong's Polytechnic University after around 10,000 people rushed police lines or tried other ways to escape.
Under the "one country, two systems" framework agreed before the 1997 handover to Chinese rule, Hong Kong was promised the maintenance of its freedoms of speech, assembly, and political participation.
The protests that erupted in June 2019 in response to plans to allow extradition to mainland China were largely triggered by the erosion of those freedoms, particularly following a series of high-profile interventions by the ruling Chinese Communist Party in the city's political life, including the debarring of pro-democracy lawmakers and would-be election candidates for their political views.
In 2014, Beijing decreed that while it would allow Hongkongers to each have a vote in popular elections, they would only be allowed to choose from among candidates approved by China.
Millions of pro-democracy supporters have taken to Hong Kong's streets with demands for a public inquiry into police violence, fully democratic elections, an amnesty for thousands of arrested protesters, and an end to the use of the word "rioters" to describe the movement.
While chief executive Carrie Lam formally withdrew hated amendments to the city's laws in October, protesters slammed her response as too little, too late, and demanded she address the rapid erosion of the city's promised freedoms.
Reported by Lau Siu-fung for RFA's Cantonese Service, and by Han Qing for the Mandarin Service. Translated and edited by Luisetta Mudie.

Source: Copyright © 1998-2016, RFA. Used with the permission of Radio Free Asia, 2025 M St. NW, Suite 300, Washington DC 20036. https://www.rfa.org.