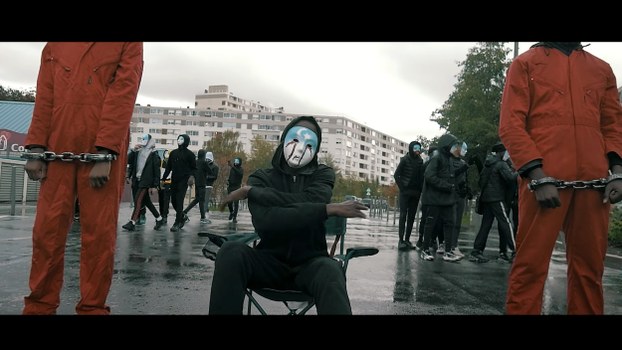 In recent months, the number of celebrities in the fields of the arts and sports publicly advocating for the Uyghur cause has grown. On Oct. 1, in France, movie star Laeticia Hallyday, model Marine Lorphelin, and singer Matt Pokora (commonly known as M. Pokora), among other celebrities, participated in a day of action on behalf of Uyghurs by changing their Instagram profile pictures to the shade of blue used by the flag of East Turkestan—a short-lived breakaway Islamic republic founded in 1933 in what is modern day China's Xinjiang Uyghur Autonomous Region (XUAR) and the name preferred by Uyghurs for their traditional homeland.
In France, advocates and others continue to use a number of means to raise awareness about the Uyghur crisis to a broader audience. On Oct. 7, Kalash MQS, a rapper from the country, joined their ranks when he released a new song titled "Hall," which directly addresses the situation in the XUAR. Authorities in the region are believed to have held up to 1.8 million Uyghurs and other Muslim minorities in a sprawling internment camp system since early 2017.
A video for the song, which has gone viral within the Uyghur diaspora, features imagery including the star and crescent of the East Turkestan flag painted on masks similar to those often worn at protests and is hashtagged #freeouïghours, clearly aligning the song and the group with broader global movements to end the Uyghur crisis. RFA's Uyghur Service recently interviewed Kalash MQS about what prompted him to write about the Uyghurs and how his song has been received. RFA also spoke with Rahima Mahmut, a London-based rights advocate, translator, and singer who currently works for the World Uyghur Congress exile group and performs in the Silk Road Collective about the effectiveness of using music to raise awareness about persecution in the XUAR.
RFA: Tell us about the rap. How did it get its start? Why did you rap for Uyghurs?
Kalash MQS: The issue got my attention after I read about the Uyghur situation in the news. I started looking for more news about it, and by reading news I began to get interested in the Uyghur situation. I came to know that Uyghurs are undergoing unbearable oppression: torture, parent-child separation, forced labor, and more. I believe that famous brands who are benefitting from products of [Uyghur] forced labor while knowing about these things are accomplices in these crimes. That's why I decided to use such vivid scenes in my music video. Music and scenes both play important roles in songs. The scenes are what draw interest from viewers. As we expected, our viewers have been interested in the song, in the masks we wore, and in the background, and they began asking questions and learning about [the situation].
Kalash MQS: Of course. I think that many people, young and old, listen to music, and so using music is a very good way to bring people's attention to this issue. After releasing my song, many people came to me asking about the symbolism in the scenes and about what the masks we wore represented, and they became even more interested in the Uyghur issue and in what's happening in China. I think the scenes with the masks were a very good choice, and in the future, I will continue using this method to raise the issue. I hope that even more people will listen to and watch our song, and become aware of the oppression that Uyghurs are facing in China.
RFA: Do you know about Uyghur culture and music? Do you have any plans to collaborate with Uyghur musicians in the future?
Kalash MQS: I had never listened to Uyghur music before. After my song was released, several Uyghur music accounts followed me, and after they sent me some information, I started to get a bit interested. Why not collaborate with a Uyghur artist in the future?
RFA: What would you like to say to your fans?
Kalash MQS: Ultimately, my song cannot reflect exactly everything that's happening. It is simply a way of getting the message out, and it can play a role in spreading awareness about what's happening. My hope is that everyone will pay attention to what's happening in China as well as to the massacres and wars in Syria, Libya, and other countries, and that they will come to action and do something [about these situations]. On the contrary, to do nothing means you don't care.
'Music has no language'
Rahima Mahmut: There's a very significant difference between raising an issue through song and raising it through normal speech … I was very moved to see young rappers in France raising the Uyghur issue and talking about Uyghurs through song, because I think this [is the kind of thing that] can truly start an awakening, especially among the youth of the world.
We have a saying, "music has no language." Music has no language, but people can feel it. Even if they can't understand the language, they can sense the suffering of a people, their dreams, from the melodies. For that reason, if you ask me, yes, the arts—whether music, exhibitions, visual art, film—all of them play an important role in raising awareness about a cause and in introducing a people [to the world]. To understand the cause, one must understand the people [behind it].
Reported by Nuriman for RFA's Uyghur Service. Translated by Elise Anderson.
Source: Copyright © 1998-2016, RFA. Used with the permission of Radio Free Asia, 2025 M St. NW, Suite 300, Washington DC 20036. https://www.rfa.org.