Battling growing concerns with propaganda, Chinese authorities demand farmers switch to cultivating staple foods, disregarding their needs and circumstances.
by Deng Jie
President Xi Jinping's call to curb food waste in China has raised speculations that the country faces imminent food shortages caused by the pandemic, devastating floods, and growing tensions with the United States and other countries.
Testimonies from countless farmers about strict measures from authorities to make them plant staple food crops don't dispel these worries.
In April, the government of Shilai, a town administered by the county-level city of Xintai in the eastern province of Shandong, demanded all villages under its jurisdiction to plant grains instead of trees in the following five years. The already planted trees were ordered to be cut to give way to fields for food crops. In Zuojiagou village, all poplar trees were cut overnight, without consent from the farmers who had planted them. When they tried to seek justice, the reply was that the order came from higher-ups.
"The government demands to plant food crops because the national grain reserve is empty and China can't import grain from the United States," a village resident believes.
Residents of another town in Xintai city told Bitter Winter that trees in over a dozen villages, a total of 16.5 acres, were forcibly destroyed by government-hired thugs in July.
"They destroyed the trees secretly at night," an elderly villager said. "The government should at least have informed us. We won't be able to sell the cut trees and will have to use them as firewood. It is always the people who suffer in China."
"Those thugs with long wooden sticks would have beaten anyone attempting to resist," another villager, in his 60s, added. "No one dared to protest. The tree-cutting policy is mandatory; there is no room for discussion."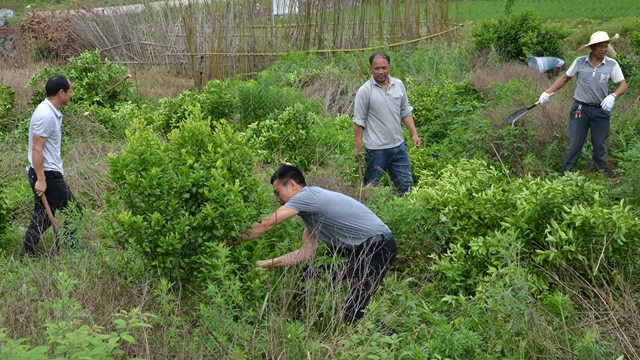 Elderly villagers in the countryside of Guangzhou city in the southern province of Guangdong were forced to plant rice on their tree fields.
"The government issued a notice, demanding to plant rice instead of trees in all fields starting May 1, or they would revoke our land management rights," a local farmer explained.
Because farmland in China can only be owned collectively and is controlled by the state, farmers may only use it on contractual or management rights. Therefore, the government now uses threats to withdraw these rights to coerce farmers into planting staple food crops.
Elderly farmers, unable to do hard physical work, must now hire workers for planting, to make sure that authorities don't take away the land. Some of their children have been forced to return home to help their parents.
"I'm in my 70s and in poor health," another villager lamented. "I haven't worked the land for over ten years, but I am forced to do it now."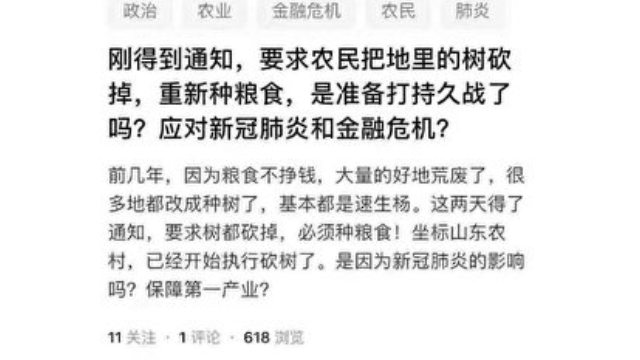 "The government once ordered to plant fruit trees, and now—rice," a middle-aged farmer complained. "Anyone who disobeys may lose their right to work the land. People in China can't even own a piece of land. The government has the final say in everything."
In another Guangzhou village, residents were told to destroy all trees and other plants with nearly ripened fruit and plant rice instead within 17 days.
"My family's lychee trees would have been harvested soon, but they were destroyed, causing a loss of over 10,000 RMB [about $ 1,400]," a villager said, adding that the government did not give her any compensation.
"It is being reported in the news that the state has adequate food supplies, but we are forced to plant food crops," another villager complained. "One may think that the state lacks grain because they never tell the truth."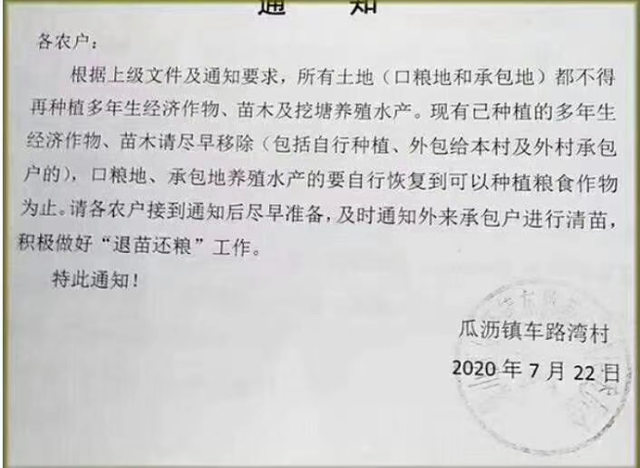 Despite CCP's propaganda to muffle the panic about food shortages, experts continue to raise concerns. Chinese economist Hu Xingdou believes that China's food production faces uncertainty, and the country may face risks getting grain overseas. "I am afraid that China will still need to rely on self-sufficiency in the future and increase the self-sufficiency rate to 90% and 95%," he said in an interview. China's grain self-sufficiency is currently at around 80%, and it remains the world's largest grain importer.
Source: Bitter Winter