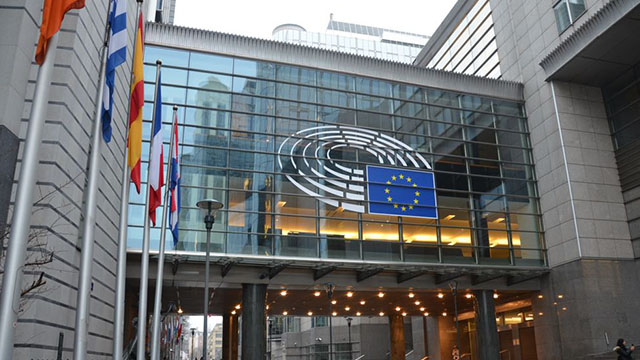 The European Parliament has voted in favor of a resolution that could allow the EU to target Chinese officials repressing Uyghurs in northwest China's Xinjiang Uyghur Autonomous Region (XUAR) under newly adopted laws that allow international sanctions for human rights abuses.
The passing of the "Resolution on Forced labour and the situation of the Uyghurs in the Xinjiang Uyghur Autonomous Region" on Thursday came a day ahead of reports that the EU and China plan to reach an agreement on an investment deal by the end of the year.
The European Parliament adopted the resolution with a vote of 604 in favor, 20 against, and 57 abstentions—an overwhelming show of support for the legislation that could allow Brussels to take stronger action against Chinese officials for rights abuses against Uyghurs and ban imports tainted by forced labor in the XUAR.
Authorities in the region are believed to have held up to 1.8 million Uyghurs and other Muslim minorities in a vast network of internment camps since early 2017, prompting Washington to impose sanctions on XUAR officials and ban imports from the region suspected of being made with forced labor.
The resolution also calls for expedited asylum requests from Uyghurs and other oppressed minorities in China, as well as the suspension of extradition treaties with China to protect Uyghurs and others seeking refuge within the EU. It could also force International Labour Organization (ILO) standards to be adopted as part of any agreement on the EU-China Comprehensive Agreement on Investment (CAI) deal that could be hammered out within weeks.
In introducing the resolution, lawmakers denounced "the Chinese government-led system of forced labor—in particular the exploitation of Uyghur, ethnic Kazakh and Kyrgyz, and other Muslim minority groups—in factories both within and outside of internment camps in the Xinjiang Uyghur Autonomous Region."
They also condemned "the continued transfer of forced laborers to other Chinese administrative divisions, and the fact that well‑known European brands and companies have been benefiting from the use of forced labor."
Lawmakers urged companies to inspect their supply chains tied to the XUAR and disengage with partners who are found to be undermining human rights protections. They also called on China to allow independent observers into the region to investigate reports of abuses.
The passing of the resolution follows the EU's announcement last week that it had adopted a global human rights sanction regime that would allow for travel bans and the freezing of assets of individuals or entities deemed responsible for acts of genocide, crimes against humanity, and other serious human rights abuses. The framework also blocks access to EU funds.
The regime, which marks the first time the bloc has put in place such measures targeting international actors, is based on the Global Magnitsky Human Rights Accountability Act—a U.S. law named after a Russian corruption whistleblower who died in prison that calls for the seizure of assets and a U.S. travel ban for foreign officials who violate human rights.
Vote welcomed
Thursday's resolution was welcomed by Uyghur exile groups who said such action was long overdue.
"Finally, we see positive action on both sides of the Atlantic to end corporate complicity with Uyghur forced labor," said Omer Kanat, executive director of the Washington-based Uyghur Human Rights Project (UHRP), referring to actions by the U.S. and Canada earlier this year to tighten forced-labor import bans and pressure companies over their ties to forced labor in the XUAR.
"With joint action, democratic countries can impose a real cost on 'business as usual' in the face of the Chinese government's atrocity crimes."
Dolkun Isa, president of the Munich-based World Uyghur Congress (WUC), applauded the resolution and the EU Parliament's "continued resolve to speak out" against rights abuses in the XUAR.
"It is now time for the European Council and Commission, as well as all EU Member States, to act decisively and take coordinated and appropriate action," he said. "Silence and inaction are unjustifiable."
Beijing has yet to respond to the passing of the resolution, but has previously threatened retaliatory action against governments that target Chinese officials with sanctions over the situation in the XUAR.
Chinese officials have said internment camps in the region are centers for vocational training. However, reporting by RFA's Uyghur Service and other media outlets shows that detainees are mostly held against their will in cramped and unsanitary conditions, where they are forced to endure inhumane treatment and political indoctrination.
Under increasing international scrutiny, detainees have been "graduated" and sent to work at nearby factories as part of an effort to label the camps "vocational centers," although those held in the facilities regularly toil under forced or coerced labor conditions.
Amid a stronger stance by the EU, the U.S. has aggressively ramped up its response to reports of abuses in the XUAR, with President Donald Trump's administration in July leveling sanctions against several top Chinese officials deemed responsible for rights violations in the region, including regional party secretary Chen Quanguo, under the Global Magnitsky Human Rights Accountability Act.
The move, which marked the first time Washington had sanctioned a member of China's powerful Politburo, followed Trump's enactment in June of the Uyghur Human Rights Policy Act of 2020 (UHRPA), which passed nearly unanimously through both houses of Congress at the end of May. The legislation highlights arbitrary incarceration, forced labor, and other abuses in the XUAR and provides for sanctions against the Chinese officials who enforce them.
U.S. Congress may soon debate new legislation which would prohibit imports from the XUAR to the U.S. amid the growing evidence that internment camps in the region have increasingly transitioned from political indoctrination to forced labor, with detainees being sent to work in cotton and textile factories.
The Uyghur Forced Labor Prevention Act, introduced in March, would block imports from the region unless proof can be shown that they are not linked to forced labor.
Investment deal
Thursday's resolution came a year to the date after the EU Parliament passed one on the situation of Uyghurs that called for an end to the mass arbitrary detention of Uyghurs and to close the internment camps, among other recommendations.
It also came a day ahead of reports citing a spokesperson for the German government as saying that the EU and China have made progress in talks over the EU-China CAI accord and hope to finalize it by year-end.
"The negotiations are ongoing," the spokesman told a regular government news conference on Friday.
Wang Wenbin, a spokesman for China's Ministry of Foreign Affairs, told reporters at a regular press briefing in Beijing on Friday that the two sides are "making important progress" and that negotiations "have reached the final stretch."
"We believe that as long as the two sides continue to take good care of each other's concerns and work towards the same goal, we can realize the goal set by the leaders of the two sides," Wang said.
But while the Chinese and EU governments expressed optimism over an impending deal, a group of EU-China experts urged caution in an opinion piece published Friday in the EU Observer.
The authors noted that a tentative document was "rushed through a meeting of ambassador in Brussels" on Friday that they called "only a modest step in promoting reciprocity, competitive neutrality and a level playing field," despite seven years of talks.
"Concluding it now, is a symbolical victory for China and makes it harder for Europe to engage it on critical matters in the future," they said.
The experts pointed to 2020 as a year in which China has rescinded its international treaty granting autonomy to Hong Kong, clashed with India on their shared border, engaged in military coercion of Taiwan—which it views as a breakaway province—and economic coercion against Australia.
"From Beijing's perspective, having the EU sign an investment treaty after this sequence of events and in the phrase of power transition in the U.S., amounts to a strong endorsement of its political trajectory, if not an encouragement to behave more assertively," they said.
"Why the fast-track, the hurry, and the sidestepping of a public debate, why play into China's hand? What message is Europe, so proud of its deepening integration, so talkative about its open strategic autonomy, so insistent on its respect for values, sending to the rest of the world? Member states should think twice."
Source: Copyright © 1998-2016, RFA. Used with the permission of Radio Free Asia, 2025 M St. NW, Suite 300, Washington DC 20036. https://www.rfa.org.