A 33-year-old ethnic Mongolian woman has died by suicide in what her family members said was an act of protest over the ruling Chinese Communist Party's plans to phase out Mongolian-medium education and language teaching in schools.
Surnaa, who worked for a panel of the Chinese Communist Party in Inner Mongolia's Alxa administrative unit, died Friday morning. Attempts to resuscitate her were unsuccessful, the league police department said in a statement.
Surnaa's husband, Altanbagan, and her sister-in-law said that she took her life over the language policy, according to a statement published Friday by the New York-based Southern Mongolian Human Rights Information Center (SMHRIC).
Altanbagan via WeChat announced his wife's death "with the deepest pain and sorrow," according to SMHRIC, which said that the new language policy is aimed at the "total eradication" of the Mongolian language from all educational systems across Southern Mongolia in the next few years
Solonga, Surnaa's sister-in-law, said in her statement through WeChat, published by the SMHRIC, that she died because of the new language policy.
Her death is the fourth to be reported in Inner Mongolia since tens of thousands of ethnic Mongolians staged a region-wide boycott of schools, street protests and other forms of civil disobedience since the details of the language policy emerged in August.
Police warned social media users not to pay heed to or spread "rumors" around Surnaa's death.
The first reported death was that of a fifth-grade student from a school in Shebotu near Tongliao city.  A teacher from Zhenglan Banner of Xilin Gol League, and a Mongolian herder from Orniud Banner also died by suicide, a U.S.-based Mongol activist named Nomin told RFA.
Schools and classrooms have remained largely empty across Inner Mongolia in recent days, as police have begun a region-wide operation seeking the leaders of protests and the organizers of school boycotts among the region's 4.2 million ethnic Mongolians.
Local residents have seen large numbers of armored personnel carriers on the streets in some areas, while roadblocks have been set up at borders between banners and cities.
But a mass social media shutdown has made it harder for parents and teachers to coordinate their actions.
The SMHRIC has estimated that, on the first day of the new semester on Sept. 1, around 300,000 ethnic Mongolian students had joined the boycott.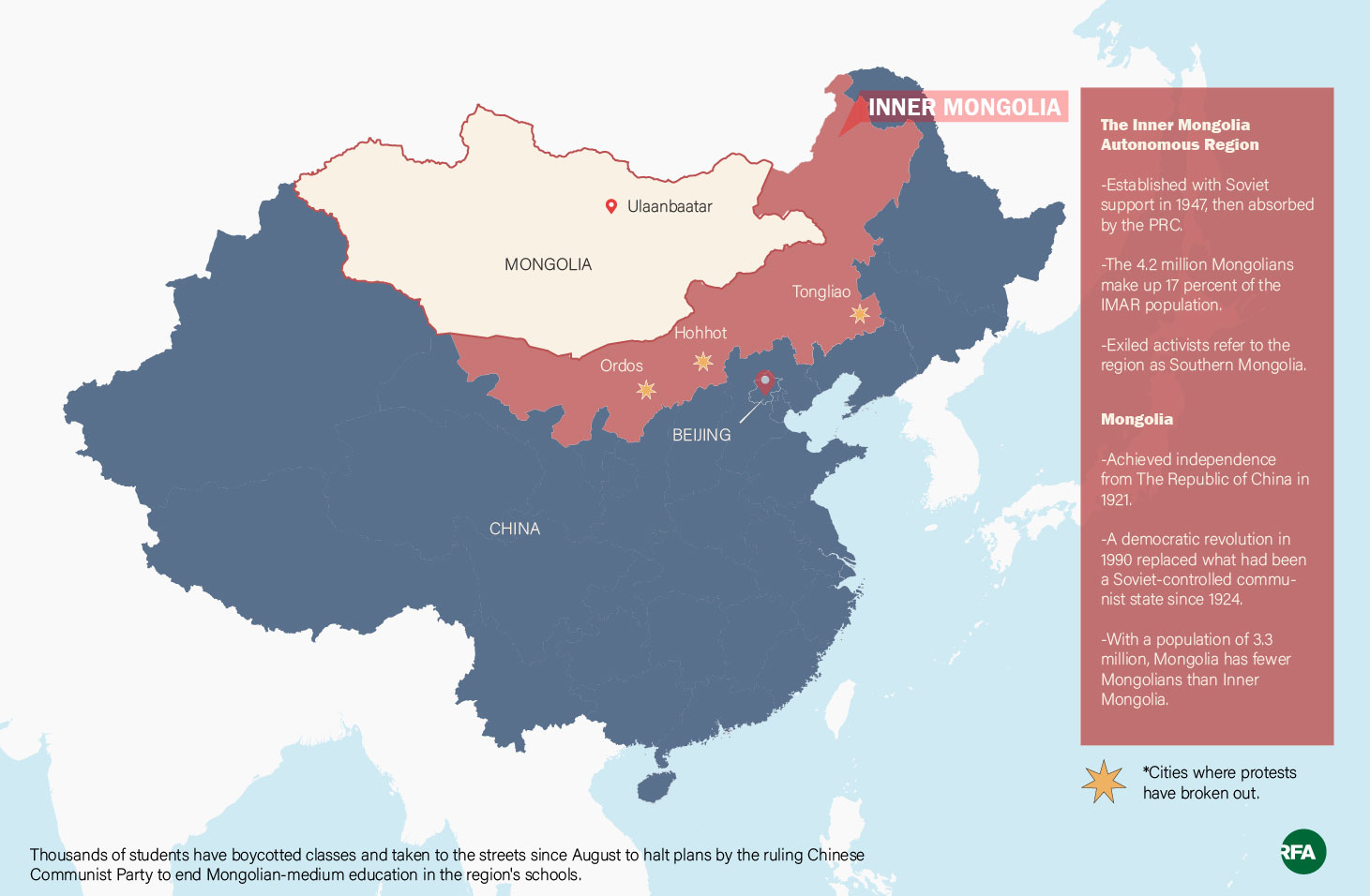 It said more than 100 people have been listed as wanted by police in Horchin district of Tongliao city, Zaruud Banner, Naiman Banner, Tongliao Development Zone, Horchin Left Wing Middle Banner, and Horchin Left Wing Rear Banner, for "picking quarrels and stirring up trouble."
In New York, PEN America said the new education policy "threatens to degrade ethnic Mongolians' language rights and cultural identity," pointing to widespread censorship of news of the protests, with the government shutting down Bainuu, a Mongolian-language social network that once boasted more than 400,000 users.
China's constitution, as well as its Regional Ethnic Autonomy Law, explicitly protect the linguistic rights of ethnic minorities, including guarantees of the freedom of ethnic nationalities to use their own spoken and written language.
Reported by Qiao Long for RFA's Mandarin Service, and by Sing Man for the Cantonese Service. Translated and edited by Luisetta Mudie.
Source: Copyright © 1998-2016, RFA. Used with the permission of Radio Free Asia, 2025 M St. NW, Suite 300, Washington DC 20036. https://www.rfa.org.