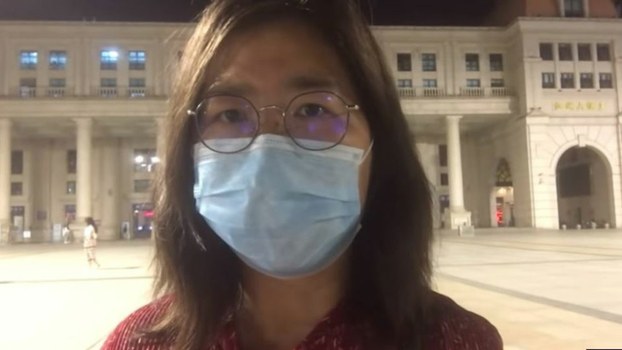 Authorities in Shanghai have imposed an information blackout in the case of a citizen journalist detained by police after she reported from the coronavirus pandemic in Wuhan, RFA has learned.
Zhang Zhan, 37, faces prosecution on charges of "picking quarrels and stirring up trouble," a charge often used to target peaceful critics of the ruling Chinese Communist Party (CCP), but has resisted pressure from police to "confess."
She has repeatedly refused food during her incarceration at the Pudong New District Detention Center in Shanghai, and now her defense attorney Wen Yu is no longer representing her, Gansu rights lawyer Li Dawei told RFA.
Li, who recently spoke with Zhang's mother, said it had been hard to contact her for several weeks, a reticence that suggests Zhang's family are also under pressure from the authorities.
"I asked after Zhang Zhan, and she told me that it was [the other] lawyer, Dai Peiqing, who went to meet with Zhang recently," Li said. "But Dai Peiqing refused to discuss any of the details of the case or the content of the indictment with Zhang."
"[Dai] told Zhang that her lawyer Wen Yu had withdrawn from the case, and that Dai is the only lawyer representing her now," he said.
The move follows an earlier warning to Zhang at Wen Yu's last meeting with her, during which he said he was under pressure and wouldn't be able to continue.
Zhang's mother told Li she has yet to see the indictment against her daughter, and that attorney Dai now appeared reluctant to discuss the case with her.
"I asked Zhang Zhan's mother what she planned to do next and whether she needed a lawyer to intervene," Li said. "She told me that it was for Dai Peiqing to choose a lawyer. I put forward a different view."
Zhang's case is being handled by China's state security police, who have accused her of "fabricating" two items in her reporting from Wuhan, Li said.
The first item was her report that Wuhan citizens were forced to pay a fee to get nucleic acid tests for COVID-19, and the second was that residents confined to their homes under a city-wide lockdown had been sent rotten vegetables by neighborhood committees.
A message left with Dai Peiqing asking for comment on Zhang's case had gone unanswered by the time of writing.
Support from overseas
Overseas, moves are afoot to raise international awareness of Zhang's plight, with a petition for her release garnering more than 1,000 signatures in recent weeks.
Petition organizer Wang Jianhong of the U.S.-based rights group Humanitarian China said there are also concerns about Zhang's health in detention.
"It is now six months since Zhang Zhan's detention, and there has been less and less news of her, especially about her physical condition," Wang said.
"Previously, it was confirmed that she was on a hunger strike, which is particularly worrying for anyone following her case," he said.
RFA reported in late September that Zhang was being force fed in response to her hunger strike,
"Why don't the authorities want the rest of the world to know what is going on with Zhang Zhan's health?" Wang said.
Unconfirmed reports have indicated that the Pudong state prosecutor will be recommending a five-year sentence for the charge of "picking quarrels and stirring up troubles." Acquittals are extremely rare in Chinese courts, which are controlled by the CCP.
The sentence is unlikely to be lenient, given Zhang's refusal to "confess" to the charges or to plead guilty.
Ren Quanniu, who has previously defended Zhang Zhan, called on Dai to make details of the case clear to Zhang's family.
"This shouldn't be a secret case, and it's not against the law for a defense attorney to talk to the family about the basic facts of the case or to provide the family with a copy of the indictment," Ren told RFA. "Neither does it violate the professional ethics of lawyers."
"She seems to be doing things according to the government's wishes."

Reported by Qiao Long and Sing Man for RFA's Mandarin and Cantonese Services. Translated and edited by Luisetta Mudie.