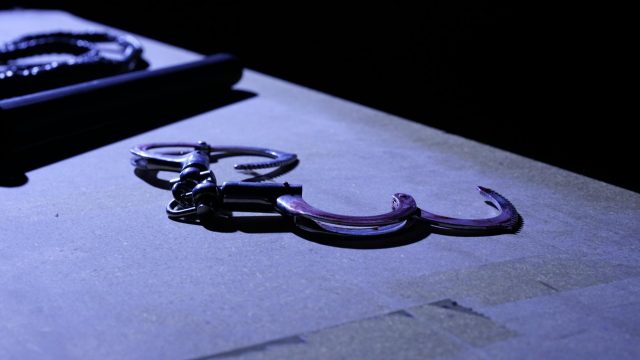 Chinese rights attorney Wen Donghai has reappeared following his detention in the wake of a Dec. 13 gathering in the southeastern port city of Xiamen.
RFA contacted Wen, a rights attorney stripped of his license to practice by the ruling Chinese Communist Party, on Thursday, but he appeared reluctant to comment on his time behind bars.
"There is a lot of uncertainty surrounding the pandemic right now, so this may have had something to do with the fact that I couldn't come home for such a long period of time," Wen told RFA.
"They told me not to post anything online, or to speak out, including giving media interviews," Wen said.
"They sought out all of my family members including my brother, sister, nephew, niece, everyone," he said. "They also paid a visit to my wife, her parents, and her brother, as well as some of my friends."
A source familiar with Wen's case said he is cautious about speaking to overseas media for fear of losing his freedom.
"He knows very well that the authorities can redetain him at any time,so he is going to put some of his professional knowledge to good use to avoid the authorities getting hold of any information about him," the source said.
"That's why he has been in hiding all of this time; it's been the only way to get through this period of time in safety," he said. "He also wants to protect the people who have been helping and protecting him."
He said Wen's inside knowledge of law enforcement procedures and his major in investigative studies would likely help him stay on the right side of the system.
Called in by police
Wen was called in by state security police in Hunan's provincial capital, Changsha, on his return from the meeting in Xiamen last December, after which a number of prominent dissidents were also detained.
"They just wanted to know what was going on and to take a statement from me," Wen said. "But I refused, and they didn't insist any further after that."
Wen said the whole of China is in a phase of unpredictability amid the coronavirus pandemic.
"I don't know what will happen in future; maybe times will get even harder," he said. "Especially for people like us, dissidents."
The source familiar with Wen's case said his wife is now in the United States.
"The epidemic situation has basically stabilized in China now, so [Wen] feels that it is safe to come out now; that the toughest time is over," the source said. "The authorities have also cooled off on the [Xiamen] case to a certain extent."
Nationwide crackdown
On Dec. 26, police from Shandong coordinated with other police nationwide to arrest human rights activists and participants who gathered in Xiamen, Fujian, in early December to organize civil society and plan nonviolent social movements in the country.
People who attended were detained on suspicion of "incitement to subvert state power" and "subversion of state power." The latter charge carries a minimum 10-year prison sentence.
While their families waited to learn their whereabouts, other rights activists who had gone to the Xiamen event, and even those indirectly connected to them, fled the country or went on the run.
Among them was New Citizens' Movement founder Xu Zhiyong, who was eventually detained in Guangdong province on subversion charges.
Several others involved in the meeting, including human rights lawyers, were held for several days in police custody in various jurisdictions for questioning and investigation, according to recent U.S. State Department report.
Three United Nations human rights experts have since expressed "grave concern" over the fate of three human rights lawyers forcibly disappeared by the Chinese authorities in the same operation.
Ding Jiaxi, Zhang Zhongshun, and Dai Zhenya are currently being held without access to family visits or lawyers under a form of detention known as Residential Surveillance at a Designated Location (RSDL), which is used to "disappear" people accused of crimes relating to national security.
Risk of torture
The experts said RSDL is not compatible with international human rights law, because it enables the authorities to circumvent judicial processes and detain people incommunicado for up to six months, putting them at greater risk of torture.
Rights activist Zhao Zhongyuan, who has worked with a number of torture victims caught up in a nationwide crackdown on rights lawyers and NGOs since July 2015, said he is now also under close police surveillance.
"There has been a series of crackdowns on me, including drinking tea [questioning]," Zhao told RFA on Wednesday.
"They come to my home regularly, two or three times a week, and neighborhood committee people come in with a camera and shoot [my home], then send the footage to the relevant departments," he said.
"Police from the local police station often rush in for no reason and ask to check my ID," Zhao said.

Reported by Gao Feng and Han Qing for RFA's Mandarin and Cantonese Services. Translated and edited by Luisetta Mudie.
Source: Copyright © 1998-2016, RFA. Used with the permission of Radio Free Asia, 2025 M St. NW, Suite 300, Washington DC 20036. https://www.rfa.org.