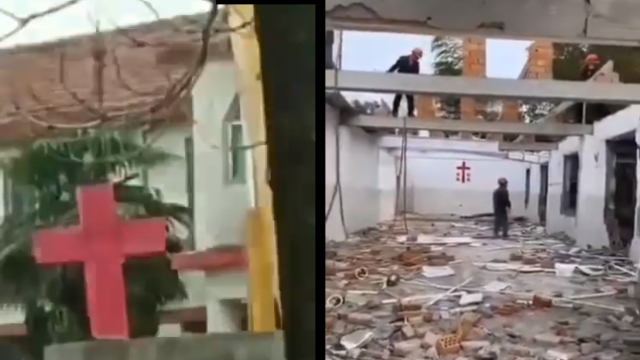 While most churches in China have canceled in-person services due to the outbreak of Coronavirus, the Chinese government has not ceased its persecution against churches.
A church in Guoyang County, Anhui Province saw its cross removed on March 13. A video shared by the Chinese Christian Fellowship of Righteousness documented the moment when the crane removed the red cross from the church.
A Christian with the surname Chen told China Aid that this church usually has 40 churchgoers attending the service, but due to the lockdown of COVID-19, local authorities utilized this gap to remove the cross.
Bob Fu from China Aid also shared a video, showing Xiangbaishu Church in Yixing city, Jiangsu province reduced to its bare bones on March 11.
Another church in Huaishang district of the city of Bengbu, Anhui province also had its cross removed at the beginning of March. Ms. Yao, a local Christian told China Aid that the removal was led by the head of local United Front Department, a Communist Party organ employed to govern religious affairs.
While most of the churches, underground or state-vetted are able to meet online as of now, it is uncertain whether or not these online gathering will be cracked down once China returns its life to normal.

Source: ICC www.persecution.org