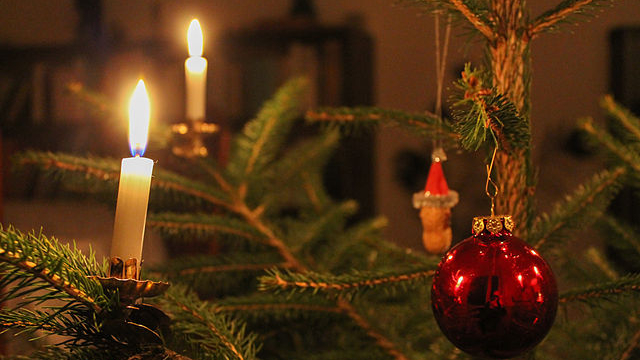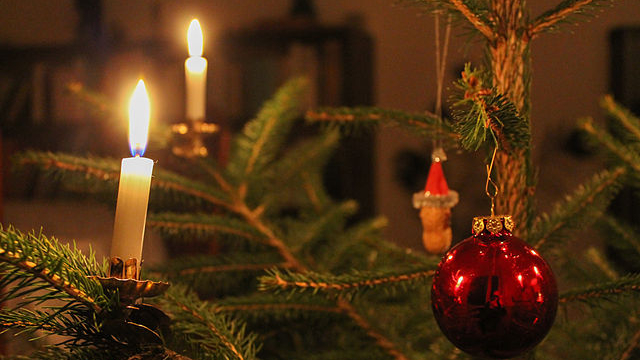 Christians were harassed, often with the pretext of COVID-19. Meanwhile, 80% of Christmas ornaments sold in the West were made in China.
by Massimo Introvigne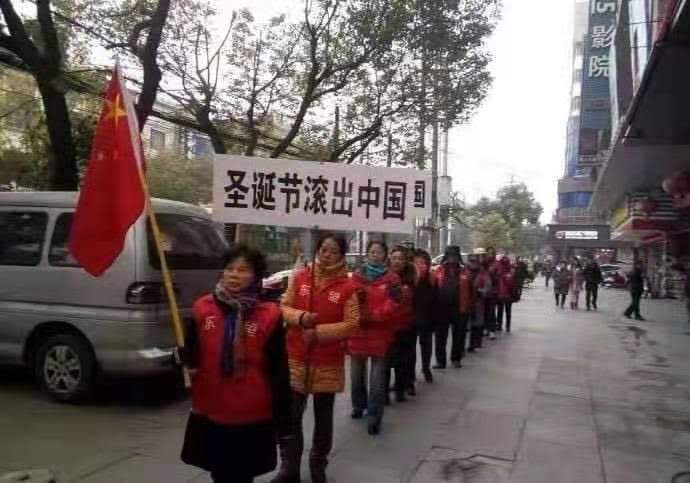 "Christmas, Get Out of China!" So said banners paraded in the streets in so-called "spontaneous" demonstrations, denouncing Christmas as foreign to both Socialism and traditional Chinese culture. Of course, in China there is no such a thing as a spontaneous street protest. All these events are authorized and planned by the CCP—or the protesters would be immediately arrested.
It was December 25, Christmas day. The above picture from the Catholic Cathedral of the Savior, also known as Xishiku Church, in Beijing is typical of what happened in many cities and provinces. Riot police prevented devotees from entering the church, with signs indicating that, "Due to the pandemic, all religious activities have been halted."
One can argue that the same, minus the riot police, also happened in some democratic countries, but the incidence of COVID-19 in Beijing is minimal, and other musical, cultural, and political events took place regularly. The Xishiku Cathedral is a symbol and a main center of the CCP-controlled Patriotic Catholic Church, yet there was no Christmas there this year.
At the historical St. Joseph's Church, also in Beijing and another key center of the Patriotic Catholic Church, a Christmas tree was used to block the main entrance, and the doors remained closed, with the same signs that no Christmas services will take place due to COVID-19. There were no riot police, probably because St. Joseph's is in the Dongcheng District, the most popular area among tourists, expatriates, and foreign journalists.
For the CCP, Christmas is both a curse and a blessing. It is a curse, because these annoying Christians start planning celebrations, reminding the Party that its campaigns to eradicate religion have been basically unsuccessful. But it is a blessing, because the West buys Christmas decorations, China makes them cheaper, and the large majority of Christmas products sold in the West are manufactured in China.
Bitter Winter was told by its correspondents in various provinces that this year was worse than usual for Christians trying to celebrate Christmas, despite the fact that a few celebrations were filmed and photographed, and used as propaganda pretending that there is freedom of religion in China.
Pastors of house churches and dissident Catholic priests were placed preventively under arrest to make sure they will not lead Christmas celebrations, not even in private homes. But, as proved by the case of the Xishiku Cathedral, it would not be true to claim that the government-controlled communities of the Three Self Church and the Patriotic Catholic Church were left alone and were able to celebrate Christmas either.
First, it should be remembered that under Chinese law minors cannot enter places of worship, and the provision is now strictly enforced. So, once again, there was no Christmas in the churches for Christian children.
Second, while the official narrative is that the CCP has won its fight against COVID-19, and many non-religious events are regularly held, the pandemic became a pretext to ask that all plans for Christmas celebrations should be submitted not to one only, but to several administrative authorities for approval. The government-approved Taihu Catholic Church, in Anhui Province, posted on social media its application with twelve seals, to show how difficult the procedure was.
Attempts to celebrate Christmas outside of the churches did not succeed either. Christians in Xiamen, a prefecture-level city in Fujian Province, were officially invited to sing Christmas songs in the shopping mall Wanda Plaza, yet after they started their performance, the police intervened, stopped it, and informed the audience that singing Christian songs is prohibited.
Bitter Winter also learned of increased pressure across China in schools to teach children that Christmas should not be celebrated, and gifts should not be exchanged.
Paradoxically, at the same time, China reaped the benefits of Christmas more than ever. Due to the global economic crisis, Westerners were more inclined to buy less expensive Christmas ornaments, and the cheaper variety is largely produced in China. It is esteemed that 80% of all Christmas ornaments sold this year in the United States came from China, with similar figures in Europe. A fascinating documentary by director Mladen Kovacevic offered by ARTE this Christmas took the audience to Yiwu, in Zhejiang Province, a Chinese city that produces 50% of all Christmas decorations sold in the world—to which, of course, the production in other cities and provinces of China should be added.
To borrow Xi Jinping's favorite slogan, for the CCP it is a win-win situation. The CCP wins by manipulating COVID-19 regulations to crack down on Christmas in China, and wins again by selling Christmas ornaments made in China to the Westerners, perhaps in part made through the slave labor of jailed Christians or Uyghurs.
Source: Bitter Winter