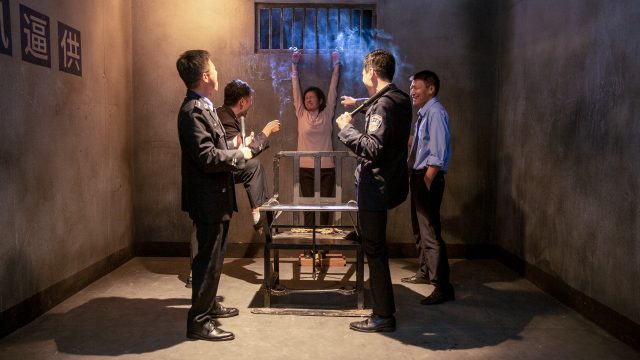 Li Haixia (pseudonym), female, born in 1964, from the northeastern province of Jilin, joined The Church of Almighty God in 2012. She was arrested by the police for her belief in June 2020. The police subjected her to torture to get the information on the Church, leaving her with aftereffects.
On the afternoon of June 20, 2020, six police officers stormed into Li Haixia's home and arrested her. They interrogated her secretly in a hotel for two days and nights. During the interrogation, they questioned her about the whereabouts of church leaders and where the church money was kept. As Li refused to tell, the police deprived her of food and sleep, and they also cuffed her hands and hanged the cuffs on the wall, causing her feet to barely touch the floor. A police officer slapped her face with a slipper for over ten minutes, with her face swollen and the corners of her mouth bleeding. However, he did not stop there. He seized her hair and pulled it backward with one hand, and tried hard to put the slipper into her mouth with another hand. Then, he fisted her hard in the chest and pinched her all over the body, until her body was covered with bruises. As she always refused to tell anything, the police then ordered her to half squat with her arms stretching horizontally forward. Because she was extremely weak, she collapsed to the ground only a few minutes after she began to half squat. Then the police forced her to kneel with her hands raised over her head. They repeatedly tormented her this way. In the end the interrogation proved fruitless, and the police sent her to a detention house.
Because of the torture, Li Haixia still had swollen face and legs and had bruises in her legs and chest after she was released. It was not until over 20 days later that she was recovered.