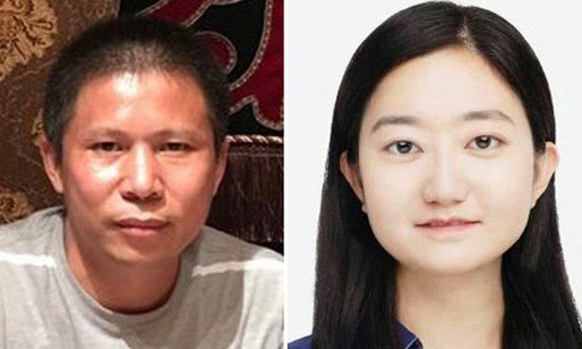 Police from the eastern Chinese province of Shandong have detained a prominent women's rights activist in Beijing, detaining her thousands of miles away from her home, after she accepted a prize on behalf of jailed dissident Xu Zhiyong.
Li Qiaochu was taken away by police from Shandong's Linyi county after they requested a meeting with her in Beijing's Haidian district, according to a post to her Twitter account on Feb. 5.
The call came after Li accepted the PEN/Barbey Freedom to Write award on behalf of her partner, the jailed dissident Xu Zhiyong, and hours after she had tweeted her reaction to learning that Xu had been tortured in prison.
Li is currently being held in the police-run Linyi Detention Center, the writers' group PEN America said in a statement on its website, adding that she was detained on suspicion of "subversion of state power."
"This is an appalling escalation in the attempt to silence and punish Li Qiaochu for continuing to speak out about Xu's case and about her own treatment at the hands of state security services," the group's CEO Suzanne Nossel said.
"It may also represent an attempt to increase the pressure on Xu himself by targeting his loved ones."
Nossel described Li as a "woman of tremendous courage and conviction."
"She is being treated like a criminal for refusing to relent as her partner is detained and abused … we call for her immediate release, and we insist the police stop pursuing these spurious charges," she said.
In December, police forced Li into house arrest and threatened to detain her if she kept speaking out about Xu's case, according to PEN America.
Li was detained in February 2020 and released on bail on June 19, 2020 after being detained incommunicado under "residential surveillance at a designated location.
Amnesty International said at the time that she was herself at risk of torture.
Help for women, workers
Li worked to find accommodation for thousands of migrant workers forcibly evicted from their homes by authorities in Beijing during a bitterly cold winter in 2017.
She also played an active role in China's #MeToo movement, collating and publishing reports online of sexual harassment and abuse.
After the pandemic struck, Li joined a volunteer team that handed out free masks to sanitation workers in Beijing, and helped pregnant women in quarantine areas to find doctors.
She also worked to support victims of domestic violence, which saw a nationwide spike after hundreds of millions of people were placed under draconian quarantine lockdowns in central China.
Li was summoned by police and held for questioning for 24 hours on Dec. 31 as part of a nationwide operation targeting a group of activists who met in the southeastern port city of Xiamen on Dec. 13.
Xu Zhiyong, who founded the New Citizens' Movement, is also being held by state security police on suspicion of "incitement to subvert state power" after he called on President Xi Jinping to resign.
Xu, who had already served jail time for his spearheading of the New Citizens' Movement anti-corruption campaign, penned an open letter to Xi while in hiding following an earlier meeting in Xiamen, calling on him to step down.
Reported by Han Qing for RFA's Mandarin Service. Translated and edited by Luisetta Mudie.
Source: Copyright © 1998-2016, RFA. Used with the permission of Radio Free Asia, 2025 M St. NW, Suite 300, Washington DC 20036. https://www.rfa.org.