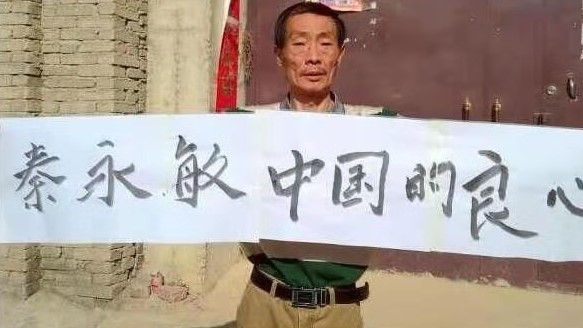 Authorities in the southwestern Chinese province of Yunnan on Thursday held the retrial of an activist who expressed support for last year's protest movement in Hong Kong.
Xu Kun, a resident of Panlong district in the provincial capital, Kunming, stood trial by video link at the Panlong District People's Court from the Panlong Detention Center, where he has been held since August 2019.
Xu is accused of "picking quarrels and stirring up trouble," a charge frequently leveled at peaceful critics of the ruling Chinese Communist Party (CCP).
His wife, daughter and younger brother arrived at the court along with the defense team on Thursday, where they observed the trial from inside Courtroom No. 4, Xu's wife Li Lanzhen told RFA.
"We have arrived outside the courthouse," Li said. "It's a clear day, and there are a lot of people here."
"We are three family members, and a lawyer."
After the trial, which was held remotely, Li said the observers in the courtroom "couldn't see the people; we could only hear their voices."
She said the indictment accuses Xu of "posting and retweeting a large number of false and harmful items on Twitter, slandering the Chinese political system and the CCP, insulting Chinese leaders, and distorting major domestic events."
No evidence presented
Li said no actual evidence was presented to support the claims of slander or insult.
Xu pleaded not guilty, and his defense attorney Li Guisheng argued his innocence, Li said.
"The public prosecutor asked Xu Kun, are you guilty? and Xu Kun said, I am not guilty," she said. "But the public prosecutor said 'you have a bad attitude and you must be punished severely'."
She said the prosecution hadn't found evidence to support all of the accusations in the indictment, however.
"[The prosecution] said Xu Kun slandered and insulted our national leaders, but when attorney Li Guisheng asked them to cite examples, they didn't give any," Li said.
Xu's defense lawyer Li Guisheng said it was "inconvenient" for him to discuss the case when contacted by RFA following the trial.
"I'm not giving interviews to overseas media," he said. "I could get punished for doing that."
China's ministry of justice recently barred lawyers from giving interviews to foreign media outlets, on pain of disciplinary proceedings, which have already resulted in defense attorneys being stripped of their business licenses.
Xu had earlier stood trial behind closed doors at the Panlong District People's Court on Aug. 16, but the trial was curtailed after his attorney argued that there had been procedural issues linked to a lack of disclosure.
1,000 tweets
Xu's indictment accuses him of retweeting around 1,000 tweets in support of the anti-extradition movement and pro-democracy demonstrations in Hong Kong last year via his Twitter account.
Twitter is not generally available to Chinese internet users, and requires circumvention tools to bypass the system of government censorship, blocks, and filters known collectively as the Great Firewall.
The prosecution cited cell phone screenshots and photos from Xu's cell phone as evidence for the charges, which come under Article 293 of the Criminal Law of the People's Republic of China.
"It is clear that the evidence is credible and sufficient, and he should be held criminally responsible for the crime of picking quarrels and stirring up trouble," the indictment said.
A family friend who gave only the surname Chen said the prosecution had used a lot of language reminiscent of the political "struggle sessions" of the Cultural Revolution (1966-1976) to make its case.
More than 200 tweets were cited as evidence during the two-hour trial, Chen said.
"They included his views on the Hong Kong protests, as well as some former Chinese leaders," he said. "He said he didn't think he had committed a crime by tweeting."
"I think this should come under the category of freedom of speech," Chen said.
Reported by Qiao Long for RFA's Mandarin Service. Translated and edited by Luisetta Mudie.
Source: Copyright © 1998-2016, RFA. Used with the permission of Radio Free Asia, 2025 M St. NW, Suite 300, Washington DC 20036. https://www.rfa.org.